The Year Ahead: Your Astrological Forecast for 2018
Everything you need to know for the upcoming year.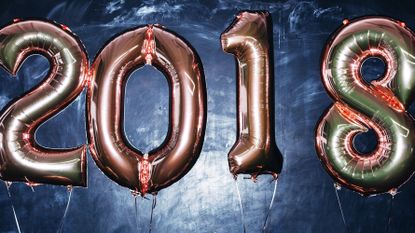 (Image credit: Viktor Solomin)
In just over a week, 2017 (finally!) comes to a close—hoorah! What's in store for 2018? Well, we tapped our resident stargazers, The AstroTwins, to give us a preview of the year ahead for each sign.
Aries:
Game face: on! 2018 has a private and serious air to it, and you'll hunker down to focus on some bigger goals. Auspicious Jupiter is in Scorpio until November 8, spotlighting your eighth house of merging, intimacy and joint ventures. The eighth house governs anything from emotional bonds to sex to shared finances. Jupiter will present exciting new ways you can meld your superpowers on a more permanent level. Suffice to say, this isn't exactly comfortable for the zodiac's trailblazing Ram. But by mid-May, you could surprise yourself and team up for the win. With four eclipses touching down on your axis of fame (in January and August) and collaboration (in February and July), there will be moments to grab the spotlight and others when you'll play best supporting cast mate.
Mid-May, pioneering Uranus ends a seven-year visit to your sign and enters stable Taurus, which could bring unexpected new sources of work and income. Since 2011, you've been taking huge leaps around expressing your indie-spirited ideas. Now, you might get even more serious about establishing yourself as a solo act and making a living from it, especially through digital ventures that can reach a wide audience. But don't rush! You're hosting structured Saturn in your tenth house of career from December 19, 2017 until December 17, 2020, a three-year period that could position you for new levels of leadership, as long as you're willing to put in the work. While Aries CAN get by on charisma and a bounty of natural skills, Saturn demands that you pay your dues—no shortcuts allowed. There will be times when you feel held back by bureaucracy or a demanding and old-school boss. See this person as a messenger rather than a managerial nightmare: they're teaching you to step into your own leadership and authority, but also the importance of (sometimes) following the rules.
Your relationship with your father or an important man could also undergo some growing pains with Saturn in this paternal precinct of your chart. Saturn rules aging, and you may move into more of a caregiver role with an elderly parent, or shift to an adult relationship. The July 12 Cancer solar eclipse spotlights women, home and mothers, which could bring a sea change to your living situation or your relationship with a key female figure.
Taurus:
Ready to find your herd, Bull—or at least, a companion to cattle-ize (sorry, couldn't resist) your grandest plans? In 2018, partnerships are finally a source of joy instead of struggle. From October 2012 until December 2017, tough Saturn was slogging through your relationship sectors, testing your boundaries and forcing you to take a mature new approach. You may have parted ways or worked hard to strengthen a connection. Travel, life challenges or a demanding work schedule could have kept even the strongest duos separated at times. Luckily, you can leave these struggles in the rearview, as Saturn moves into an easier role, occupying your ninth house of travel and study until December 2020. You could return to school, start a business or get serious about your personal development this year.
But the real tide-turner is Jupiter, the planet of luck and expansion, which will be in Scorpio and your partnership house until November 8. Instead of hardship, you'll now experience luck and optimism. Jupiter here can bring inspiring new partners for both love and work. Existing bonds will get an infusion of joy and adventure. You may even switch roles with a longtime mate, becoming the breadwinner or staying home with the kids, for example. In fact, your work/life balance could get some major reshuffling thanks to the year's four game-changing eclipses in Leo (your domestic zone) and Aquarius (your career zone). A new job, the sale or purchase of a home or shifts with a parent are all par for the course.
That's more than enough "breaking news" for your habitual constitution, but we saved the biggest headline for last. Radical changemaker Uranus will enter Taurus on May 15, its first visit to your sign in 77 years. Between now and 2026, prepare for an extreme life makeover that could reshuffle your goals and priorities. You've been "marinating" for the past seven years, making deep internal changes on an emotional and spiritual level—whether you were aware of that or not. Now, you've got a cosmic coming-out party that starts this year, one that could find you putting an original stamp on everything!
Gemini:
Your sign has a lesser-known Type A side, Gemini, and it's steering you through a good part of 2018. Expansive Jupiter is in Scorpio and your administrative, orderly sixth house until November 8, which will make you crave simplicity and systems. As a sign that's famous for biting off more than you chew, this new "less is more" ethos helps you really zoom in on what matters to you most. The sixth house rules health and you could make a change to your diet and eating habits, possibly due to doctor's orders. Nothing wrong with lowering your blood pressure or busting up a sedentary lifestyle with regular workouts. Interestingly, Jupiter is the sign of expansion, and many people gain a little extra padding and curviness during this Jupiter cycle, even when you work out and heap healthy food on your plate. Our advice: Enjoy and embrace it instead of obsessing over the size of your jeans.
Instead, how about turning that intensity to your love life or financial goals? Structured Saturn is in Capricorn for the next three years, bringing its regimented touch to your eighth house of merging, intimacy and joint ventures. You may need to do some repair work around trust and emotional bonds. Some Geminis will make important financial investments, but proceed with caution. Saturn demands that you conduct due diligence before diving in to anything that's hard to reverse. An engagement, pregnancy, divorce, real estate purchase or legal settlement could all be part of Saturn's agenda, as the ties that bind come under scrutiny. Leaning into a spiritual practice could help, especially when awakener Uranus begins an eight-year journey to Taurus and your twelfth house of healing mid-May. Prepare to start shedding layers of your identity that are no longer a fit for the person you've become. You might take up serious meditation, head off on a retreat or take a deep-dive into your subconscious with hypnotherapy or even past-life regression.
But before you drift into the ether, four of this year's five eclipses touch your Leo/Aquarius-ruled axis of communication. These galvanizing moonbeams help you spread your message to the masses through writing, speaking and creative media channels. A lone eclipse in Cancer on July 12 could bring new sources of financial abundance by the end of the year.
Cancer:
Relationships are the key theme in 2018 for you, Cancer—and the landscape is a mix of both challenging and inspiring scenarios. On the upside, expansive Jupiter will visit Scorpio and your passionate, expressive fifth house until November 8, bringing new opportunities to shine creatively and romantically. But partnerships could be tested as stalwart Saturn will spend the next three years cycling through your opposite sign, Capricorn, the ruler of your committed seventh house. Some Crabs will move into serious alliances, while others could part ways or separate. Even the strongest couples could find themselves spending time apart due to hectic work schedules, a long-distance relationship or personal duties that cut into quality time. Book those "date nights," STAT! Saturn rules mentors, so working with a business coach, mediator or couple's therapist could make or break a connection.
This is an especially potent year because it's bookended by TWO full moons in Cancer—the first, a supermoon, arrives January 1, and the second is on December 22. Sandwiched in between them on July 12 is a Cancer solar (new moon) eclipse, which could catapult you into a brand-new chapter around a solo project or push you into the spotlight. This assertive lunation is a sneak preview of what's to come in 2019, though, when a full course of Cancer/Capricorn eclipses will reshuffle the balance between "me" and "we." For now, look at your own habits: Do you excessively care-take and over-function, only to seethe with resentment or feel unappreciated later? Are you overly reliant on someone else for your sense of security? Saturn's challenges are actually an opportunity to get right within.
Financial matters could also heat up as 2018's four other eclipses fall on the Leo/Aquarius axis, which could bring a new job, a real estate purchase or sale, or a change of relationship status. These moonbeams will raise your fiscal IQ and could bring some powerful shifts for your career. If you've been stuck in the 9-5 grind you may decide to go freelance—or vice versa, trading your independent lifestyle for something more stable.
Leo:
Year Deux of the Leo reinvention tour is underway! February 2017 kicked off a two-year cycle of life-changing eclipses in Leo and Aquarius, which catalyzed a revolution in your personal identity AND your closest relationships. The show-stopping moment was on August 21, 2017, when the Leo solar eclipse brought Lions stateside into its "path of totality," leaving behind a trail of paper, sun-blocking glasses and hopeful Leo hearts. So… what was it all for? You'll start to get some answers in 2018, starting with the January 31 Leo total lunar (full moon) eclipse, which is also a potent supermoon. August 11 brings another Leo solar eclipse and the puzzle pieces will come together, and a clear picture of Leo 2.0 starts to form. Meantime, two Aquarius eclipses (in February and July) will reshuffle the dynamics of your business and romantic partnerships yet again. You could enter or exit a relationship, or you might just shift the balance of power in important ways. (Yes, Leo, we know you like to be on top—but how about a more lateral playing field?)
While these eclipses could keep you busy all year, some other important parts of your chart are also bustling with activity. Expansive Jupiter is in Scorpio and your domestic fourth house all year, bringing growth to your living situation and family ties. Ready to put down roots? In the market for a move? Globetrotting Jupiter might even bring you to another zip code—or country code. Your relationship with your mother, a daughter or a female relative could deepen, and some Leos might become parents this year.
Meantime, a major career transition could be underway, when radical changemaker Uranus starts an eight-year visit to Taurus and your professional sector mid-May. Trailblazing Uranus only comes here every 84 years, so this is a once-in-a-lifetime chance to pursue your wildest (and most out-there) dreams. Uranus rules technology, so a digital venture could become a big part of your paycheck.
Virgo:
Making new friends isn't always at the top of every Virgo's list, but in 2018, it might just occupy the number-one spot. With open-hearted and outspoken Jupiter in Scorpio and your communication house until November, even the hermit-like Virgos of the world could turn into master networkers. Get ready: Friends of all stripes could enter your orbit, some quite different from you. Normally, you prefer a well-edited circle of like-minded people who bring thought-provoking conversations. (Or, you just savor spending time alone!) With Jupiter here, variety is the new spice of life. Not that you won't have plenty of fascinating stuff to discuss. Prepare to encounter stimulating people (friends, neighbors, colleagues) and material (books, podcasts and classes)—and maybe to make some media magic of your own. With globetrotting Jupiter in your third house of local action, you might branch out and move to a new part of town, or start exploring a "second city."
If you've dreamed of the bicoastal life, you could try it out this year. Or maybe you should cross an ocean or two? Mid-May, experimental Uranus starts an eight-year journey through your international ninth house, which could prompt expat adventures or even a nomadic period (one Virgo friend is currently contemplating buying a van and driving cross-country while workshopping a one-woman show). With four eclipses falling on your axis of control and surrender, there will be times when your inner micromanager rears up, and other moments when you just want to make a blissful escape. Finding the point of moderation will be part of your journey. These eclipses could also spark a new approach to health, healing and spirituality.
Love could also be a more serious topic in the coming months, as stalwart Saturn settles into your romantic and creative fifth house for the next three years. But no need to lock yourself into anything too quickly. For couples, Saturn could put a little damper on the spontaneity, so make a dedicated effort to pencil in non-negotiable together time that keeps you feeling playful and connected. For artists and makers, this Saturn cycle could prompt you to get more serious about the business side of your craft, maybe hiring an agent or displaying your work in a public space.
Libra:
Could the holy grail of Libra "balance" be achieved at last? With expansive Jupiter spending most of 2018 in Scorpio and your stabilizing second house, you could feel rooted and content as the year progresses! The second house rules work, money and security, and with expansive Jupiter here, you could be offered an exciting new job, a raise or a chance to travel for business. If you're searching for a new gig, widen your radius to include out-of-town prospects or remote opportunities. (The July 12 Cancer solar eclipse will galvanize your career sector—stay tuned for an out-of-the-blue opportunity!) Jupiter spent the bulk of 2017 in Libra, which kicked off a fresh 12-year life chapter for you. There was a lot of novelty, adventure and discovery, but it was a largely experimental year. Now, a couple of those out-of-the-box ideas could reveal their staying power. In 2018, you could fashion them into a bigger (and lucrative) undertaking.
Building on this grounded energy, structured Saturn will spend the next three years in Capricorn and your foundational fourth house, anchoring your airy sign. This cycle could involve strengthening your roots and finding a permanent place to call home—and possibly buying or selling property. With prudent Saturn here, you might downsize, choosing quality of life over high rent or a bunch of material "stuff." Your relationship with your mother, a child or an important female could go through a growth phase as maturity-planet Saturn visits, which may not always be easy. If you're overly dependent on your family's approval, for example, Saturn will push you to set up healthy adult boundaries.
All of your closest ties will go through some shifts, especially after mid-May, when unpredictable Uranus ends a seven-year foray through your opposite sign of Aries. Since 2011, indie-spirited Uranus has been throwing curveballs into your relationship house, which may have brought on-again/off-again connections or made it hard to settle comfortably into a commitment. On May 15, Uranus will plunge into Taurus and your intimate eighth house until 2026, which could spark a sexual and/or spiritual revolution. With two eclipses in Leo and your romantic fifth house this February and July, unexpected developments could arise in your love life. Cupid, draw back your bow!
Scorpio:
Let the reinvention tour begin! This is YOUR year, Scorpio—so embrace the spirit of newness and limitless possibilities. Expansive Jupiter is visiting your sign until November 8, a cycle that only happens every 12 years. Even the most cynical or snarky Scorpios could get infected with the Pollyanna virus when joyful Jupiter rides in, so let yourself wear those rose-colored aviators for once! This transit kicks off a fresh decade-plus chapter where you could make a radical new start with everything from your job to your living situation to your relationship. While you're the sign of intimate bonding, 2018 is all about focusing on Numero Uno instead of tending to everyone else's needs. Ride the wave of novelty and let yourself experiment.
When Jupiter starts a 13-month visit to Sagittarius and your stabilizing second house on November 8, one of your boldest ideas could turn into a bigger (and possibly lucrative) venture. Until then, cast the widest net possible. Travel, make new friends and open your mind to a diversified crowd—especially starting mid-May when avant-garde Uranus starts an eight-year visit to Taurus and your relationship house. You could click with people who are shockingly different than your usual tribe. Perhaps this curious blend of seeming opposites could be the makings of magic! An online connection could ignite into a full-on love affair, but whether you'll live, er, "WhatsApp-ily ever after" remains to be seen. You never know until you try!
Meantime, structured Saturn has departed from your money house, where it tightened your Burberry belt from December 2014 to December 2017. We're not suggesting you go spending your Bitcoins all in one place, but some budgetary restrictions might relax now (whew!). In January and August, two game-changing eclipses in Leo could bring out-of-the-blue career opportunities, or changes that lead to an exciting new position. February and July will feature eclipses in Aquarius and your home sector, which could alter your living situation or bring an unplanned pregnancy (consider yourself notified). Parent-child relationships can also undergo changes during these four eclipses. Whew! So much is up in the air this year, but it's all leading you somewhere, believe it or not. While it can be hard to navigate this much change at once, you've got every reason to stay optimistic. Keep putting yourself out there, trying new things and dusting yourself off until you hit that sweet spot, Scorpio.
Sagittarius:
All good things must come to an end, and in 2018, you're at the close of a 12-year life chapter that began all the way back in November 2006. What are you holding onto? What do you need to release? Your ruling planet, Jupiter, is in Scorpio and your final twelfth house until November 8, 2018, a restful and flowy time that's all about letting go, allowing and receiving. These are not things that the go-getter Sagittarius embraces readily—you're a make-it-happen sign who stays constantly on the move. But you could find yourself swimming upstream by following your standard Sagittarian operating procedures now, not to mention verging on burnout. Jupiter sweeps in like a cosmic Marie Kondo, helping you part with people, habits and situations that no longer "spark joy." Zen master Jupiter would also like you to explore your spirituality and creativity, perhaps through a meditation practice or going on a retreat. Your subconscious is working overtime, so you could have vivid dreams. Don't be surprised if you find yourself needing a couple more hours of sleep than usual.
Delve into the woo, Sag, and pace yourself. You just hosted tough taskmaster Saturn in your sign from December 2014 to December 2017, and you deserve to recover. This healing work is leading somewhere awesome anyway. On November 8, Jupiter will start a 13-month visit to YOUR sign, kicking off a fresh 12-year cycle of your life. All the inner work you did (whether you realized it or not) will leave you emotionally and spiritually prepared to make this fresh start. In the meantime, anchor yourself by tending to the practical parts of your life. Saturn is now marching through Capricorn and your second house of work, money and daily routines until December 2020. The Buddhist concept of "chop wood, carry water" is now your guiding mantra, as you find a grounding rhythm in the day in-day-out instead of always seeking grand new adventures. (Not that you can't have those too!) While cautious Saturn will ask you to budget and plan, you could become quite a savvy money manager during this practical cycle.
The July 12 Cancer solar eclipse could bring an exciting investment opportunity or a joint venture that takes your ideas to new heights. Mid-May, unpredictable Uranus will end a seven-year run through your romantic fifth house, dialing down the drama (and making you a little less intrigued by the bad boys 'n girls). Uranus will spend the next eight years in Taurus and your health-conscious, orderly sixth house, sparking a wellness revolution. Turn fitness and clean eating into an adventure. Ditch your desk and take conference calls during a power walk. Writing, teaching and learning could also be cathartic, as four of the year's eclipses fall on your communication axis. Craft your message and share it boldly with the world!
Capricorn:
This is a major moment in your personal history, Capricorn. Your ruling planet, Saturn, has returned to your sign for the first time since 1991, marking the closure of a long cycle and the start of a new one that will span the next 30 years. Hosting the taskmaster planet isn't the easiest, TBH. Outmoded structures will collapse—from relationships that have passed their prime to a job you've outgrown to habits and beliefs that no longer serve you. This reinvention tour will last until December 2020, so you've got the next three years to tear down and rebuild your identity. You'll emerge a leaner, stronger and more authentic version of yourself—provided you pay Saturn's dues and do the hard work of self-reflection.
Luckily, you could find a tribe of people who will hold you accountable and inspire you to think outside the box. Until November 8, 2018, expansive Jupiter will be in Scorpio and your teamwork house, drawing you out of hermit mode and sparking fruitful new collaborations. Your social circle could triple in size and reach (both IRL and online, as the eleventh house rules technology). With multicultural ambassador Jupiter at the helm, you could team up with people from diverse backgrounds, both for friendship and world-bettering causes.
One special person might rise above the fray this summer, when a July 12 solar eclipse in Cancer whooshes into your committed relationship house. Stay tuned for unexpected developments with both love and business over the coming six months. For couples, this could be a moment to renew vows or make things official, whether with a ring or some formal gesture of togetherness. Your finances and living situation could also go through big shifts thanks to four game-changing eclipses on the Leo/Aquarius axis in January, February, July and August. You might change jobs, buy or sell property or get involved in a lucrative joint venture. Eclipses can bring surprise endings and beginnings, so if a source of income or emotional support is "eclipsed" away, rest assured that a new one will soon be coming in.
Aquarius:
Ready to live YOUR truth? Exciting changes are coming to every key area of your life in 2018, from career to home and family to relationships to your solo endeavors. Whew! It's a lot all at once, but if anyone can navigate this, it's you, Aquarius. The planets will touch down on all the major axes of your chart, giving reality an extreme makeover. You've already felt the rumblings, because this is Year Two in a series of change-making eclipses striking the Leo/Aquarius axis between February 2017 and January 2019. These potent lunations will revamp your personal identity AND your partnerships. In February and July, the spotlight could call, while January and August could bring major dynamic-duo moments (or a possible parting of ways).
Meantime, your career is heating to a boil, as auspicious Jupiter soars through Scorpio and your tenth house of success until November 8. This could bring an offer for a leadership or executive post, or a lot of calls from headhunters. With enthusiastic Jupiter in your corner, you could be awarded public recognition for your work or you might travel for business. A relocation is possible, especially starting mid-May, when changemaker Uranus (your ruling planet) starts an eight-year visit to Taurus and your domestic fourth house. This could create a ripple effect at home (e.g., you suddenly have to move or get an opportunity to buy a house) or in your family (e.g., surprise—you're pregnant!). Your relationship with your mother, a child or an important female could also go through some peaks and valleys during this Uranus cycle. Aquarian parents might experience an empty nest or a need to create more healthy separation in your bonds.
There could be some heavier emotions that come up while Saturn travels through Capricorn and your healing twelfth house for the next three years. You might enlist a therapist, energy healer or spiritual teacher, but beware getting starry-eyed over a guru figure. True transformation comes from within! In fact, you might decide to get serious about developing your own talents in this area, perhaps taking a Bach flower essences course or getting certified to teach yoga. If you've battled addictive or self-sabotaging tendencies, stalwart Saturn can help you work through these issues at a core level. You're clearing the decks for Saturn's return to Aquarius in 2020, which will kick off a new 29-year chapter of your life.
Pisces:
The heaviness lifts—at last! You've weathered a tough few years, Pisces, but in 2018, optimism and faith should be restored. For starters, you've shaken tough Saturn off your back after three years of his restrictive presence in your tenth house of career and long-term goals (from December 2014 to December 2017). You may have felt like you were pushing a boulder up a hill, or that your efforts to get ahead were thwarted by senseless bureaucracy. Through Saturn's trials and tests, you may also have established yourself as an expert or leader, and perhaps even switched jobs. Now, Saturn is spending the next three years in Capricorn and your teamwork house, a much easier transit that will bring powerful allies onto Team Pisces. You might take a more serious role in a group, rise up as an "influencer" on social media or become a spokesperson for an activist platform. Your charitable heart could thrive with Saturn in this humanitarian sector, and you can round up some established, well-connected people to support an important cause.
Meantime, expansive Jupiter is flying free in your ninth house of travel, learning, adventure and entrepreneurship until November 8. This optimistic new energy is a breath of fresh air, one that could see you collecting passport stamps or launching an independent venture. Your creativity has a peak moment on July 12, when a Cancer solar eclipse ignites your fifth house of self-expression and fame. Get ready for the spotlight! The fifth house also rules love and fertility, which could bring a midyear visit from Cupid, the stork—or both.
Self-care and spirituality are two other important themes that will be touched on by four eclipses on the Leo/Aquarius axis. In January and August, these lunations could inspire you to adopt new health practices, change your eating and exercise habits and get more organized. Delegating to capable people could also lighten the load if you're feeling burdened by stress. In February and July, eclipses will touch down in the Pisces-ruled twelfth house of your chart, sparking creativity, spiritual awakenings and major moments of serendipity. Pay attention to your intuition—it will be beaming some big messages to you! An unresolved situation could come to a close or you might do some important forgiveness work that heals a longstanding painful pattern.
Get your full 2018 horoscope in The AstroTwins' 2018 Planetary Planner, a complete guide to the entire year's astrology available in paperback and PDF. Visit shop.astrostyle.com/collections/2018 and use the code ELLE for 20% off.