In Defense of Melania Trump
On her alleged "escort" past, nude photos, and the new libel suit.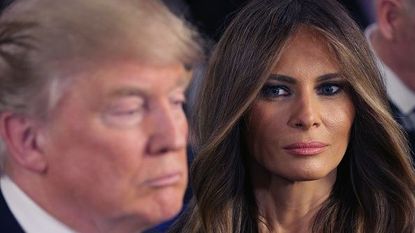 (Image credit: Getty Images)
It's true: Melania Trump has been a somewhat easy target this presidential election, between cribbing parts of her RNC speech from Michelle Obama and appearing otherwise aloof to the people and their process. But now, after the hopeful First Lady has filed a libel suit against two media outlets for claiming, with seemingly no proof, that she had been involved with an escort service in the past, we—a Republican and a Democrat—can't help but come to her defense.
See, women in all avenues of politics, whether they're running, in office, or are political spouses, are still subject to unfounded criticisms about their appearance or their mental state—simply because they are women. Derogatory references to their sexual past—discussions that male politicians, or even male political spouses, never encounter—run rampant. And good old-fashioned slut shaming is alive and well: Mrs. Trump was also subject to scrutiny for past nude modeling photos, despite that she was a reputable model.
But while we take Mrs. Trump at her word that the allegations are false, it begs the larger question: Why is this still the go-to strategy for challenging powerful women? Why is this how we take women down? Why are we game to critique their crow's feet or sexual history before we critique their ideas, their strategies, or their platforms? The way we see women in the national spotlight, and beyond, has to change.
This isn't a Democratic or Republican issue. Across both sides of the aisle, we've always worked harder, faster, longer, and without complaint in our careers to be seen as equals with our male counterparts. But we've also heard our fair share of insults behind our backs—we've been called "brusque" or having "sharp elbows" for getting the job done. But when's the last time a man was called "aggressive" or "emotional" or "riding on his looks" for his leadership?
Bottom line: All politicians should be held accountable for this bias against women—including Melania's husband, Donald Trump. Trump often has demeaning words for women he doesn't like, from going after Carly Fiorina's looks to telling Katy Tur, a reputable female journalist, to "be quiet"—clearly the hiring of Kellyanne Conway, an expert at appealing to female voters, is a move on his campaign's behalf to counter the public's perception that he's anti-woman, along with enlisting his daughter, Ivanka Trump. Maybe we'll start to see some change.
But we need to apply the same standards everywhere—across spouses, political affiliation, candidates—and call out this type of behavior for exactly what it is: sexism. Not all women have Melania's expansive resources to legally push back on these slanderous allegations. But really, they shouldn't have to.
---
Morgan Ortagus is a political analyst, the former Deputy U.S. Treasury Attaché to Saudi Arabia, and a current U.S. Navy Reserve Officer (her views are her own she does not speak on behalf of the military). Follow her on Twitter.
Sam Vinograd is a political commentator who served previously as the Senior Advisor to the National Security Advisor in the Obama Administration and as Deputy U.S. Treasury Attaché to Iraq. Follow her on Twitter.
Marie Claire email subscribers get intel on fashion and beauty trends, hot-off-the-press celebrity news, and more. Sign up here.
Samantha Vinograd began her career as the Deputy U.S. Treasury Attaché to Iraq and later held several positions in the Obama Administration, including Senior Advisor to National Security Advisor Thomas E. Donilon. She transitioned to the private sector in 2013 where she has worked on global energy and sustainability issues. She holds a B.A. in Asian and Middle Eastern Studies from the University of Pennsylvania and a Masters Degree in Security Studies from Georgetown. She is a David E. Rockefeller Fellow at the Trilateral Commission, a Millennium Fellow at the Atlantic Council, and a Term Member of the Council on Foreign Relations.