Trump Says The Queen Was Late, Not Him, He Was Early, Actually
It's all "fake news," apparently.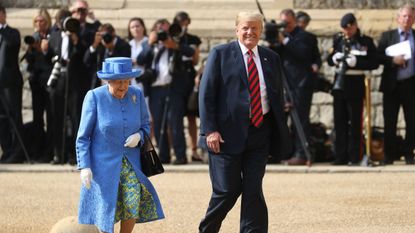 (Image credit: Chris Jackson)
Remember when Queen Elizabeth II (opens in new tab) was left waiting for President Trump last month? Let me spark your memory: The 92-year-old matriarch was photographed checking her watch as she not-so-happily awaited for the Trumps to arrive at Windsor Castle (opens in new tab). Welp, during a rally in Philadelphia last night, Trump claimed it was he who arrived early—and "fake news" is to blame for the false reports.
"I was about 15 minutes early and I'm waiting with my wife and that's fine. Hey, it's the Queen, right? We can wait. But I'm a little early," he told the crowd (opens in new tab). "And I didn't know this—it was supposed to last 15 minutes but it lasted like an hour because we got along. And she liked our first lady and our first lady liked her."
"But we got along fantastically well. But the time went by – you know, sometimes you get along and the time goes by," he said. Of reports that said the President was late and overstayed his welcome, Trump added, "They said I was late when I was actually early, number one. Number two, I guess the meeting was scheduled for 15 minutes and it lasted for almost an hour."
"And honestly folks, it was such a beautiful, beautiful visit an afternoon but they can make anything bad because they are the fake, fake disgusting news," the President concluded.

TBD if "fake news" also fabricated the fact that Trump turned his back on Her Majesty during the visit.
This is disgraceful, @realDonaldTrump. SHE'S THE QUEEN and she's 92 years old! You're incapable of acting like a human being. You're incapable of being a leader. pic.twitter.com/A1vKTJgv21July 14, 2018
See more
RELATED STORY
Ruby was the beauty editor at Cosmopolitan, where she covered beauty across print and digital. Her work has appeared on The Zoe Report, Fashionista, and StyleCaster. Follow her on Instagram.