Samantha Bee Unveils Midterm Election Trivia App 'This Is Not a Game: The Game'
Players can win actual money while also, you know, engaging with their civic responsibility.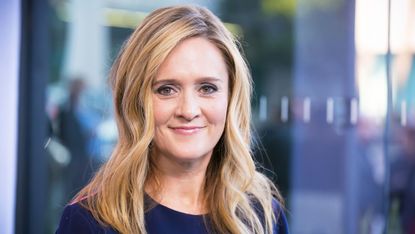 (Image credit: Gabriel Olsen)
Every day we are given excellent reasons to show up and vote in the upcoming midterm elections. Why, just yesterday, an anonymous op-ed in the New York Times from a senior official in the White House painted a picture of an utterly chaotic administration that is, at any moment, mere inches from doom, which means a Congressional shake-up in November may be the only thing that can rescue us from the living nightmare hellscape that is politics in 2018.
There's just one problem: No one ever shows up to vote in midterm elections. In 2010, the voter turnout nationwide was a paltry 39.9 percent, per Pew. The most recent midterms in 2014 were worse: Just 36.6 percent of eligible voters cast a ballot, according to a report by NonProfitVote.org. But with so much on the line, and so many precedent-breaking candidates (including a huge wave of women running), we need to change that. But how?
Samantha Bee and her team at Full Frontal had an idea. On Wednesday night, they unveiled This Is Not a Game: The Game, which was announced in May and is finally ready for play. "It felt like somebody had to try something...to drive voter turnout," Bee says. "We don't have a clue if it's going to work or succeed or fail. It's been a grand experiment."
Bee was inspired to try after a field segment for the show proved turning anything into a game caught people's attention and drove engagement. They "gamified" subscriptions to a local newspaper in New Brunswick and watched as readership went up 400 percent.
Using that same logic, says Bee, "It occurred to us: Could we gamify the midterms? Because around the office we think a lot about 2010 and how we didn't vote. Can we apply those principles to voting? Is it possible? Is it legal?" Part of the reason the team at Full Frontal was so keen to increase participation, Bee explains, is because they found out that, of the show's viewers—ostensibly pretty politically active people—only 52 percent were registered to vote. So clearly even for the politically minded, voting is a slog. "Why wouldn't we try something that could potentially be fun?" she asks.
The setup of This Is Not a Game: The Game is a lot like HQ Trivia, but with civics and government-related questions instead of pop culture. Users download the app and wait for the next scheduled game (there's a countdown clock), then answer trivia questions, many of them hilarious (they were written by the staff at Full Frontal, after all). Answer all 10 correctly and get a cut of whatever the cash prize is for that game (!), money that, Bee says, is put up by TBS. But where it differs from HQ is that players get extra lives, and even if they lose, they can still select answers and participate in "Dead Mode."
In a test game played for press, for which the cash prize went to charity, questions ranged from the simple—"Which of these four faces isn't on Mt. Rushmore?" (Answer: Obama's.)—to the difficult but straightforward—"Which state did not have a court case about gerrymandering brought forth this year?" (Answer: New York)—to the plainly absurd—"What is Ruth Bader Ginsburg's astrological sign?" (She's a Pisces.)
Is it a good thing that people need to be promised fabulous cash prizes in order to engage with their civic responsibility? No judgement, but it's not great. But if we knew it was going to work—if incentivizing rewards would get people to show up the most important midterms of our generation, why wouldn't we do it?
The first game of This Is Not a Game: The Game kicks off September 12 at 11pm EST. You can download it from the App Store now and follow updates here.
From explainers to essays, cheat sheets to candidate analysis, we're breaking down exactly what you need to know about this year's midterms. Visit Marie Claire's Midterms Guide for more.
RELATED STORIES
Celebrity news, beauty, fashion advice, and fascinating features, delivered straight to your inbox!
Cady Drell is a writer, editor, researcher and pet enthusiast from Brooklyn.