Hillary Clinton Endorses Deb Haaland and Stacey Abrams Alongside a Handful of Female Trailblazers
"We have a tremendous opportunity."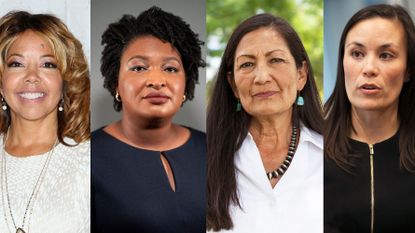 (Image credit: Getty/Shutterstock)
On Friday afternoon, Hillary Clinton informally endorsed four trailblazing Democratic women in their midterm races, writing on Twitter: "We'd all be lucky to see these four extraordinary candidates win their races for Congress this fall." Among her endorsees were Stacey Abrams, the progressive and popular Democratic nominee for governor in Georgia, and Deb Haaland, tipped to be the first-ever Native American woman in Congress.
"With a historic number of women running this year, we have a tremendous opportunity to make our government better reflect our country," Clinton wrote on Twitter. The former presidential candidate and Secretary of State has also focused on Onward Together after her 2016 loss, a nonprofit which funds and gives other kind of aid to progressive grassroots organizations within politics.
Here's who would have Clinton's vote (you know, if she lived there):
Lucia McBath
"LucyWins2018 is a businesswoman and activist running for Congress in the 6th district of Georgia," Clinton noted on Twitter. "After her son, Jordan Davis, was shot and killed, Lucy turned her grief into action by fighting for both gun safety and criminal justice reform."
You may recall the 2o12 Jacksonville shooting of Jordan Davis, who was shot dead at a gas station by a white man who said Davis had been playing music too loudly. (He was later sentenced to life in prison without parole.) After Davis died, McBath became an advocate for commonsense gun reform, and eventually joined Hillary Clinton on the campaign trail. After the Florida shooting this past February, McBath formally announced her intention to run.
Stacey Abrams
Writes Clinton: "@StaceyAbrams is the Democratic nominee for governor of Georgia. She's served as Georgia's House Minority Leader, founded a voter registration organization, and written eight romance novels! She's running to strengthen Georgia's schools and economy."
I know the tidbit about romance novels caught your attention, so let me elaborate—under the pen name Selena Montgomery, Abrams published nine romance novels. But that has little to do with her run for governor, which is tipped to be one of the most exciting races of November.
With a historic number of women running this year, we have a tremendous opportunity to make our government better reflect our country. We'd all be lucky to see these four extraordinary candidates win their races for Congress this fall:September 21, 2018
See more
Former VP Joe Biden has also thrown his support behind Abrams, and is even hitting the campaign trail with her next week.
Gina Ortiz Jones
Clinton endorsed Ortiz Jones with the note: "@GinaOrtizJones is a veteran of the Iraq war, intelligence officer, and candidate for Congress in the 23rd district of Texas. She wants to create good-paying jobs and expand health care options for all Texans." A first-generation American, Ortiz Jones would be the first Filipina American in Congress if elected.
Ortiz Jones spent three years in the U.S. Air Force, operating under the now-defunct policy of "Don't Ask, Don't Tell"—she came out as gay as a teenager. She also worked under Trump in the U.S. Trade Representative's office as a director, finally quitting in protest and announcing her intention to run for office.
Deb Haaland
A single mom who would be the first Native American woman in Congress, Deb Haaland spoke with MarieClaire.com last month about the myriad reasons she decided to run. "I want other Native women to see they can do it, too," she shared. Haaland has a storied history in New Mexico state politics, having run for lieutenant governor in 2014 and served as chairwoman of New Mexico's Democratic party for two years.

"If I can inspire young women like that to finish their schooling, get some experience, and then eventually think, I can run for office, I'm happy about that," she explained to MarieClaire.com.
From explainers to essays, cheat sheets to candidate analysis, we're breaking down exactly what you need to know about this year's midterms. Visit Marie Claire's Midterms Guide for more.
RELATED STORIES
The Best Political Swag to Buy for 2020
Celebrity news, beauty, fashion advice, and fascinating features, delivered straight to your inbox!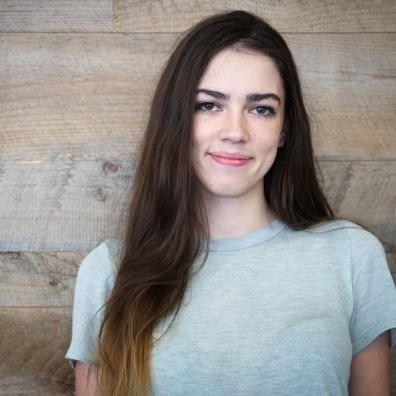 Jenny is the Digital Director at Marie Claire. Originally from London, she moved to New York in 2012 to attend the Columbia Graduate School of Journalism and never left. Prior to Marie Claire, she spent five years at Bustle building out its news and politics coverage. She loves, in order: her dog, goldfish crackers, and arguing about why umbrellas are fundamentally useless. Her first novel, EVERYONE WHO CAN FORGIVE ME IS DEAD, will be published by Minotaur Books on February 6, 2024.