Chasten Glezman, "Mayor Pete" Buttigieg's Husband, Is Super-Supportive
The couple live a low-key life, ft. adorable dogs.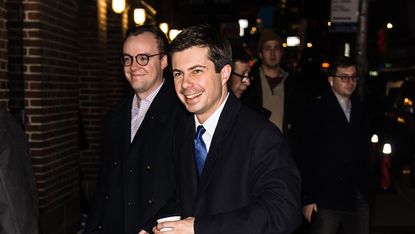 (Image credit: Gilbert Carrasquillo )
Pete Buttigieg, a.k.a. "Mayor Pete," is the only millennial candidate in the 2020 race—and if elected, he'd be the youngest president in American history. Despite his youth and local experience, a loyal band of supporters have gathered around the former mayor of South Bend, Indiana, who is openly gay and married to husband Chasten Glezman (who now goes by Chasten Buttigieg on social media). It's not hard to see why: Pete, a veteran and scholar, is charismatic and whip-smart, and has been described as the future of the Democratic party by Obama himself.
Considering the steps backwards the Trump administration has taken for LGBTQ+ rights in the States—Mike Pence, I'm looking at you—it would be nothing short of glorious to have a same-sex couple in the White House. Here's everything we know about Chasten, our potential first-ever "First Gentleman."
As they've continued on the campaign trail, the Buttigiegs have come across many people who have felt supported and loved by the message that Chasten summarized this way: "You belong. You are loved. You are welcome here." (sobs)
There's also been an educational aspect, as with this video for National Coming Out Day about the different experiences and perspectives of the people who have worked on the Buttigieg 2020 campaign:
And Pete has also shared his coming-out story, just like Chasten did (below), saying that "after coming home safe from Afghanistan, I realized that every day is a gift—and that it made no sense to remain so trapped by expectations that I might go to my grave with no idea what it was like to be in love." Cue coming out, meeting Chasten, and getting married (heart eye emoji).
So the two have been building an inclusive space not just personally but also professionally too. And then, of course, there's Chasten and Pete's adorable pictures on the road together, which is endearing all sorts of people to them:
I'm not crying (I'm totally crying).
Chasten's still working as a teacher.
Per their New York Times wedding announcement, the 29-year-old Chasten is a "junior high school teacher at a Montessori Academy in nearby Mishawaka, Indiana." He got his master's in education at nearby DePaul University after getting his BA from the University of Wisconsin. He teaches humanities and drama, and is apparently super-beloved by the kids.
Even though he's been on and off the campaign trail with his husband since Pete announced his candidacy, Chasten has still been taking the opportunity to chat with students:
The two hope to have children.
No matter what 2020 brings, according to Pete, the two are thinking about their future. "I obviously threw a wrench in our short-term plans," he told People. "No matter what happens, I think the next chapter in our personal lives is going to be about kids."
Honestly, watching these two become parents for the first time is just making my heart melt. Pete said he was "really excited" about the prospect of becoming a dad and that "Chasten is just especially wired to be a great parent."
As for timing, "We would hope to do [it] soon," he added. "One way or the other." So keep an eye out—although it sounds like it might be after the election.
Chasten has connected with voters.
Chasten does improv comedy, and, hilariously, is much more extroverted than his "shy" partner Pete (interesting, given the latter's choice of profession and, well, the fact that he's running for president). So, as a result, he's not just supporting his partner from behind the scenes but has risen to the role of "potential First Man" beautifully.
"He's not somebody who I think felt that politics was for him or sought out the celebrity world by any stretch," Buttigieg says. "But he's also somebody that I think people just naturally take to because he's a magnetic and wonderful person."
They're in the midst of primaries.
At last, the Democratic primaries are under way. After New Hampshire and Iowa, Pete and Bernie Sanders have performed most strongly—Pete performed particularly well among "moderate/pragmatic" Democratic voters, apparently. This will make for an interesting race as the candidates move around the country.
It's also worth noting that Pete made history in Iowa: He's the first openly gay candidate to win delegates at a major party's national convention. Gay rights advocates have said that this has enormous significance and represents an important evolution.
Chasten shared the hectic scene from New Hampshire:
And despite obstacles (Chasten's discussed the challenges of dealing with prejudice and even slurs yelled at them), it looks as though he is still pumped and protective of his fans:
And of course their dogs are SO supportive of their dads, encouraging their fans to go out and vote in the cutest way imaginable:
(GAH that is so cute.)
They've been together since 2015.
Both are from the Midwest, and they bonded over their shared love of local food on a first date in September 2015. "Once I saw he was down for the Scotch egg, I knew it had a shot," said Pete.
"I had been in a couple of relationships and was a couple years out of my last," added Chasten. "I wanted to meet someone to actually go on a date with, the goal being a long-term relationship." They moved in together in 2016, with Chasten commuting back to Chicago until he finished his degree.
Chasten (no surprise) has always been supportive.
Pete explained, "Chasten has done a great job of making sure things went well while I was putting in late nights at the office and he's got a pretty demanding job as a teacher as well." And when Pete announced his run, Chasten was all in:
They had the best wedding ever.
Apparently, "it was the first time in four decades that a sitting mayor of South Bend had gotten married while in office." Both men love Indiana and the Midwest, and that enthusiasm really showed in their marriage. Per their New York Times wedding announcement, the nuptials featured:
And they have the cutest dogs.
Just look at them!
I mean.
Chasten shared heartbreaking stories about growing up.
While Chasten and Pete have been on the campaign trail, we've gotten the chance to learn even more about him. Though Chasten and his parents have reconciled, when he initially came out: "I don't recall my parents specifically saying I couldn't live at home anymore, but I was made to believe I needed to leave," he explained to the New York Times.
After the initial conversation, he told The Washington Post that he bounced around, sleeping on couches, technically homeless until his parents finally invited him back home. His parents ended up embracing him and even walking him down the aisle. His brothers, though, never came to a place of acceptance.

Trigger warning: sexual assault details. In that same article, he also shared a horrifying but all-too-relatable incident the year after he came out: that he'd been sexually assaulted "by an acquaintance at a house party. That was another burdensome secret, another truth he was afraid his friends would not accept." But he's been able to come to terms with it, and his husband helped him recover. "There's a lot of baggage there, a lot of hurt, and [Pete] was so patient," he said. "I've never felt so seen."

Chasten also admitted that being on the campaign trail was exhausting, and that he's lost 20 pounds since the holidays. Some of it's from the nastiness—slurs yelled at him and Pete, nasty letter to their home, and so forth—but some of it's simply from being so open. "The feeling that I end most of my days with is, like, vulnerability fatigue," he says. "You put yourself out there so much. And we've invited the world to scrutinize us."
We also got some sweet tidbits: Chasten and Pete met on Hinge, and Pete proposed at Chicago O'Hare airport, which is apparently where Chasten first saw Pete's profile. Awwww. These two!
They celebrated their one-year anniversary.
Chasten posted this:
Pete even gave us a little video footage in a campaign video:
The couple look so sweet and happy together. What a YEAR it must have been for the couple, and Chasten in particular.
They've been on the campaign trail for a while.
Chasten gave his first interview ever, saying (amongst other things), "I'm really happy to carry the torch and bravely and proudly carry the banner for our community and for everyone. This campaign is love and you are loved and you matter. And we're gonna go out there and make you proud." It's really, really sweet.
CNN also noted that Pete's momentum was tied in with Chasten's rising popularity, as the two stepped out for public events. The pair even went on The Ellen DeGeneres Show:
And the two even got a TIME cover:
It also looks like, more and more, Chasten is going out and speaking to people without his husband, becoming a known entity in his own right:
Watch this space—there's a lot more to come from the couple as they continue to make history.
For more stories like this, including celebrity news, beauty and fashion advice, savvy political commentary, and fascinating features, sign up for the Marie Claire newsletter.
Celebrity news, beauty, fashion advice, and fascinating features, delivered straight to your inbox!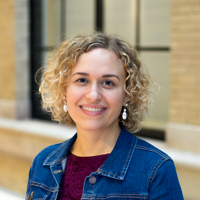 Katherine's a Boston-based contributor at Marie Claire who covers fashion, culture, and lifestyle—from "Clueless" to Everlane to news about Lizzo. She's been a freelancer for 11 years and has had roles with Cosmopolitan and Bustle, with bylines in Parents, Seventeen, and elsewhere. It's "I go to dinner," not "Her huge ego," but she responds to both.