Who Is Maya Harris, Kamala Harris' Super-Supportive Sister?
Maya worked for Hillary Clinton in 2016 as a senior advisor.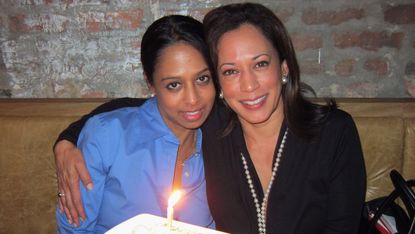 (Image credit: Jason Binn / Getty Images)
Marie Claire Newsletter
Celebrity news, beauty, fashion advice, and fascinating features, delivered straight to your inbox!
Thank you for signing up to Marie Claire. You will receive a verification email shortly.
There was a problem. Please refresh the page and try again.
If you've been educating yourself about our soon-to-be vice president, Kamala Harris, chances are you've already learned about her sister and former presidential campaign chair, Maya Harris. The lawyer, civil rights activist, and author may not always agree with her sister on issues around criminal justice, but the two are fiercely supportive of each other. "If people knew who Kamala was, and really what she believes and really where her heart is, I think it would be hard not to reach the conclusion that this is the person who would be the most passionate advocate for the things we've been fighting for for a long time," Maya has said. So who is Kamala's confidante and friend, who's been by her side and even officiated Kamala's wedding to Douglas Emhoff?
Maya Harris boasts an impressive resumé.
If you're already familiar with Maya, it's potentially because she was a senior advisor for Hillary Clinton in the 2016 election. "Hillary really trusted her instincts," said Clinton campaign chairman John Podesta to Talking Points Memo. "Maya would cut through the bullshit, brief her quickly, and give her something to think about."
But I have to note she's done so much more than that: She's been a leader for the American Civil Liberties Union, a vice president at the Ford Foundation, and editor of The New Jim Crow by her friend Michelle Alexander. She's also served as VP at the Ford Foundation and became one of the youngest law school deans in the U.S. at Lincoln Law School of San Jose. She was a political analyst for MSNBC and quit to work with Kamala on the campaign trail (although Kamala has declined to discuss specifics on who advises her). At times she's been called Kamala's "Bobby Kennedy"—in that she's both highly instrumental and highly loyal to her sister.
She served as the campaign chairwoman until Kamala dropped out of the race on December 3, 2019. "I think most people who know Maya will tell you she's one of the smartest people they know," Kamala said to Politico in June 2019 on her sister's campaign efforts. "The fact that she has volunteered to work on this campaign at such a high level and she's exactly who she's always been—she works around the clock and she's probably the hardest, if not one of the hardest working people on the campaign—I feel very blessed."
She's also a writer. Recently, she wrote honestly about her experience with lupus, saying she felt compelled to speak during the pandemic:
She also just wrote a children's book, Ambitious Girl, set to be released in tandem with Harris and Biden's inauguration. She told People of the book: "I hope that girls take away from this, first and foremost, that female ambition is a good thing, it's a positive thing and it's something to be celebrated, to claim, to find power in,"
And she's written publications around the criminal justice system too. In an essay she wrote for Tavis Smiley's book The Covenant with Black America, Maya said: "Something is clearly wrong when the government's most effective affirmative action program is the preference people of color receive when entering not college but the criminal justice system."
She's married and has a daughter—and she's a grandmother, too.
Maya has been married for over two decades to Tony West, former Associate Attorney General of the U.S. Senate and current Chief Legal Officer of Uber. The pair met on the first day of classes at Stanford Law School when Meena introduced her mom to her new hide-and-seek partner, West. The pair stayed in touch but didn't get together until years after graduation.
"We waited for the most inconvenient time to actually get together—he was in D.C. and I was in the Bay Area," said Maya to Stanford Lawyer. "It's a family joke that Meena knew we should be together long before we did."
He's also an adorably supportive partner towards her and his sister-in-law:
Her daughter Meena is grown up and has two kids of her own:
She got pregnant with Meena during her senior year of high school in 1984. On MSNBC in 2014, Maya reflected on the struggles of raising a child on her own while going to school. She said: "I was a single teenage parent and I could not have done what I've been able to do had I not had access to childcare and had I not had mechanisms for me to pay for both my college tuition and my law school tuition."
Both Maya and Kamala reference their mother as a huge influence.
At the 2020 DNC, Kamala said: "My mother instilled in my sister Maya and me the values that we chart. She taught us to put family first...The family you're born into and the family you choose."
This past Mother's Day, Kamala spoke about her late mother, Shyamala Gopalan, who passed away in 2009:
It's pretty clear their love of her is one of the most important parts of their lives.
From what we know about Donald Harris, their father, aside from one strangely critical comment he's made about Kamala, he doesn't speak to the press about the relationship, and neither Kamala nor Maya appear to talk about the relationship much.
Celebrity news, beauty, fashion advice, and fascinating features, delivered straight to your inbox!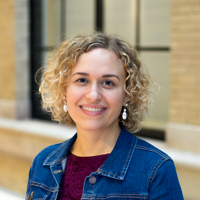 Katherine's a Boston-based contributor at Marie Claire who covers fashion, culture, and lifestyle—from "Clueless" to Everlane to news about Lizzo. She's been a freelancer for 11 years and has had roles with Cosmopolitan and Bustle, with bylines in Parents, Seventeen, and elsewhere. It's "I go to dinner," not "Her huge ego," but she responds to both.