Get to Know Tiffany Trump, Donald Trump's Youngest Daughter
Fun fact: Lindsay Lohan basically set up Tiffany and her now-boyfriend.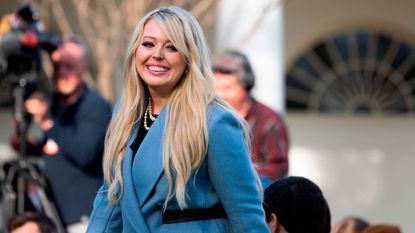 (Image credit: JIM WATSON)
It's no secret how much Donald Trump's kids are involved in his life, especially when it comes to what's going on in the White House. Ivanka and Donald Jr.'s relationships with their father's presidency is interesting, to say the least, but what's perhaps more intriguing is how some of his kids manage to avoid the scrutiny. It's easy to see that Tiffany Ariana Trump is a pro at this.
The second daughter to the President and the only child with Trump's second wife, Marla Maples, Tiffany knows how to keep it low-key when it comes to the public eye. Despite being named after the famous store Tiffany & Co—I'm completely serious—she isn't as flashy as many of her other half-siblings. Here's everything you need to know about the 26-year-old socialite.
Tiffany is in a serious relationship with Michael Boulos.
In what sounds like something out a movie, but isn't, Tiffany met now-boyfriend Michael Boulos met through Lindsay Lohan...kinda. During a nice, probably expensive, summer trip to Greece, the pair crossed paths at Lohan's club in Mykonos.
But Lohan swears she didn't play matchmaker, telling PEOPLE, "I wasn't there when they met." Further explaining, "I know him…and I know her…but I don't know what happened."
Boulous comes from major money; his family owns a company that trades in vehicles, equipment, retail, and construction. He grew up in Lagos, Nigeria, but now reportedly lives in London. According to Page Six, the pair have been together since 2018.
Tiffany followed one big family tradition.
She graduated from the University of Pennsylvania in 2016 with a bachelor's degree in sociology. Attending UPenn is a huge family tradition for the Trumps—her dad, Donald Trump Jr., and Ivanka Trump all went there.
More recently, Tiffany graduated from Georgetown University Law School this past May. Her father tweetedabout the huge accomplishment: "Congratulations to my daughter, Tiffany, on graduating from Georgetown Law. Great student, great school. Just what I need is a lawyer in the family. Proud of you Tiff!"
Tiffany hasn't said what her next steps will be career-wise, or whether she intends to take the bar exam, per CNN. She did tell ABC in a 2016 interview that she was interested in joining the Trump family real estate and hospitality business, but things could've changed.
Tiffany spoke at the 2016 Republican National Convention.
On the second night of the 2016 Republican National Convention, Tiffany addressed the delegates. "Please excuse me if I'm a little nervous," she began. "When I graduated college a few months ago, I never expected to be here tonight addressing the nation. I've given a few speeches in front of classrooms and students, but never in an arena with more than 10 million people watching."
She spoke about her father, highlighting the qualities she likes best about him. "In person, my father is so friendly, so considerate, so funny, and so real," she said. "I have admired my father all of my life, and I love him with all my heart."
Tiffany once attempted a singing career.
Personally, this fascinates me: In 2011, Tiffany released a single called "Like a Bird ." On The Oprah Winfrey Show, she said she was trying to figure out if she would take her music career "to the next level as a professional." Let's just say that was the only song we ever got from her.
The socialite has done plenty of other things too, like interning for Vogue in 2015 (apparently she got lunch with Anna Wintour??) to modeling for Just Drew designer Andrew Warren for his fall New York Fashion Week 2016 show.
RELATED STORIES
Bianca Rodriguez is the Fashion & Luxury Commerce Manager at Hearst Magazines, covering fashion, beauty, and more for Cosmopolitan, Elle, Esquire, Harper's BAZAAR, and Town & Country. She likes lounging about with a good book and thinks a closet without platform sneakers is a travesty.