Celebrities React to Joe Biden and Kamala Harris Winning the 2020 Election
Ariana Grande, Padma Lakshmi, John Legend and more are celebrating on social media.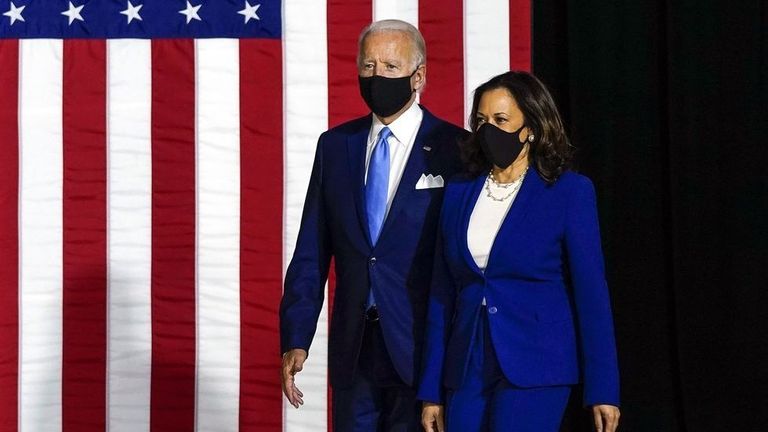 (Image credit: Drew Angerer)
Celebrities have been a big part of the 2020 election, with many influential A-listers acting as surrogates for the Democratic ticket and urging their fanbase to vote for Joe Biden and Kamala Harris. So when the pair were confirmed as the President and Vice President-Elect on November 7, celebrities took to social media to celebrate the big win, commend Biden and Harris for their work, and share hopeful messages about the days ahead.
Several big names like Jordan Peele and Padma Lakshmi penned funny takes about Donald Trump being fired while others like Lizzo and Rihanna looked to the work that still has to be done. Meanwhile Reese Witherspoon, Ariana Grande, and Bella Hadid shared messages of relief and excitement about Biden and Harris's win.
"@JoeBiden @KamalaHarris and the American people, you just gave the world one of the greatest acts of kindness and bravery humanity has ever seen. nothing but love for our new Commander in Chief and the 1ST female VP elected to the White House," Gaga wrote on Twitter.
See more celebrity reactions to Joe Biden and Kamala Harris win below.
As Marie Claire's Entertainment Director, Neha oversees pop culture, celebrity, and current events features with a focus on elevating diverse voices and stories in film and television. She also oversees the brand's print and digital covers as well as book and produces MC's video franchises. She loves a hot-take, hates TV reboots, and is always happy to discuss reality television. Before joining Marie Claire, she held positions at Glamour, Brides, Condé Nast, and Mashable, and is a graduate of the Columbia School of Journalism.