Joe Biden's Inauguration: When and Where It Is, and How to Get Tickets
Plus: everything you need to know about the Tom Hanks-hosted primetime inauguration special.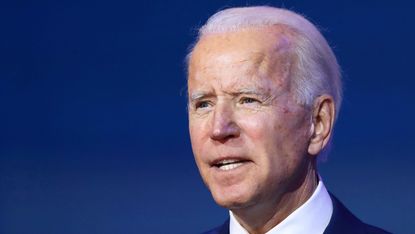 (Image credit: Joe Raedle)
Marie Claire newsletter
Celebrity news, beauty, fashion advice, and fascinating features, delivered straight to your inbox!
Thank you for signing up to . You will receive a verification email shortly.
There was a problem. Please refresh the page and try again.
After the most questionable year ever, there's finally some good news! And I'm not just talking about how we're finally going to have the first female vice president (opens in new tab). Though the COVID-19 pandemic rages on, the 59th inauguration for Joe Biden and Kamala Harris is scheduled to take place on January 20, 2021. The Joint Congressional Committee on Inaugural Ceremonies, which has been organizing inaugural ceremonies of the president-elect and the vice president-elect since 1901, announced that the historic event to officially swear Biden and Harris into the White House will still take place.
When is the Biden-Harris inauguration?
The outdoor event plans to take place on January 20 at the U.S. Capitol building in Washington, D.C. Since July, a Presidential Inaugural Committee has been organizing the event with the $1.5 million inaugural budget. (opens in new tab) The committee is led by CEO Tony Allen and is further filled out by co-chairs including Rep. James E. Clyburn, D-S.C., the House Majority Whip; Michigan Gov. Gretchen Whitmer; and L.A. Mayor Eric Garcetti, to name a few.
What is the theme of the 2021 inauguration?
The PIC announced Jan. 11 that the event will be themed "America United." According to the committee, "At a time of unprecedented crisis and deep divisions, America United reflects the beginning of a new national journey that restores the soul of America, brings the country together, and creates a path to a brighter future."
In line with this theme, the multi-day schedule of inaugural events will include a National Day of Service encouraging Americans to engage in acts of community service on Jan. 18, as well as the installation of a massive public art display of nearly 200,000 American flags on the National Mall, titled the "Field of Flags." In another display of unity, Biden and Harris will be joined by the Obama, Bush, and Clinton families to lay a wreath at the Tomb of the Unknown Soldier at Arlington National Cemetery after the new president and vice president are sworn in on Jan. 20.
What will happen at the inauguration?
It's pretty simple: Vice President-elect Kamala Harris will be sworn in on the West Front of the Capitol, and then President-elect Joe Biden will follow suit. The presidential oath of office is traditionally administered by the Chief Justice of the Supreme Court, meaning that John Roberts will have the honor of presiding over his fourth inauguration. The vice-presidential oath of office, meanwhile, can be administered by a range of officials, from Supreme Court justices to senators to the outgoing VP. The last three vice-presidential oaths were administered by associate SCOTUS justices, and it seems likely that Harris will do the same, selecting a justice with similar views to her own to guide her through the oath.
After the swearing-in ceremony, the president-elect will deliver his Inaugural Address, which will be about what he plans to do in the next four years—namely, "[laying] out his vision to beat the virus, build back better, and bring the country together," according to his inaugural committee. Next, Biden and Harris will oversee the Pass in Review, a military parade that serves as a symbol of the American tradition of the peaceful transfer of power from one commander-in-chief to the next.
The ceremony will close with a parade that, this year, will be largely virtual (opens in new tab) due to the ongoing COVID-19 pandemic. The parade will begin with Biden and Harris being escorted by members of every branch of the military on the one-block ride from the Capitol to the White House.
Will Donald Trump be there?
Traditionally, Inauguration Day begins with the incoming POTUS and FLOTUS meeting with the outgoing first couple at the White House for coffee before piling into a limousine to travel to the ceremony together. This year, however, with Donald Trump continuing to claim that Biden "stole" the election from him (he didn't) and only committing to an "orderly transition" (opens in new tab) less than two weeks before the swearing-in, it came as no surprise when the current president announced on Jan. 8, in one of his final tweets before his Twitter account was permanently banned from the platform (opens in new tab), that he would not attend Biden's swearing-in. He'll be only the fourth president to skip his successor's inauguration in U.S. history, per CNN (opens in new tab).
Though Biden had previously expressed his desire for Trump to attend his inauguration, if only for the sake of unity, The New York Times reported (opens in new tab) that after Trump's announcement, Biden said, "It's a good thing, him not showing up." Zing!
Regardless, the only other living Republic president will show his support for Biden's presidency: A spokesperson for George W. Bush announced (opens in new tab) on Jan. 5 that he and former First Lady Laura Bush would attend the inauguration. Additionally, Vice President Mike Pence will reportedly be in attendance, with his RSVP confirmed (opens in new tab) shortly after a rift emerged within the Executive Branch over the events of the pro-Trump attempted coup at the Capitol (opens in new tab) on Jan. 6.
Who will perform at the inauguration?
Usually, celebrities who have vocally shown their support (opens in new tab) for a candidate perform or find another way to participate in inauguration ceremonies, and this year is no different, despite the many other changes to the regularly scheduled inauguration programming. On the evening of Jan. 20, after the swearing-in ceremony and virtual parade, Tom Hanks will host a primetime TV special entitled "Celebrating America," the inaugural committee announced (opens in new tab) Jan. 13.
The 90-minute program will include performances by Demi Lovato, Justin Timberlake, Jon Bon Jovi, and Ant Clemons, plus remarks from both Biden and Harris. The rest of the program—which will be broadcast live at 8:30 p.m. ET on ABC, NBC, CBS, CNN, and MSNBC, and livestreamed on YouTube, Facebook, Twitter, Amazon Prime, and more—will be filled out with celebrations of the Americans who have become heroes throughout the pandemic, including healthcare workers, teachers, and fundraising leaders.
How can I get tickets to attend?
Typically, hundreds of thousands of members of the public are able to attend the inauguration, but this year, due to the Biden-Harris administration's continued commitment to health and safety in the face of a deadly pandemic, tickets have been strictly limited and Americans have been urged to stay home. Members of Congress will reportedly be given only two tickets—enough for themselves and a plus-one—and those who do attend will be required to comply with strict safety protocols, per the Washington Post (opens in new tab).
Your best bet—and the Biden administration's preferred way for you to participate—is to settle into your own couch to watch or stream the official event, virtual parade, and primetime special, all of which will be broadcast all over the major news networks and online. Check back later as it gets closer to the event for more information; we'll be continually updating this page.
Related Stories
Andrea Park is a Chicago-based writer and reporter with a near-encyclopedic knowledge of the extended Kardashian-Jenner kingdom, early 2000s rom-coms and celebrity book club selections. She graduated from the Columbia School of Journalism in 2017 and has also written for W, Brides, Glamour, Women's Health, People and more.