Jill Biden Talks Women's Empowerment and Education in Africa
On trip to Zambia, the Democratic Republic of the Congo, and Sierra Leone, Dr. Biden previews Obama Administration's agenda for Africa Summit.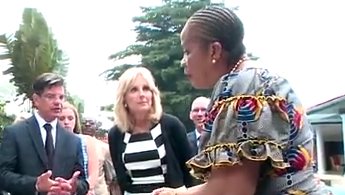 (Image credit: YouTube)
With more than 200 schoolgirls still held captive in Nigeria, Dr. Jill Biden chose an apt time to talk about women's education, empowerment, and government in Africa. On a trip last month to Zambia, the Democratic Republic of the Congo, and Sierra Leone, Dr. Biden visited parliaments, schools, and hospitals where victims of gender-based violence are treated, and hosted discussions on the issues holding women and girls back from reaching their full potential. "Everyone seems to be moving forward in the same direction—in a positive direction," Dr. Biden said.
The video above, released exclusively to us, shows the highlights from Dr. Biden's time in the countries, including a speech before the all-girls St. Joseph's Secondary School in Freetown, Sierra Leone. "Without an education, the entire medical team at the Panzi Hospital wouldn't be able to help the women and children of sexual and gender-based violence in the Congo," Dr. Biden said in the speech. "Without finishing engineering school, women entrepreneurs like one named Terez wouldn't be able to help provide safety for her community. And without teachers, all of you young students here today might not have the opportunity to realize your dreams and give back to your community and your country."
Catherine Russell, the U.S. ambassador at-large for global women's issues, and Rajiv Shah, director of the U.S. Agency for International Development, accompanied the Second Lady. "Dr. Biden is a role model to so many people, students and educators in particular," Shah says in the video. "As a teacher, she has a real opportunity to be an illustration of what's possible and help country leaders throughout Africa see the value of education and commit to investing in better schools, better teachers, and better learning outcomes for kids, girls in particular."
The trip came just weeks ahead of a three-day U.S.-Africa Leaders Summit, which kicks off August 4 in Washington D.C. The first event of its kind, President Barack Obama will welcome leaders from across Africa to further U.S. trade and investment in the continent. One of the sessions, called "Investing in Women, Peace, and Prosperity," will recognize that women's leadership and participation at all levels, from government to the economy to civil society, helps advance a country's economic and democratic development, improve health and education outcomes, and increases safety and security. Discussions will focus on expanding economic opportunity for women, promoting civic and political leadership for women and girls, and increasing women's meaningful roles in conflict prevention, peace-building, and security decision-making.
Shah says the summit is a "historic moment" and "represents a pivot to seeing Africa as a place of opportunity, of growth, of respect for their leaders and their kids and their young people in particular."
Related:
These Rape Victims Get Four-Wheeled Retribution
"I Would Rather Die Than Stay With These People" (An Escaped Nigerian Schoolgirl)
Marie Claire email subscribers get intel on fashion and beauty trends, hot-off-the-press celebrity news, and more. Sign up here.
Kayla Webley Adler is the Deputy Editor of ELLE magazine. She edits cover stories, profiles, and narrative features on politics, culture, crime, and social trends. Previously, she worked as the Features Director at Marie Claire magazine and as a Staff Writer at TIME magazine.