Women Who Rule
So now that the midterms are out of the way, we're eyeing the election bids: Condi? Hillary? If either declares-and wins-she'll join these women.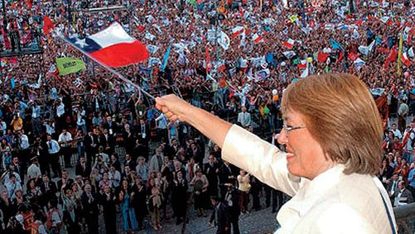 (Image credit: J. De La Maza)
So now that the midterms are out of the way, we're eyeing the '08 election bids: Condi? Hillary? If either declares-and wins-she'll join these women, already warming
THE SURVIVOR: Michelle Bachelet, 55 president of Chile; elected January 15, 2006
MADE-FOR-TV BEGINNINGS: In 1975, two years after Augusto Pinochet's coup d'état, Bachelet, then a 23-year-old med-school student, and her mother were imprisoned and tortured. Her father, a prominent air-force general, had died a year before from similar treatment.
NINE LIVES: Later, she and her mother sought asylum in Australia, then East Germany. She returned to Chile in 1979 to work at a clinic for children from families victimized by political oppression, then en rolled at the Chilean national war college in 1996. She was named minister of health in 2000, and in 2002, head of the Defense Ministry.
ALIAS-LIKE PLOT TWIST: Ironically, the latter was the same institution involved in the death of her father, who was killed by fellow officers when Pinochet took power.
BALLSY LIFESTYLE CHOICE: An unrepentant agnostic in an almost uniformly Catholic country, Bachelet has three children from two different fathers.
CAMPAIGN PLEDGES: Gender parity in her cabinet—a pledge she made good on; free preschool for children in the poorest 40 percent of Chilean society; stronger domestic-abuse laws.
WHY SHE MATTERS: The U.S. views Chile as an ally on a vastly anti-American continent.
WHO WOULD PLAY HER IN THE MOVIE: Kathy Bates (if Helen Mirren is unavailable)
THE POPULIST: Portia Simpson-Miller, 60 prime minister of Jamaica; elected February 25, 2006
SOUND TRACK: Reggae tunes "The Strength of a Woman" and "I Wanna Thank You (Momma)."
SLOGAN: "Come to Mama," though she has no children; her "kids," she explains, are Jamaica's working poor.
STICKING POINT: During her campaign, Simpson- Miller repeatedly dodged questions about how she would fix a system that thrives on crime and bribery; she was backed by what one diplomat called "some very scary people."
CAMPAIGN PLEDGES: To reduce crime and improve quality of life. Seventeen percent of people in Jamaica live below the poverty line, and Simpson-Miller has vowed to "lift up the poor."
WHY SHE MATTERS: Despite the sun-dappled tourism ads, Jamaica has the third-highest murder rate in the world. Less murder = more tourists = a boost to the troubled economy.
FUN FACT: Loves to watch boxing.
SIGNATURE STYLE: Straight-up suits and pearls.
WHO WOULD PLAY HER IN THE MOVIE: Oprah's BFF, Gayle King
NICKNAMES: Sista P and Mama Portia
THE PRODIGAL DAUGHTER: Ellen Johnson-Sirleaf, 67 president of Liberia; elected November 8, 2005
STICKING TO HER GUNS: Born and raised in war-torn Liberia, Johnson-Sirleaf received a graduate degree in economics from Harvard, then returned home, determined to fight her country's violence and poverty. Jailed twice, she narrowly escaped a rape attempt by a soldier who had executed her cellmates.
STICKING POINT: Her association with Charles Taylor, Liberia's ex-president, now awaiting trial for war crimes. She helped fund his rebel faction before breaking ties.
CAMPAIGN PLEDGES: Tougher sentences for rape, which was used as a weapon during the country's civil war; clamping down on corruption; and shedding light: Monrovia, Liberia's capital city, had been without a government-supplied power source since the early 1990s, due to the civil war. Some power was restored in July.
SIGNATURE STYLE: Indigenous chic. Wore a gold-embroidered national costume and matching head scarf on her first official visit to Washington.
WHO WOULD PLAY HER IN THE MOVIE: Whoopi Goldberg
THE OUTSIDER: Angela Merkel, 52 chancellor of Germany; elected November 22, 2005
OUTSIDER STATUS: Merkel was raised in East Germany, making her both the first woman and the first East German (after reunification) to run the country.
REGRETTABLE BEAUTY TREATMENT: She was late to the fall of the actual Wall, due to a standing weekly appointment at the sauna.
NICKNAME: The Girl—bestowed by then-chancellor Helmut Kohl. Fortunately, he also named her minister of family affairs, senior citizens, women, and youth affairs, and later minister of environment, conservation, and reactor safety before they had a political falling out.<
CAMPAIGN PLEDGES: To tackle unemployment, revamp the welfare state, and back proposals for 10 months of paid leave for one new parent, two months for the other.
BALLSY REBUFF: Merkel famously shrugged off President Bush with a "paws off " grimace when he gave her an uninvited shoulder massage at the G8 Summit this past July.
WHY SHE MATTERS: She's the key link between the U.S. and Iran in the effort to persuade the latter to rein in its nuclear program. Has had tête--têtes with Bush (twice), Vladimir Putin, and Chinese premier Wen Jiabao—all during her first six months in office.
WHO WOULD PLAY HER IN THE MOVIE: 30 Rock's Rachel Dratch (or how about Helen Mirren?)
NICKNAME: Iron Lady
FUN FACT: Though married to a chemistry professor, Merkel has a crush on Dustin Hoffman.
Celebrity news, beauty, fashion advice, and fascinating features, delivered straight to your inbox!