Memories From My Weekend At The Beach
My college buddies and I spent it wasting our minds and not thinking about anything important.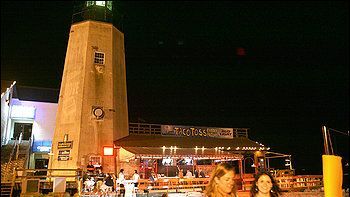 (Image credit: http://www.washingtonpost.com/wp-dyn/content/article/2009/05/21/AR2009052101213.html)
Marie Claire Newsletter
Celebrity news, beauty, fashion advice, and fascinating features, delivered straight to your inbox!
Thank you for signing up to Marie Claire. You will receive a verification email shortly.
There was a problem. Please refresh the page and try again.
I hope everyone had a great Labor Day holiday. My college buddies and I spent it wasting our minds and not thinking about anything important. Among the discussion topics:
- How many more US Open wins before rising 17-year-old tennis star Melanie Oudin dumped her boyfriend because she was too rich and famous for him?
- The minute difference between a triple and a homerun on our wiffle ball court


- Who among us was the fastest corn shucker
...and other useless things. It was glorious.
I wanted to share a few characters we ran into over the weekend during Annual Guys' Weekend:
The Pizza Lecturer - Pizza distribution is the easiest way to meet women at the Delaware beaches. Saturday night, we went to the Lighthouse Bar and after closing time, my friend and I got separated from the group- so we searched the streets for pizza. One young buck was drunkenly wandering around "hitting on" girls by screaming at them. So we took him under our wing and instructed him to give pizza to women passing by.
He offered a piece to a girl who stopped and thanked him and smiled. But he pulled it away, as a joke, cackling. She launched into stern lecture on the evil of his pizza trick. A few minutes later we noticed them walking away together. It turns out that pizza, even if used for evil, increases your chances for love after the bars close.
Spark Plug - This tiny red-haired lass at The Starboard earned the name "Spark Plug" because she was a fired-up ball of energy(although that name may have been inspired by Melanie Oudin who was called a "spark plug" throughout her US Open run by play-by-play people). Spark Plug and I were dancing and talking closely because the music was so loud and we could barely hear. At one point, our close talking mutated into a makeout on the deck outside. I didn't get a number, a Facebook add or anything. All I can do is see her on a video I took during the day. I hope that doesn't make me a kissing slut.
Every year my Guys' Reunion trip reminds me of a few things:
1. It's sometimes easier to meet women away from home. Home town represents work, bills, and stress. When we get away, we are all happy and feeling adventurous.
2. Transient meetings are exhilerating; every person you encounter, even if you only know them by nickname for 2 hours, teaches you something else about what you're looking for in dating and where you may end up.
3. Even though my friends and I are dating, married, have children, we still make the time to get away. Guys crave that "guy time" with their buddies, and we appreciate it when a significant other gives it to us. Women should get away with their friends too. In a relationship, this separation is good and is a sign of trust.
4. Pizza attracts intoxicated women after 1 AM
The Delaware beaches are one of the few places in the world that symbolize my past, present and future. We used to head there as a family when I was little, and now I re-live the revelry of college for a weekend with my buddies, and we plan on returning again and again.
Each year, my friend Margaret talks me off the ledge when I get back from Labor Day weekend, because I am depressed that my trip, and the summer, are over. I was still thinking about Spark Plug, but there was nothing I could do because I didn't get any contact info.
Margaret explained that the "rules" state, most likely, I was not going to meet the girl of my dreams in a crazy bar drinking all day at Dewey Beach, and Spark Plug simply represented the whole trip and beach town. I was happy with this explanation. If Spark Plug represented the beach, then she represented something that was already a part of me. Missing her meant I was actually missing the weekend and the beach.
What are your thoughts on meeting abroad and transient meetings? Do these meetings mean anything to you? Do you ever fall for someone because of what they represent? What do you do for your gals weekend, and how do these trips help your relationship with your significant other?
Follow me on Twitter: twitter.com/richravens
Celebrity news, beauty, fashion advice, and fascinating features, delivered straight to your inbox!