My Boyfriend Thought He Was a Porn Star
He'd watched it all his life, so why was I surprised?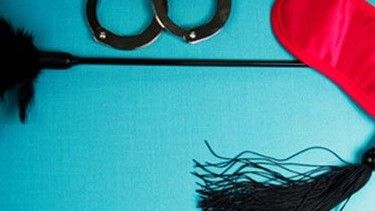 (Image credit: Lewis Wright)
I was supposed to marry Alexi. He was perfect on paper: well-traveled, M.D./Ph.D. candidate, 30ish, fun, Jewish, dreaming of a wife and two kids on approximately the same timeline that I planned to be a wife with two kids. My mother was pushing for a wedding.
Our courtship had followed the classic script: We kissed at the end of our second date, ran the bases on each others' couches for a few more, and sealed the deal on the fifth. That's when things started to go downhill. Every round in the sack followed the same pattern: First we'd have a make-out session, with some groping, then oral sex, then sex in predictable positions, then done. Each time I'd lie there afterward and contemplate the empty feeling in my soul. It wasn't the first time I'd been here, and Alexi wasn't to blame. I recognized the signs. Porn Sex had struck again.
Alexi came of age in the '80s, which placed him solidly in Generation Porn — millions of American boys who witnessed graphic intercourse on a TV screen before they'd even touched a girl. Previous generations passed naughty magazines snatched from their fathers' collections around chemistry class. The images were frozen, and inconclusive. Generation Porn guys' sexual horizons were broadened — or narrowed — by artificial acts performed (with sound!) on VCRs when their folks were out. Since most of these men watched countless staged shags smack during their formative years, their road map was set. And now that nothing-left-to-the-imagination sex videos are all the easier to access on the Internet, the pattern is reinforced every time they switch to their PC's flip screen.
I don't want to knock porn. In its heyday in the '70s, when movies were varied and creative and implant-free, it helped convince the world that everyone is a sexy being, and opened up a universe of possibilities for the postfeminist gal. My issue is that the current, ubiquitously available stuff follows that preordained, if arbitrary, set of activities — make out/grope/oral sex/sex/money shot — now so ingrained that everyone follows them, consciously or not.
The travesty is that options abound here. You and your partner have 20 available fingers, eight limbs, and two tongues between you. If you used them all to express your feelings for each other, the ensuing experience would, I promise, deviate heavily from the routine. Instead, we're chefs with tricked-out kitchens who've been shown three recipes and who stick to those three recipes permanently. Even worse: Some of the moves in even the most mainstream stag flicks border on the disturbing. No guy would ever think it was OK to stuff the full length of himself into a girl's mouth on a third date had he not already seen it done a million times on-screen. But due to the mechanics of things, men are often running the show, gleefully directing women into a myriad of camera-friendly positions. A friend recently told me about how her boyfriend — a bookish guy raised on a farm — periodically says, "I want you to put that leg over there." When it's very clear that that leg is not meant to go over there.
A (male) friend insists that women are equally to blame. "Girls come in and do stuff that they think they're supposed to do, too," he says. He's right. How can we expect men to be authentic when we're huskily tossing out rote dirty talk we heard on Skinemax? When, in advance of the event, we've dutifully had a Brazilian, put on a thong, and practiced our hair flips in Cardio Striptease class?
Alexi confirmed my suspicions on date 10, when he popped The Question. No, not that one. The one about the kinky urge he'd had since date one: "Would it be OK if I ___?" It was a maneuver that came straight out of a Hustler video. (There are only a few variations on The Question: anal sex, sex in public, or a three-way. You're familiar.) My answer was no, delivered in my bluntest, most non-sex-kittenish voice. Soon after, I slipped our perfect-on-paper connection into the shredder.
Salvation came a few months later in the form of John, a tall British jock. Our first kiss was sweet and communicative, and, in the coming evenings, he did things like spend four hours running his fingers all over my body. There was no sex on our first night, or the next. He was the first partner I'd ever had who was aware that I have toes. I asked him where he learned his moves, and he just shrugged and said, "It's what I always imagine doing with a woman." Swoon. It was what he imagined doing with a woman. Not what he saw some other guy doing to a woman on youporn.com. His creativity underscored that the point is not to hurl your body at someone else's and re-enact what you've seen on a small screen. To be a sexual being is to break patterns, follow a pleasurable tangent, and use every nerve, not just the erogenous ones.
I have since opted for men raised on fumbling, most of them over age 37. Fumbling, it turns out, works. Still, when I asked my current beau, a 39-year-old fumbler, how he would solve the porn-moves problem, he replied, "Better porn."
Marie Claire email subscribers get intel on fashion and beauty trends, hot-off-the-press celebrity news, and more. Sign up here.