Heartbreak Hairstyle
After breaking up with her boyfriend, Irina Aleksander abandons her old look...and reaches for the bleach.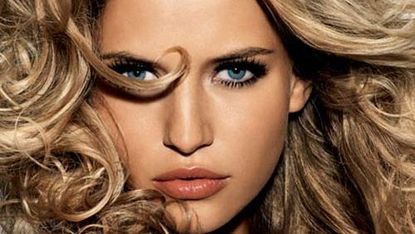 (Image credit: Greg Delves)
After three years of trying and failing to turn inexplicable chemistry into a functioning relationship, my boyfriend and I split up. The actual breakup happened quickly — on the stoop of my Manhattan brownstone one spitefully sunny August afternoon, where he handed me a plastic bag containing books, hair straightener, and my leather jacket and I returned his apartment keys.
The days that followed, according to friends, were meant for lying in bed, watching Before Sunrise, and consuming masochistic amounts of carbohydrates. But I didn't have time for all that. Instead, I cleaned out my closet; I bought a new mattress; I decided to quit smoking (still working on that one); and I welcomed a tragic new look that grew out of my mood: vintage Wrangler cutoffs, layers of tacky gold jewelry, and loads of gunky eyeliner.
My plain dirty-blonde hair — wavy, just past my shoulders, and never dyed — just didn't match my new mood. I'd never wanted to change my hair before, but I really craved something dramatic. I didn't want just a different cut; I wanted to bleach it!
I later realized I was suffering from a case of Breakup Hair. Among the previously afflicted: Felicity, a character played by Keri Russell on the WB show of the same name, who chopped off her curly locks into a startling boy-cut after her breakup with college boyfriend Ben (played by real-life squeeze Scott Speedman); Reese Witherspoon, who claimed bombshell status when she showed up at the Golden Globes sporting that killer yellow dress and newly shorn bangs shortly after separating from hubby Ryan Phillippe; Evan Rachel Wood, who went from gothic black to a sultry five-alarm red once she split from Marilyn Manson; and, most recently, Kim Kardashian, who broke up with football player Reggie Bush and immediately dyed her brown mane an ill-advised blonde. (She promptly reversed it when they got back together a few weeks later.)
Going platinum was a risky move, but I didn't care. I wanted to look like a different person — one whom The Ex no longer recognized. So, clutching magazine pages of Kirsten Dunst, Mary-Kate Olsen, and (God help me) Taylor Momsen, I called my hair guy, Danny.
When I arrived at Danny's East Village apartment, where he offers clients beer while he snips and styles, he was giddy. He had always wanted to paint highlights on my virgin strands. "What finally changed your mind?" he asked.
"My boyfriend and I broke up."
Danny smirked. I got the sense that he'd heard this before from sad, sleep-deprived women. "Are you sure you want to do this?" he asked, as he put on rubber surgical gloves and started mixing the bleach. The chemical smell that filled the air made me a little nervous. But it seemed too late to call the whole thing off.
"Yes, let's do it."
The first round of bleach just made me look as if I'd been in the sun too long. A second round was an improvement but still not blonde enough. After four hours of bleach, rinse, blowdry, and repeat, I went home at midnight, less $150 plus tip, with hair that was definitely blonder — and definitely different. Did I like it? I was too tired (and tipsy) to know for sure.
I awoke on Sunday to a disaster. My hair — my beautiful virgin hair! — was canary yellow and blindingly bright, making my face appear sallow and ghostly. It looked nothing like the soft wheat tones of Kirsten or Mary-Kate.
I didn't have the heart to tell Danny I hated it after he'd spent his entire Saturday night with me. In a panic, I called friends' stylists, who offered expensive and confusing solutions: lowlights? Something called blue shampoo to take out the "brassiness"? Finally, I reached a salon that said they could fix it that day by adding a "toner."
Several hours and another $120 later, I emerged from a self-consciously hip salon with hair that was identical to my natural shade. I had sat still in front of the mirror and started to quietly cry as the stylist finished the blowdry. I had added $300 to my already painful credit card balance to have the chemical version of my real hair color. Idiot, I thought.
My friend Katherine met me afterward and, seeing my splotchy face and glassy eyes, bought me a frozen yogurt. I told her the whole story, swallowing the urge to burst into tears again.
Katherine laughed. "I'm sorry, but it is a little funny," she said. "You know, you might be out $300 and you might have ended up with the exact same hair, but you haven't thought about The Ex this entire weekend because you were too busy with The Hair."
And, actually, she was right.
Celebrity news, beauty, fashion advice, and fascinating features, delivered straight to your inbox!