23 Valentine's Day Gifts For The Person Who Deserves Love Most: You
Britney Spears said it first: "I love myself, it's not a sin."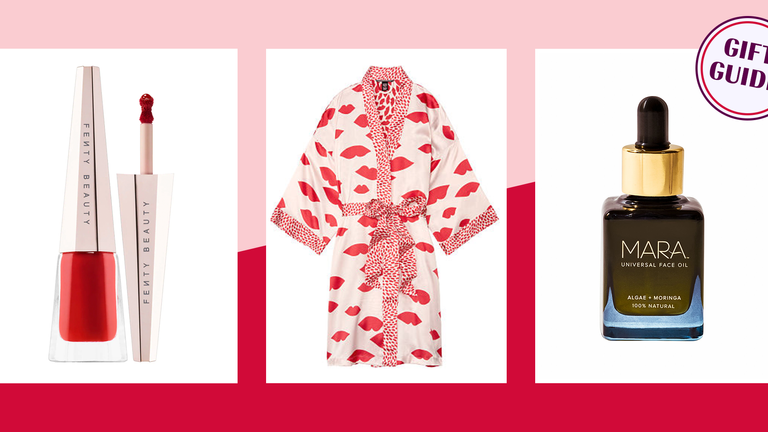 (Image credit: Design by Morgan McMullen)
In the words of the all-mighty and powerful RuPaul, "if you can't love yourself, how the hell you gonna love somebody else?" Around Valentine's Day, it becomes increasingly clear that self-love is the most important form of love, although that's easy to forget sometimes. Whether you're single or taken, Valentine's Day can be somewhat of a hassle, and buying gifts for yourself can seem like the opposite of what you're supposed to be doing on Cupid's birthday. (That's what Valentine's Day is, right?) But forget the rules and #treatyoself to something truly special this February 14th. Ahead, an extra-special gift guide full of incredible, indulgent beauty, home, and fashion items just for you. Because if you don't get it for yourself, who will?
1/23
MARA Beauty This Luxe Face Oil
Okay, a face oil that can solve all of your problems may not exist, but this MARA Universal Face Oil will at least give your skin a well-deserved boost. It blends age-defying algae, plankton extract, and superfood plant oils to give you a glow that will outshine your friend's new engagement ring.
2/23
LEUCHTTURM1917 This Dotted Notebook
Full of the feels this V-Day? Don't blame you—it's a very emotional holiday. But this notebook will help you get it all out. Filled with numbered pages, ink-proof paper, STICKERS, and dots instead of lines, you can draw your musings just as well as write them down.
3/23
Adore Elegance This Gorgeous Coil Ring
Listen: Whether or not you have someone wrapped around your finger this Valentine's Day, you can be twisted up in this Pavé coil ring. It will be a stylish addition to any outfit, regardless of whose credit card was swiped to purchase it.
4/23
Baloo This Relaxing Weighted Blanket
Leave the Valentine's Day stress to other people, the only pressure you want to be feeling is the gentle pressure of this weighted blanket. It works to ground you, calm your nervous system, alleviate your anxiety and stress, and the best part? You'll sleep better.
5/23
Paddywax This Gorgeously Glowing Candle
This candle is dubbed "Cranberry Rosé," and that description is pretty spot-on. Plus, not only is the vessel gorgeous, but the notes of lemon, pomegranate, peony, and amber all somehow smell like Valentine's Day,
6/23
BelleSha These Moisturizing Gel Socks
These socks are not intended for public consumption—they're for your pleasure alone. While unfashionable, the footies give you the same effect that a spa pedicure would, in the comfort of your own home. And who doesn't love a self-care moment that you don't have to change out of your pajamas for?
7/23
Sunbeam This Cozy Heated Blanket
Valentine's Day is in February, which means a big large swath of the people celebrating it are going to be freezing cold. Enter: this heated blanket, which has a pre-heating feature that warms your cold sheets before bedtime and sensors that monitor your body's temperature and make adjustments to ensure the warmth is consistent. Perfect for a Netflix sesh!
8/23
Lord Jones These CBD Gumdrops for Chilling Out
Candy is an expected gift for Valentine's Day—so why not choose candy with a little something extra. These relaxing CBD Gumdrops come in red raspberry and passionfruit flavors, which is perfect for the season. This + a weighted blanket (see: a few slides up) + Netflix = the best night.
9/23
Sol De Janeiro This Cream For Down There
During the chilly months of winter, nothing is better than an escape to the beach. But if you can't afford a flight, this cream will satisfy most of your desires. Infused with all-powerful caffeine-rich guaraná extract and a cocktail of cupuaçu butter, açaí oil, and coconut oil to firm skin, this lotion for your bum will have you prancing around your bedroom in a Brazilian-cut bikini.
10/23
Tatcha This Dewy Sheet Mask
Is there anything better than relaxing with a sheet mask, a glass of wine, and whatever's streaming? I think not, so here's one outta three. Not only will your skin come out shining, but the time passed while taking care of yourself will be well-spent.
11/23
Wander Beauty These Rose Gold Eye Masks
Gold eye masks were all the rage in 2018, so, of course, now they're here in rose gold. These eye masks are perfect if you're a girl-on-the-go: Just slip them into your bag as you trot off for your V-Day weekend getaway. They're full of hyaluronic acid, aloe leaf, and lavender oil to diminish wrinkles and calm the skin.
12/23
Privé Rivaux These Rosy Glasses
Got a friend who sees the world through rose colored glasses? At least look the part with these specs. Perfectly on-trend, you won't be able to stop smiling when you wear them, and that's half-the battle, really, isn't it?
13/23
Oribe This Moisturizing Mask
This mask is described as "a super-rich indulgence," so if you're looking to #treatyourself, this might be right up your alley. Heck, even the instructions command you to "massage in and indulge for 5 to 10 minutes (or longer if you like)." Basically you must luxuriate in this product.
14/23
Hue These Roasty-Toasty Leggings
Just because you want to wear a super-chic cropped puffer doesn't mean your legs have to freeze to death. Not when there exists such a glorious thing as fleece leggings. Once you go fleece, it's hard to go back.
15/23
RIKI This Adorable Lighted Mirror
On the list of things I never knew I needed, but now am not sure how I ever lived without: this entirely portable mirror with three brightness levels, a built-in leg stand, and a retractable finger ring.
16/23
VitaJuwel This Love-Infused Water Bottle
Whether or not you believe in crystal healing, you're still going to want to hydrate with this water bottle because it's just so pretty. The rose quartz stones within enhance your water with specific energetic benefits, and also, have you ever had a water bottle this gorgeous?!
17/23
SAGE Collective This Next-Level Faux Fur Jacket
Who says Valentine's Day is about being subtle? Forget that, the V in Valentine is for Very Extra, and this coat fits the bill to a T. Stay warm while looking fabulous in this faux fur coat; every eye will be on you.
18/23
Vosges This Crystal–Paired Chocolate Set
Take a tip from Cher in Clueless and send yourself some chocolates! Who's going to know who sent them? And then you get chocolate, especially these delicious and fabulous ones. Yum!
19/23
FENTY BEAUTY by Rihanna This Long-Wearing Red Lip
Want a totally kissable red lip that looks good on pretty much everyone? This one fits the bill. With the sexy packaging and sexier shade, your inner RiRi is bound to come out. Alexa, play 'Needed Me' on repeat.
20/23
Unbound This Squishy Vibe
If you're really looking to capitalize on your "alone time" this Valentine's Day, this vibrator is exactly what you need. You'll be able to enjoy yourself thoroughly with this little gal—the harder you squeeze, the more intense the vibration.
21/23
AUrate New York This Dainty Pendant
Jewelry is a go-to gift at Valentine's Day, and this is no exception—except you're getting it for yourself! Not only was the pendant crafted with the purest, conflict-free diamonds, but, for each purchase, AUrate will give a book to a child in need.
22/23
Victoria's Secret This Luxurious Kimono
With a Valentine's Day–themed print, you'll feel kissed with love wearing this silk robe. Somehow it is at once elegant, sexy, and adorable. Stepping out of a shower has never been more enjoyable.
23/23
Moon Juice This Adaptogen You Never Knew You Needed
Whether or not your Valentine's Day is sex-filled, this Sex Dust promises to use its adaptogenic blend of lusty superherbs and Shatavari to revitalize creative energy both in and out of the bedroom. So even if you're not getting down and dirty, it'll still do your body good.
Amanda Mitchell is a writer and podcaster with bylines at Marie Claire, OprahMag, Allure, Byrdie, Stylecaster, Bon Appetit, and more. Her work exists at the apex of beauty, pop culture, and absurdity. A human Funfetti cake, she watches too much television, and her favorite season is awards season. You can read more of her work at amandaelizabethmitchell.com or follow her on Instagram and Twitter @lochnessmanda.