The 'Big Little Lies' Guide to Monterey, California
Where to stay, eat, and drink in the picturesque setting of the acclaimed HBO series, returning this spring.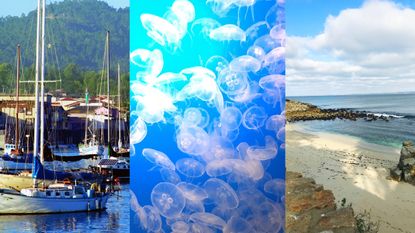 (Image credit: Portola Inn & Spa / Mehera Bonner)
Obsessed with Big Little Lies? Same. But there's watching (and re-watching) the series, and then there's living the series—minus all the drama. Turns out Monterey, the sleepy California town where HBO's award-winning show takes place, is a dream weekend getaway. At least, if your qualifications for a dream weekend getaway include gorgeous sunsets, lounging sea lions, incredible hiking trails, and delicious freshly caught fish.
RELATED STORY
And interestingly, Monterey is actually rather different from how it's depicted in the show. Yes, there are areas that are incredibly fancy—but overall this is a down-to-earth town that's quintessentially Californian. The people are warm and even the fanciest restaurants don't feel uptight. It's easy to see why this area has captivated visitors for generations, from John Steinbeck to Reese Witherspoon.
On that note, here's where to eat, sleep, and hang in my favorite California coastal city.
Where to Stay
There are a couple options to choose from, but I find myself booking the same place every single time I visit Monterey: Portola Hotel & Spa. Emphasis on "spa." Aside from access to great massages, the main draw of Portola is its proximity to...well, everything. The hotel is right smack in the middle of Monterey—a gorgeous walk to the Fisherman's Wharf, tons of restaurants and shops, and they have free parking. Because yep, I've officially reached the age where I get excited about things like free parking, don't @ me. (You're gonna want that car to do the iconic BLL opening credits drive across Bixby Bridge.)
Though Portola Hotel is a (very short 3 minute) drive to the famous Monterey Bay Aquarium and all that the equally famous Cannery Row has to offer, if your main reason for visiting the area is the marine sanctuary, might I recommend the especially upscale Clement? The hotel is so close to the water you can taste the salt in the air. And don't be surprised if you look out your window and see a whale breaching, 'cause these are the views you're getting:
Where to Eat and Drink
First things first, let's talk about Estéban. While it might seem like your average hotel restaurant on the surface, it is SO MUCH MORE. Estéban recently tapped Chef Gus Trejo to take the helm of their kitchen, and not to be supremely extra but he might be a genius? If I had to describe the food in one word it would be fresh. Each ingredient is sourced right from local farms, with Trejo picking his menu based on what look best and most abundant that day/week/hour.
But if you're going for Big Little Lies vibes (and we know you are), head over to Paluca Trattoria and dine al fresco on Fisherman's Wharf. Not only will you be visiting a filming location for BLL (it's where the characters frequently grab coffee!), you'll be dining on freshly caught seafood. And fun fact: I overheard the owner telling a group of tourists that while they never originally served coffee, they got so many requests after Big Little Lies that they had to install an espresso machine. Plus, you can't beat this view:
And speaking of views, shoutout to Schooner's—which has a massive wine list to match it's massive windows that let you gaze at whales, sea otters, and the full moon at night. Of course, if you get sick of that you can just stare at your food. That works too.
What to Do
The Monterey Bay Coastal Recreation Trail
This is a stunning 29-mile trail that goes from Lover's Point Park all the way down to the Aquarium. The entire trail is on the waterfront, meaning you're basically "working out" while gazing at the ocean, listening to the sound of crashing waves, and drinking coffee—because yep, there's a cafe right there.
The cast and crew of Big Little Lies have been spotted filming Season 2 around this area, and um, you can see why:
The Aquarium
Perhaps the most famous attraction in Monterey, the Aquarium is genuinely incredible—and it has a major Big Little Lies connection, thanks to Renata (Laura Dern's character) serving on its board. But if you didn't come to nerd-out over the series, come to nerd out over the jellyfish.
Lover's Point Park
If you don't feel like walking one mile let alone the 29 miles of the recreation trail, you can always kayak on the bay, or have a picnic at Lover's Point Park. You know, like this one straight outta BLL:
Garrapata State Park and Beach and Bixby Bridge
You definitely need a car to get Garrapata State Park, but much like the rest of Monterey, it's magnificent—and will be pretty familiar to Big Little Lies fans. Many of the show's impressive cliff scenes were shot there, and the production even installed a new set of stairs just for the show.
Since you're already in the car, you might as well head a little farther down Highway 1 to the famous Bixby Bridge, which is frequently seen on BLL (in addition to it's prominent place in the opening credits sequence) and is just as stunning as it is terrifying. No truly, I almost passed out trying to take this not-that-good-because-I-was-physically-shaking picture, that's how high up we were:
Pssst: Another amazing car activity? The 17-mile drive in Pebble Beach. You have to pay $10.25 per vehicle, but there are no words for how exquisite it is. If you're incredibly fancy, spend a night at The Lodge at Pebble Beach or The Inn at Spanish Bay.

Fisherman's Wharf
Since you're eating a delicious meal at Paluca anyway, you might as well explore Fisherman's Wharf (it's fully of kitschy tourist shops and tasty clam chowder samples) and...go whale watching! Discovery Whale Watch has guaranteed sightings, which I was a little dubious about at first. But did I see a whale? Nope, I saw eight whales. Not to mention a fleet of seal lions and a mama otter cuddling with a baby otter.
Helpful Tips
1. Monterey gets COLD. Especially in the early mornings, when there's a hefty layer of chilly fog covering the bay. Bring layers, and lots of them, or you'll spend the entire time desperately clutching your coffee to warm your hands.
2. Reserve at least a solid three-hour chunk for the aquarium because it's truly mind-blowing. And speaking of reservations, there's so much to do in Monterey and its adjoining town of Pacific Grove that I highly recommend you make a schedule. This is a weekend guide after all, and lounging is great—but there's a lot to see, and some of it (like the bridge) is a drive away.
3. Fly into the Santa Barbara airport if you can. Why? Because even though it's further than San Jose, you can rent a car at the airport and drive up the recently re-opened Highway 1, which is famous for its staggering beauty and mind-boggling cliffs. Big Sur, anyone?
For more celebrity news, beauty and fashion advice, savvy political commentary, and fascinating features, sign up for the Marie Claire newsletter.
RELATED STORY
Mehera Bonner is a celebrity and entertainment news writer who enjoys Bravo and Antiques Roadshow with equal enthusiasm. She was previously entertainment editor at Marie Claire and has covered pop culture for over a decade.