How the Oscar de la Renta Designers Do Paris
Co-creative directors Laura Kim and Fernando Garcia share their favorite spots in the City of Lights.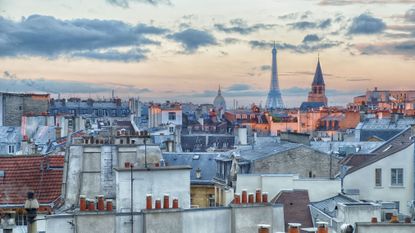 (Image credit: Espiegle, Getty Images/iStockphoto)
Laura Kim and Fernando Garcia, the co-creative directors of Oscar De la Renta, are opening a new store on the City of Light's Rue de Marignan. But it's not all work and no play for the pair when they travel to Paris. Here, the pair reveal how they spend their time in the fashion hub...and what they pack to wear while there, of course.

Fernando Garcia: We usually go to Paris to hire people, see exhibitions, or attend a fabric show called Première Vision.
Laura Kim: We also like going for Fashion Week, in March and September, because it's nonstop partying.
FG: We arrive right before to work, shop vintage, and go to museums.
LK: We stay at the Marquis Faubourg Saint Honoré. It feels more like home than a hotel.
FG: To start the day, I go for a run in the gardens of the Louvre [the Tuileries]. Then I meet Laura for breakfast at Le Swann Hotel. They have this soft scrambled-egg dish that's wonderful. Paris has different exhibitions every time we go, so we only see those that are short-term. During our last trip, we toured the Yves Saint Laurent apartment.
LK: For vintage fashion, I go to Anouschka. They have great prices, and it's by appointment only. For antiques, it's the open-air flea markets in Saint-Ouen and in Porte de Vanves. Last time, I got a leopard Baccarat lamp for $50. I don't think they knew it was a Baccarat.
FG: For dinner, we go to L'Ami Louis. It specializes in meat, but we love the escargot.
LK: Or Michi, this tiny sushi bar on Rue Sainte-Anne, and order whatever is fresh.
FG: The thing about Paris is, it's never the same. Every time we go, we find something new.
This article originally appeared in the February 2019 issue of Marie Claire.
RELATED STORY
Megan DiTrolio is the editor of features and special projects at Marie Claire, where she oversees all career coverage and writes and edits stories on women's issues, politics, cultural trends, and more. In addition to editing feature stories, she programs Marie Claire's annual Power Trip conference and Marie Claire's Getting Down To Business Instagram Live franchise.