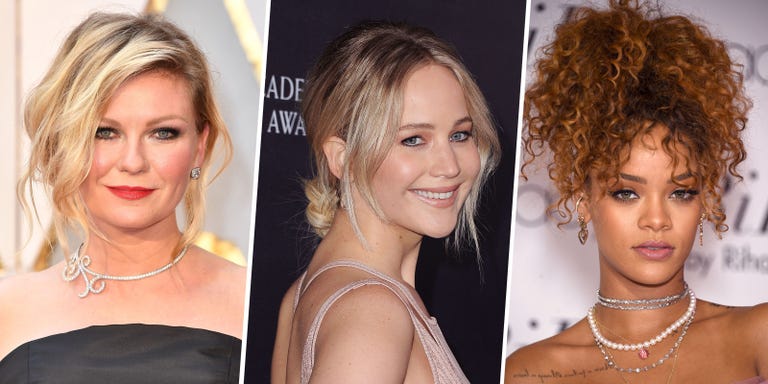 When the forecast reaches new heights, it's too easy to throw your hair up in whatever bun or ponytail you can muster on your way out the door and call it a day. But with a few extra minutes, and these 'dos in your corner, you can elevate your look while staying cool all summer long.
An unstructured, pineapple-like ponytail of curls is romantic and naturally elongates the face. It's also a great way to stretch out your look before washing it. First, prep your natural wavy or curly texture as preferred for extra definition, then pull it up in messy fashion, tugging out wisps with your pinky for added softness.
If you have straight or wavy hair, nailing JLaw's look is as easy as center parting the hair, twisting it back into a low knot (AKA a banana bun), securing it with as many U-pins as necessary, then pulling out a wispy section on either side of the face. If the face-framing strands need finessing, add a subtle bend with a flat iron or try the wave formation technique with a large barrel curling iron.
3
The High Glossy Ponytail
To achieve a sleek, extra-taut high ponytail, as opposed to the kind you just throw up at the gym, you should 1) Raise your chin up when pulling the hair into a ponytail to avoid bagginess at the nape and 2) Secure it with a bungee-style hair tie, hooking one of the ends in the hair at the ponytail base, the binding it around until it's extra tight. For extra polish, slick down flyways with a glossy finishing serum.
Added volume at the top and crown of the head will dress up any updo. While you can always go the teasing route with a comb, you can also hack it by prepping the hair with a texture spray or mousse. Then, instead of using a brush, rake the hair back with your fingers so it's not *too* perfect. Finally, twist the hair into a neat-but-not-too-neat bun and secure with U-pins.
5
The Slicked Back XXL Pony
The epitome of business in the front, party in the back, this pony makes life easy—especially if you've got long, thick, and curly hair. For fluffiness, brush out your curls with a round brush, then use a dense bristle brush to smooth back the hair into a low ponytail in bump-free fashion. Slick down flyways with a light, non-drying gel.
An updo that can satisfy your desire for a lob without you actually having to go for the chop, the key to this style is loose, cool-girl waves married with amped-up volume, which you can achieve with a traditional hairspray or thickening mist. Then, all you have to do is give your hair a deep side part, pull it into a loose bun, and let the loose pieces fall where they may. You can also touch up the latter with a larger barrel curling iron.
Ever since Jen Atkin introduced bun cuffs into our lives, we've tossed the hair ties and looked to the ultra-modern accessory to top off all of our lazy top knots and half-bun styles. Just throw your hair up, place the cuff at the base of your bun, then stick a large U-pin through it to secure it. Voilà.