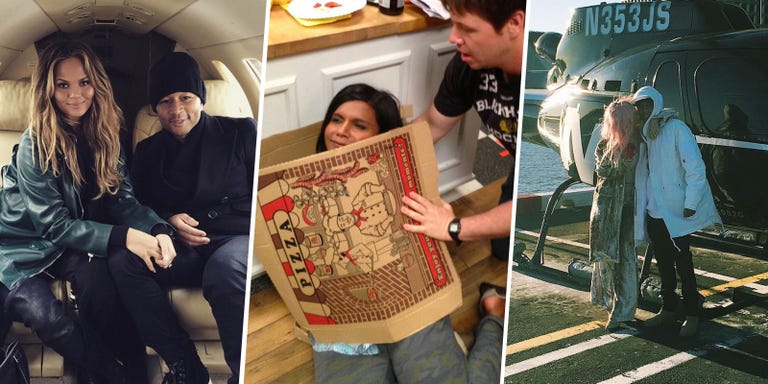 For most of us mere humans, a great Valentine's Day typically consists of eating an entire box of drugstore chocolates while spending some quality time with Netflix. (Significant other not required.) But when you're in Hollywood, there's really only one motto to live by on the most romantic day of the year: go big or go home. Or in the case of Mindy Kaling, go pizza.
Kylie and Tyga's Helicopter Ride Above New York City
Last year, Kylie Jenner and Tyga spent their Valentine's Day in a helicopter above New York City. But that's not all: at some point during their time sightseeing from 1,000 feet in the air, the rapper also gave his girlfriend a watch with so many diamonds that it might legitimately be blinding in certain lighting conditions.
Mindy Kahling's Pizza Box Cry Session
Pizza + Mindy Kahling sounds like a good V-Day combination to us, and evidently the actress feels the same way. Last year, she spent February 14th doing the most Mindy thing possible: sobbing into a pizza box while literally in a pizza box. If this year's plans fall through....
Christina Aguilera's Extreme Date Night
Flowers and candles are definitely a good way to show someone you care, but Christina Aguilera's fiancé Matt Rutler's approach can definitely be described as extra. The rooftop dinner he planned was extravagant to the extreme, and by the looks of it, Xtina was a big fan.
Kim Kardashian's 1k Roses from Kanye West
Kanye West gave Kim Kardashian 1,000 roses for Valentine's Day, and naturally she decided to roll around in them (what else?). Hopefully someone de-throned these things ahead of time, though 8 million views on Instagram tells us the pain was probably well worth it.
Jennifer Aniston's Surprise Trip to Paris
Justin Theroux didn't just surprise Jennifer with a romantic trip to Paris. No, no, no—that's too easy. To take things up a notch, he took her out to eat in the Eiffel Tower. Considering dinner for two is more than $1k, it's safe to say the date was memorable.
Mariah Carey's New York City Date Night
Obviously, it's not a huge surprise that Mariah Carey's name is on this list. It's also not a huge surprise that her then-husband Nick Cannon planned a romantic date night in New York City consisting of a horse-drawn carriage ride, a bunch of heart-shaped balloons, and a bubble bath. Since Carey once made it clear V-Day is all about her, it sounds like Cannon made a wise choice.
Chrissy Teigen's Surprise Date from John Legend
Leave it to John Legend to pull off the sweetest Valentine's Day surprise ever. The "All of Me" musician whisked his wife away on a private jet two years ago—and while there's no word on where they went, we can't imagine it being anything but #RelationshipGoals.