Jada Pinkett Smith Says Barbiecore Is Here to Stay With Her New Hair and Nail Color
The actress chose a pink "sherbet" look.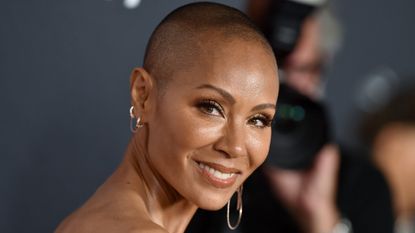 (Image credit: Getty Images)
Let's get one thing clear: Jada Pinkett Smith can do no wrong when it comes to beauty. With permanently glowing skin and her signature bold style, the mom of two hasn't changed a bit since she entered the scene in the '90s—save for the occasional (and always on-point) color transformation.
This week, the Set it Off star gave fans just that, premiering a perfectly pink look to celebrate her 52nd birthday. Sharing a snapshot on Instagram, Pinkett Smith showed off a new, rose-gold—or "sherbet" in her words—hair color and a matching, shaped-to-the-nines milky pink manicure.
Wearing a black turtleneck sweater and architectural silver earrings, her selfie angle (she's a professional, after all!) was ideal for showing off the slick new hair—not to mention her ever-sculpted cheekbones and softly smoldering eyes. Framed on the side but not forgotten, her almond-shaped nails looked glossy as can be as they grazed her flawless skin.
"This ain't noth'n but a birthday sherbet surprise within a Virgo sunrise," Pinkett Smith captioned the photo, adding twinkling star and confetti cannon emojis. In the comments, Hollywood showed up and showed out to send birthday wishes and compliment the new look. "Virgo season's finest. HAPPY BIRTHDAY!!!!!!!!" wrote Kerry Washington. "It's giving what it needs to give. Happy Birthday Queen !" added singer Naomi Achu.
In the past, Pinkett Smith has been open about her struggles with hair loss. She's been sporting short hair for the last couple years, a decision made after she revealed her alopecia diagnosis during a 2018 episode of Red Table Talk. On August 7, she updated fans on her hair journey, sharing both a photo of a past shaved head and her scalp's recent growth on Instagram.
"This here hair is act'n like it's try'n a make a come back. Still have some trouble spots but—we'll see," she wrote in the post. A few weeks later, she tried out pink for the first time in recent history, dubbing the color "desert sand."
No matter the length or color—rose gold, sherbet, or desert, from pink to gray and back again—there's one thing we know for sure when it comes to Miss Jada. This birthday girl is perfect in every way.
Celebrity news, beauty, fashion advice, and fascinating features, delivered straight to your inbox!