The 5 New Rules of Beauty
You know that heavy foundation and helmet hair are old-school, but the beauty world never stops evolving. And luckily, it's headed in a more natural, easier-to-master direction. (Hint: Cancel your color appointment and retire the contrasting lip liner.) Here, the latest ways to look your best.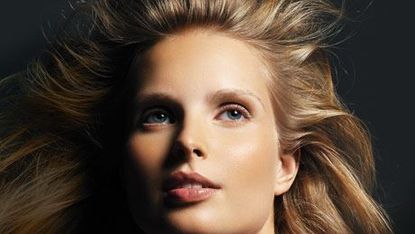 (Image credit: Greg Delves)
Rule #1: Say Sayonara to Stiff Styles

"Take a look at today's it girls: Cameron Diaz, Kate Moss, Drew Barrymore," says Harry Josh, a celebrity stylist and Suave spokesperson. "They always leave their hair loose, wavy and unstyled, even when they're on the red carpet draped in Dior. They wouldn't go near a bottle of hairspray." In other words, kick the can: A softer, less traditionally "finished" 'do is sexiest now. For tantalizingly tousled tresses in a flash, slick a bit of gel or creme (if your hair is thick) through freshly washed locks and allow to air-dry. (Try Suave Naturals Aloe Vera Extra Hold Anti-Frizz Smoothing Gel or L'Oréal Professionnel Freshstyle Featherweightcreme.) Don't brush or touch hair while it's drying, or you'll induce frizz. If you feel that your hair lacks definition when dry, wrap ends in small sections around a medium-barrel curling iron for a few seconds each.
Rule #2: Let Your Roots Show...a Bit
"Exposing a reasonable amount of roots [we're talking up to an inch] is not only acceptable but enviable these days," says André Viveiros, lead colorist at Orlo, the trendy New York City salon. The rule goes hand in hand with the softly tousled tress trend (see Rule #1), Viveiros notes. "It's that low-key, high-maintenance thing. It should look like you don't spend a lot of time doing your hair ‑- even if you do." To this end, Viveiros has been advising clients with highlights to come in every two to three months, rather than every six weeks, for touch-ups. "Basically, you're after a slightly imperfect effect, similar to the way a kid's hair appears naturally lighter in random spots after a summer.
Rule #3: Lose the Overdone Lip Look
The desire for giant, pillowy lips is on the rise. "We live in an overtly sexual time, and nothing is considered more sensual than big lips," explains celebrity makeup artist Carol Shaw (exhibit A: Angelina Jolie). However, an obviously injected or seriously painted-on pout has become passé. So what's a volume-seeking girl to do? Step away from the dark lip liner; it will only serve to enclose your pout. Instead, opt for clear gloss (like LORAC's Lip Addiction, $17.50, which contains a cocktail of ingredients that revs up blood flow to the area and turns it a spicy shade of red), or a creamy lipstick that mimics the natural tone of your lips (on model: Clinique Colour Surge Butter Shine Lipstick in Cranberry Cream). As an all-natural alternative, break open a vitamin-E capsule and rub it over your mouth before bed. In the morning, lips will appear positively plush.
Rule #4: Try Shorter, Rounder Tips
We love the look of a perfect sheer manicure on long, tapered talons as much as the next woman, but let's face it: It takes time, patience and money to keep it up. For equally elegant, less fussy nails, go short, round and dark, suggests Julie Serquinia, owner of the Paint Shop salon in Beverly Hills (Mandy Moore, Beyoncé and Jada Pinkett Smith are regulars). To do: File your nails so they line up with the tips of your fingers (caveat: if you have long nail beds, leave a little extra length at the top). Round off the corners. Pick bluish-red or plum polishes if you have cool undertones in your skin and yellowish-red ones if your undertones are warm. Shown on nails: Essie in Berry Hard; (optional) white dots: OPI Nail Lacquer in Alpine Snow.
Rule #5: Never Leave Home sans a (Fake) Tan
A gorgeous glow ‑- on your face and body ‑- is no longer just a summer thing. It's an aesthetic we've come to covet year-round, and with good reason: A touch of color makes you look and feel instantly sexy and lets you get away with wearing less makeup. (Need proof? See Jessica Simpson, Britney Spears and Jennifer Lopez.) In response to the skin-tone warming trend, companies like CoverGirl have begun to include bronzers in their permanent lines instead of offering them only seasonally (try CoverGirl Tanfastic and Cheekers Bronzers). It's also finally possible to get a salonlike spray tan at home (try Nuress's Home Tanning Salon, $139.99; it could pass for the real deal). For an allover glow like this model's, smooth on Delux Beauty Liquid Bronze for face/body.