January Jones Talks Red Carpet Risks and Bowl Cuts
The star in her own words about that ever-changing, sometimes vexing, always powerful thing: hair.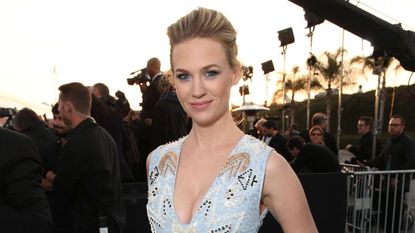 (Image credit: Getty Images)
I've always had a lot of hair, but it's very fine. Everyone got me all psyched about being pregnant, saying that I would have this amazing, lustrous hair, but I didn't get the gorgeous mane other mothers-to-be seem to. Instead, my strands turned coarse, and I ended up having to condition a lot more.
I don't like sitting in the hair-and-makeup chair for very long, but I do try to be collaborative when it comes to my characters' styles. I find it's helpful for me to feel different in a role when I look different—whether it's wardrobe or even body language. My current role as Melissa on The Last Man on Earth is the closest I've ever played to me—the hair, the look, the wardrobe. Sometimes I struggle with it. I think, Am I saying that because I would say that or because Melissa would say it that way?
Betty, on Mad Men, was different. She came from a lot of money and had a set style that she liked. The show started in the mid-1950s and ended in the '60s, but her look—the expensive tailored clothes, the bouffant, the manicured nails—didn't really change that much. She kept that same hair, which morphed slightly from Grace Kelly to Jackie Onassis over time. After years of doing the show, my hair was trained into that style! It didn't take much for it to go into place. When I curled my hair at home, it would bounce into that shape, and I'd be like, "No!"
Getting your hair done every day for work sounds like a dream come true, but all that back-combing and heat styling can be super-damaging. In season six of Mad Men, I went from blonde to red to black to blonde, all in four months. My hair was ready to fall out at that point. When we were on hiatus, I cut my hair really short and didn't do anything except condition it for the whole summer.
When I was younger, my hair was white, and I liked wearing it short—boy cuts and the bowl cut with the wedge. One of my favorites I called The Spike; it was really short and I would spike up the slightly longer hairs on top with Dep gel. I remember going to school with The Spike, and three weeks later, my fourth-grade teacher, Miss Palmer, copied me. Then I had to change my hairstyle. I was over it.
People were just more experimental with their hair when I was growing up. I was influenced by Madonna, Blondie, and the punks, but I never had a mohawk. One time, my mom permed my bangs so I wouldn't have to curl them every morning—that turned out really bad. The second half of junior high, I grew out my hair and kept it straight and long until I moved to New York at 18.
These days, I love taking risks with my look, especially on the red carpet. At the Fox All-Star Party earlier this year, I knew that Will Forte and Mel Rodriguez would have half their heads shaved, because I had been filming with them—and I needed to compete. I saw this street- style picture of a girl with short hair on Instagram—instead of a middle part, she had a braid in the center. Bridget Brager did my hair that day, and it was her idea to also do the two braids on the sides of my head and have them join in the back. If you're going to do an event and have to talk about yourself, at least a style with some artistic expression makes it more fun.
My arsenal:
1. "I began using this night cream when I was 32, and I haven't noticed any new wrinkles in the six years since. I'm scared that if I stop, my face will collapse like Goldie Hawn's character's did in 'Death Becomes Her.'" Sisley Paris Supremya, $795
2. "My hair goes through a lot, so I've been using Kérastase masks for over a decade. I usually wash my hair, then apply this mask instead of a conditioner. I'll leave it on for five minutes if I'm in the shower, or half an hour if I'm soaking in the bath." Kérastase Masque Magistral, $63
3. "I put this serum on the ends of my hair after every shower. I also use it on flyaways, when my hair is dry." Kérastase Résistance Double Serum Therapiste, $43
4. "What you put in your body really affects your hair health, so I take biotin and B vitamins, and try to eat well." BE Biotin Capsules, $32
5. "I've been a fan of Mason Pearson brushes forever. The mini-size one is great for travel." Mason Pearson Pocket Mixture Brush, $105
This article appears in the June issue of Marie Claire, on newsstands now.