Lupita Nyong'o & Saoirse Ronan Teamed Up to Create Your New Go-To Perfume
The two mega-stars discuss their new project—a fragrance—and the women who inspired them.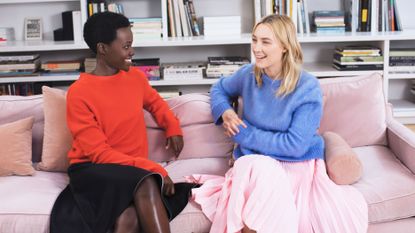 (Image credit: Courtesy of Calvin Klein)
Marie Claire Newsletter
Celebrity news, beauty, fashion advice, and fascinating features, delivered straight to your inbox!
Thank you for signing up to Marie Claire. You will receive a verification email shortly.
There was a problem. Please refresh the page and try again.
Lupita Nyong'o and Saoirse Ronan haven't worked on a film together—yet. But when Marie Claire had a chance to talk to them about their new campaign for Calvin Klein Women, it was clear they would love to make that happen. For now, they'll have to settle for sharing the spotlight in the new campaign for Calvin Klein Women, shot by artist Anne Collier. Here, an excerpt from their conversation, which covered the important stuff: feminism, food, and, of course, fragrance.
Marie Claire: Did you two meet before you were cast in this fragrance campaign?
Lupita Nyong'o: I've seen Brooklyn and Lady Bird, but we'd never met. I thought she was a stunning actress—extremely talented, well-spoken, and funny. She comes across extremely genuine, you know?
Saoirse Ronan: I've fooled you all!
LN: [Laughs.] Well, I was proud to appear alongside you.
SR: I was the same with you.
MC: You were asked to choose women who inspire you so their images could appear in the ads alongside you. What did you think of that concept?
SR: It's never really been done before, but I like how it encourages a sense of community among women. I picked Sissy Spacek and Nina Simone. I grew up watching Sissy and loved how she was able to balance looking incredibly innocent with these very dark roles and tortured characters. And I definitely wanted to have a musician. We would always play Nina's music in the car in the summertime. She reminds me of that time when I was young.
LN: I adore Nina Simone's music. And she's such a deep person, being a classically trained musician as well as a singer who kind of fell upon her style. She's intriguing—and it says a lot about Saoirse that she chose her.
MC: Who did you pick as your icons?
LN: Eartha Kitt and Katharine Hepburn. Both defied their times and defined their times, as well. They were incredible artists and stood up for things when it was unfashionable to do so. Think of Katharine Hepburn and how she dressed: There was something very empowering and stylish and sexy about her, even as she was defying the norms of the time.
MC: The notion of femininity has changed a lot since then, hasn't it?
SR: In the past, there was a lot of pressure for women to have a certain type of femininity, and now they're sort of unleashing themselves, and that's quite empowering.
LN: We have more freedom than Eartha Kitt or Katharine Hepburn or even Nina Simone. What they did really paved the way for the kind of femininity we're able to enjoy today.
MC: What other women have inspired you?
LN: My mom and sisters. In my culture, your mother's sisters are considered your parents as well—so I have lots of mothers. They've shown me how varied the female experience can be. I also had an aunt who was defying the cultural norms by taking her infant to work with her. She wanted to continue working and be a good mother, so she found a way to do both.
SR: My mum influenced me in a way no one else ever will. We're best friends and partners in crime.
MC: What does she think of this fragrance?
SR: She always wore a classic woman's scent. It had a sweetness, but there was something else there as well—wild and a little bit grown-up. Calvin Klein Women has a fresh sweetness, but there's more of a carefree quality to it.
MC: Lupita, what scents remind you of the women in your life?
LN: Cilantro. We loved cooking with that, and it just reminds me of childhood.
SR: I'm so glad you mentioned food. That's all I want to talk about! In Ireland, my mum used rosemary and thyme in every Sunday dinner. I love those smells. When I moved away to London at 19, I got it in my head that I was going to cook all my dinners from scratch, and I managed to develop a spaghetti Bolognese recipe with fresh basil and herbs.
LN: I love to cook whole fish with herbs. The smell of cilantro, lots of onions, garlic—that's comforting. We should make a perfume of that! It would be a winner.
SR: Agreed.
---
Calvin Klein Women features notes of eucalyptus cone, orange flower, and cedar:
Calvin Klein Women 1.7-ounce eau de parfum spray, $84 SHOP IT

A version of this article appears in the September 2018 issue of Marie Claire.
RELATED STORY
Celebrity news, beauty, fashion advice, and fascinating features, delivered straight to your inbox!
Jennifer Goldstein is the former beauty & health director of Marie Claire and co-host of the award-winning beauty podcast Fat Mascara. In her quest to uncover the world's beauty secrets, she's gotten tattooed in New Zealand, dug up turmeric in India, harvested shea nuts in Ghana, and squeezed enzyme-rich eggs from salmon in Norway. She can pluck eyebrows like a pro and has read the FDA monograph on sunscreen labeling and effectiveness—but she still can't get liquid eyeliner to look the same on both eyes.