A "Slush" Facial Is Apparently the Secret to Kendall and Kylie's Glowing Skin
It involves dry ice and acetone, which sounds totally insane...so obviously I tried it.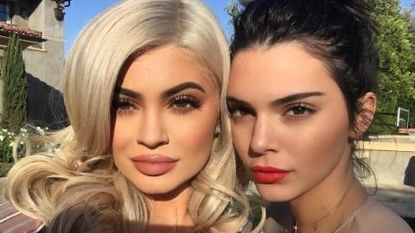 (Image credit: Instagram)
Acetone and dry ice aren't just for your nails and/or middle school science projects anymore—dermatologists are now mixing them together to cleanse, exfoliate, and brighten patients' skin.
Sounds a little absurd, sure, but that stuff in your nail polish remover is actually great at—when carefully applied by a licensed professional—gently removing built up dirt and oil that can sit on the skin and clog pores.
"Our acne slush treatment begins with a cool exfoliation of the surface of the skin with dry ice wrapped in gauze and dipped in acetone," says Holly Buchko, a nurse practitioner at Coast Dermatology. "This serves to clean the surface of the skin, remove excess oils, and remove makeup. It also decreases skin bacteria and can help calm the inflammation associated with acne."
READ NEXT
6 Celebrity Workout Hacks from Khloé Kardashian's 'Revenge Body' Trainer
According to Coast Dermatology, slushes paired with skincare powerhouse glycolic acid can be a beneficial treatment for any patient, not just those who are prone to acne. "It is typically used in the treatment of acne, but it can also improve melasma, sun spots, as well as overall skin quality and texture," Buchko says.
While appearing on Khloé Kardashian's transformation show Revenge Body, celebrity dermatologist Christie Kidd gave a patient a similar treatment—using dry ice dipped in liquid nitrogen—to help rid her of acne, and said that Kendall and Kylie both use this treatment to get clear, radiant skin.
[image id='c7181c31-e40f-4794-9220-9422c4d040d5' mediaId='da90426b-3816-4fc6-bde5-2a1d20347423' caption='' loc='R' share='true' expand='true' size='L'][/image]
So how does it work, you know, on real people? I put it to the test. My skin is oily and prone to acne and hyperpigmentation, so I went in just hoping not to look like a straight-up tomato by the time I left. Thankfully the treatment only took 10 minutes, was painless, didn't leave me looking like I had slept 10 hours in the sun, and the best part? I immediately saw a difference. My skin looked tighter, my pores looked smaller, I had a glow, and the little redness I *did* have cleared up after 15 minutes.
To figure out which treatment is right for you, just look to your sensitivity level. Some medical offices stick to dry ice as it is "less cold" than liquid nitrogen and is "generally safer for a variety of skin types and for a variety of medical conditions," according to Buchko.
Slushes coupled with glycolic acid, which can feel a bit itchy, have been a saving grace for my problematic skin. (FWIW, as with any treatment, there can be side effects such as redness, swelling, blistering, and some pigment changes with darker skin so be sure to check with your doctor first—and always, *always* wear sunscreen.) And as much as I'd like to get one every week, Buchko recommends only using this treatment once a month. So here I'll be, waiting four weeks until next time. *Books appointment*
[editoriallinks id="4c5b2fb2-10d6-4306-b610-5ef84e8e43b0"][/editoriallinks]
RELATED STORY
40 Skincare Products Changing the Game
Follow Marie Claire on Facebook for the latest celeb news, beauty tips, fascinating reads, livestream video, and more.
Marie Claire email subscribers get intel on fashion and beauty trends, hot-off-the-press celebrity news, and more. Sign up here.
Shannon is a news writer at Cosmopolitan.com, and when she's not obsessing about Cardi B, she's thinking about Justin Bieber and still trying to memorize Beyoncé's Beychella choreography.