Will Drinking a Gallon of Water a Day Give You Perfect Skin? We Tested It Out
No Photoshop, just water.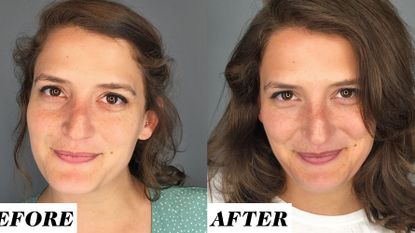 (Image credit: Marie Claire)
Marie Claire Newsletter
Celebrity news, beauty, fashion advice, and fascinating features, delivered straight to your inbox!
Thank you for signing up to Marie Claire. You will receive a verification email shortly.
There was a problem. Please refresh the page and try again.
Fact: Celebrities love to talk about water. Oh, you want to know the secret to Karlie Kloss's shiny hair and long eyelashes? Drinking plain ol' water, of course. The key to Gabrielle Union's smooth skin and bright eyes? Lots of water, duh! The fix for all of Hollywood's acne, fine lines, rosacea, dry skin, oily skin, and dark circles? Water, water, and, yup, more water.
But let's get real—can upping your water intake really have that big of an impact on your skin? According to science, not really ("There is no evidence that proves drinking tons of water is the secret cure for all of your skin issues," says dermatologist Mona Gohara, M.D., associate clinical professor at Yale University), but who needs science when you've got Beyoncé talking about drinking a gallon of H2O a day?
So I decided to put Hollywood's favorite cure-all to the test. For seven days straight the MarieClaire.com team did what every celeb claims to do the week leading up to a red-carpet event: Drink a shit-ton of water.
We each drank a gallon of water per day—only a bit more than the daily 2.7 liters recommended for adult women—and used fancy Hidrate Spark smart water bottles (graciously given to us for this experiment) to keep us on track. And, of course, we took some incredibly close, unfiltered, before-and-after photos of our faces, all in the name of beauty.
As for the final consensus…well, see for yourself.
Ruby Buddemeyer
Contributing Writer
Previous relationship with water:
"I've tried to be a big water drinker my entire life, but I always fail, so I feel like I'm probably dehydrated most of the day."
Experiment experience:
"My energy level was noticeably better after upping my water intake, which was really only possible thanks to the bottle reminding me to drink all the time. I woke up feeling rested—despite having to pee in the middle of the night every single night of the experiment—and my daily 4 p.m. slump felt more manageable than it typically does."
The skin verdict:
"If I'm being honest, I didn't notice any difference in my skin. I have combination skin—mostly oily and acne-prone—and I didn't experience any changes throughout the week. My body definitely felt better, and I felt healthier, but I think I would need to continue the experiment for a longer period of time to see any changes in my face."
Bridget Burns
Photo Editor

Previous relationship with water:
"I am the queen of dark urine and always dehydrated, so I was happy that this experiment forced me to drink more."
Experiment experience:
"I noticed huge improvements in my mood and energy levels after the first night of the challenge, and by day three, I felt less lethargic, more alert, and was even able to focus a bit more clearly on tasks."
The skin verdict:
"I can't say I noticed much of a difference in my skin. I have very dry skin, and it was still dry by the end of the experiment, though that's also genetics. I did feel, though, like my face had less water retention in the cheek and eye area, though."
Krystyna Chávez
Social Media Editor
Previous relationship with water:
"Some days, I catch myself running to the bathroom all day because I'm drinking so much water, and other days, I feel like Spongebob and can sense the dryness in my lips. But I will say, besides vodka, water my go-to drink."
Experiment experience:
"I actually did notice a major difference during the challenge in comparison to when I don't drink as much water. My lips, hands, and the skin around my mouth weren't as dry as they usually are, and I didn't feel as hungry or snack-y as I usually am."
The skin verdict:
"I was surprised to see that my skin looked fuller and fresher during the week I was chugging water. Not even makeup can cover up dry skin, and I noticed that my entire face felt more hydrated than it does on days where I don't drink enough water."
Jenny Hollander
Deputy Editor
Previous relationship with water:
"I absolutely do not drink enough water. Even when I get back from a sweaty jog in the heat, I prefer to drink milk straight from the carton—which is a different problem, I know."
Experiment experience:
"It's really, really hard to drink three-plus liters of water per day. At some points, I drank so much water that I felt sick and had to stop for a while. And all the time, the smart water bottle app cheerfully pinged me with quotes from Helen Keller, Gandhi, and the Bible, all of whom reminded me that I was way behind my water target."
The skin verdict:
"My skin looks pretty good normally, save for the odd eczema flare-up and some swelling after I have more than a couple of drinks. During the experiment, I had lots of opportunities to check out my face, thanks to my frequent bathroom trips, and I noticed my skin looked more well rested and refreshed—pretty great, honestly. This may have been a placebo effect, but hey, I'll take it."
Rachel Epstein
Assistant Editor
Previous relationship with water:
"I wouldn't call myself a big water drinker, but it wasn't really hard for me to meet the goal every day during the challenge. Though, to be honest, I don't know if I'd be as compelled to drink if I didn't have this water bottle and app automatically tracking my progress and giving me reminders to drink."
Experiment experience:
"The biggest difference I noticed after drinking more water was—plot twist—my vision. I can see 1,000 times clearer after drinking so many liters of water a day. I've had a bad case of dry eyes since I had Lasik eye surgery in 2016, but my overall vision went from blurry to clear during this experiment, which is crazy."
The skin verdict:
"I actually noticed a ton of small changes during the experiment: The puffiness under my eyes decreased, my rosacea wasn't as red after showering as it normally is, my dry skin didn't feel as tight and dehydrated, and my waxer, who sees me once a month, told me I looked amazing and well-rested—all of which I'm chalking up to the water."
Cady Drell
Culture Editor
Previous relationship with water:
"Uh, I'm a person that's best described as 'dehydrated,' if that gives you a sense."
Experiment experience:
"Being hydrated definitely made me feel more awake and tempered my I'm-only-eating-because-I'm-bored habit, but it also introduced me to the waking nightmare that is frequent, forceful urination."
The skin verdict:
"I'm not sure I noticed any major changes in my face, but I will say that my skin felt less dry toward the end of the week, despite a little sun exposure from a beach day, which normally makes it really dry. Also, looking at my before-and-after photos now, I actually think my face looks way brighter and glowier than usual."
Chloe Metzger
Beauty Editor
Previous relationship with water:
"I spend most days guzzling giant cups of unsweetened iced tea and ice water, which is great, but then I'll also have five-hour stretches of time where I'm so stressed and busy, I don't even remember water exists."
Experiment experience:
"Like everyone else, I peed a ton. Like, an annoyingly high number of times per day. I also have a crazy-sensitive stomach that bloats and cramps on the regular, and I felt like my digestive system was a tiny bit happier during the challenge than it usually is."
The skin verdict:
"I wanted this challenge to prove all doctors and science wrong, but I've gotta say that I saw absolutely zero changes in my skin. My rosacea, dryness, and redness stayed the same, and my face didn't miraculously look brighter, though one week is, admittedly, a very short testing time.
I've definitely seen how shitty my skin looks when I'm dehydrated and hungover, though, so I'm not knocking the restorative effects of water. But did guzzling a gallon of water magically give me Bey's skin? No. But it did kind of make me the Beyoncé of bathroom breaks, so, that's something?"
RELATED STORY
Celebrity news, beauty, fashion advice, and fascinating features, delivered straight to your inbox!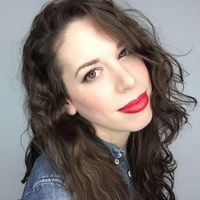 Chloe Metzger is the deputy beauty director at Cosmopolitan, overseeing the editorial content and growth strategy of the hair, makeup, and skin space on digital, while also obsessively writing about the best hair products for every hair type (curly girl here; whattup), and the skincare routines that really, truly work (follow her on Instagram to see behind-the-scenes pics of that magazine life). She brings nearly a decade of writing and editing expertise, and her work has appeared in Allure, Health, Fitness, Marie Claire, StyleCaster, and Parents. She also has an unhealthy adoration for Tom Hanks and would like to please meet him one day, if you could arrange that. Thanks.