Binx Walton on Beauty Standards, Self-Expression, and Her Earth Sign
The face of Coach Fragrance isn't going to conform.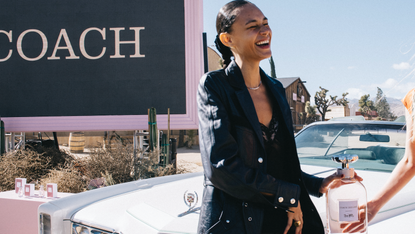 (Image credit: Courtesy of Coach)
Marie Claire Newsletter
Celebrity news, beauty, fashion advice, and fascinating features, delivered straight to your inbox!
Thank you for signing up to Marie Claire. You will receive a verification email shortly.
There was a problem. Please refresh the page and try again.
Some women don't even have to say a word. Their coolness lives in their demeanor, gestures, sense of style. Model Binx Walton is one of those women. I was captivated by her unspoken effortlessness the moment she arrived to Pioneertown, an old-West movie set 28 miles north of Palm Springs.
We were both there for the launch event of Coach Dreams, a new fragrance with notes of bark from the nearby Joshua trees. Walton, 23, the face of the fragrance, pulled up in a black SUV wearing a leather trench with trousers to match and hugged her friend, Jean Campbell, who joins her in fronting the campaign. They posed in front of a Cadillac convertible holding the bottle, a perfume that aims to encapsulate freedom and adventure. "I was inspired by escapism, adventure, and a fun road trip from films like Thelma & Louise," said perfumer Antoine Maisondieu, describing how he dreamed up the scent, which took him more than 700 iterations to perfect.
"I knew I wanted the fragrance to feel easy enough to wear on a road trip but still carry the class of Coach and the coolness of California," Maisondieu said. "I had very bright, luminous notes in mind." He combined top notes of citrus, bitter orange, and lemon with florals like white cactus flower and woody notes of cactus from Joshua Tree National Park to evoke the dry-yet-fresh scent of a desert.
Coach Dreams is Walton's first-ever fragrance collaboration. So far in her career, she's walked the Celine Spring/Summer 2014 show and graced the campaigns of Chanel and Balmain. She and I sat down in a rustic saloon together to discuss her career in depth, the beauty products she loves, and her honest views on the fashion industry. Here, nine things I learned.
#1. She Grew Up in Hawaii
"This scent is so calming. [It] reminds me of the sea, flowers, and the outdoors. I'm a Taurus, which is an earth sign, so I I love that it reminds me of the outdoors and memories from my childhood, like camping. I choose scents depending on where I'm at emotionally, which certainly shifts. Scent helps with my character, depending on who I want to be that day. I feel like I can travel, go into nature, meet up with friends for brunch, or do anything when I wearing this because it's very light and easy."
#2. She Has a Chill Beauty Routine
"I used to be so overwhelmed looking at other people's vanities full of products. I don't use that many skincare products because after changing my diet I had less problematic skin. I actually got my first facial a few years ago [at a lower-east side treasure by the name of Rescue Spa] and fell in love with Biologique Recherche products. I use the Biologique Recherche Cleansing Milk, a vitamin C serum, and Dermaologica Skin Smoothing Cream, which I love because it's light and natural. My makeup I keep quite simple. I just think that less is more, depending on the occasion. But I always wear something on my brows—my favorites are Benefit's Ka-BROW! Eye Pomade and Glossier's Boy Brow.
Shop Walton's Beauty Routine
#3. She Proudly Embraces Her Hair Texture
"I didn't know how to work with my texture at first. When I was younger, I was all about straightening my hair, which left me with a lot of heat damage. It's been a journey, and as I've gotten older, I've learned to understand and embrace my texture. I saw women who I looked up to with really beautiful, textured hair and it changed my view on trying to conform to beauty standards that aren't relevant to my culture.
Over the years, I've had different lengths and styles and have had to learn how to care for my hair properly with the right products. I love Shea Moisture products and Eco Styling Gel. Sometimes, I make my own hair products by melting down shea butter, adding coconut or castor oil, then letting it harden, which I can use on my body as well.
Being in a hairstylist's chair all the time taught me from a young age how to use diction and be vocal about how to properly care for my curls without offending someone's job title. I try to make sure it's a joint discussion about what the stylist and I can do to achieve the look they want for my hair in a non-damaging way."
#4. She Walked Her First Runway Show at 16
"Everything picked up fast for me at such a young age, and I had to stay strong in my character, which is a really hard thing to do at 16 because you're just trying to figure yourself out. I still go through ups and downs but I try not to be conformed by the industry. For me, it's about keeping people around who reflect my values.
My advice to aspiring models is to be kind to yourself, let yourself make mistakes, and not be perfect. If you're worried about being perfect, that means you have no growth. Experience things to know what you like and don't like. It's okay to make mistakes along the way. It's okay to sign up for shows you don't think you're ready for—it's all about putting yourself in situations where you're a little uncomfortable because then you grow so much more. If you're safe and always comfortable, you're not really experiencing anything."
#5. She Believes the "Supermodel" Label Has Lost Its Value
"The word 'supermodel' doesn't have the same essence that it used to. We live in such a different age with social media, where lots of models derive from now. It's not by word of mouth anymore and we don't have muses with brands the way that we used to. Even a lot of pioneers in the fashion industry aren't here anymore. Yes, there are still models who work tremendously hard but I don't think the term is as pure and genuine as it used to be."
#6. Gratitude Is How She Gets By
"During low moments, putting my life in perspective and reflecting on what's happening in the world around me keeps me grateful and is a driving force in my life. Asking myself a few questions, depending on what I'm dealing with, always picks me back up because none of us have it that bad. There's always someone who has it worse. I have friends who say to me 'Girl, it's okay, get it together' and that also helps."
#7. Walton and Campaign Partner Jean Campbell Are Friends IRL
"When you're cast for a job like this, you're a little worried because you're supposed to perform to a certain level and if the the energy isn't there with the other model, it's nerve-wracking. But working with Jean was so organic and easy. We had such a good time, shared so many genuine laughs, and I'm happy to have done my first fragrance campaign with her."
#8. She Wants You to Do What You Want
"I want to be known for being genuine. I don't have to conform to anything I don't want to—life is about free will. The beauty and fashion industries like to label everyone, but the whole purpose is creating art and the freedom of self-expression. Dress the way that you want to, have fun with your style, makeup, and hair. Widen the box that people are constantly trying to put you in and just be you. We only really have one life so enjoy it, treasure your people, and tell them you love them."
#9. To Her, True Beauty Is...
"...self-expression."
For more stories like this, including celebrity news, beauty and fashion advice, savvy political commentary, and fascinating features, sign up for the Marie Claire newsletter.
Celebrity news, beauty, fashion advice, and fascinating features, delivered straight to your inbox!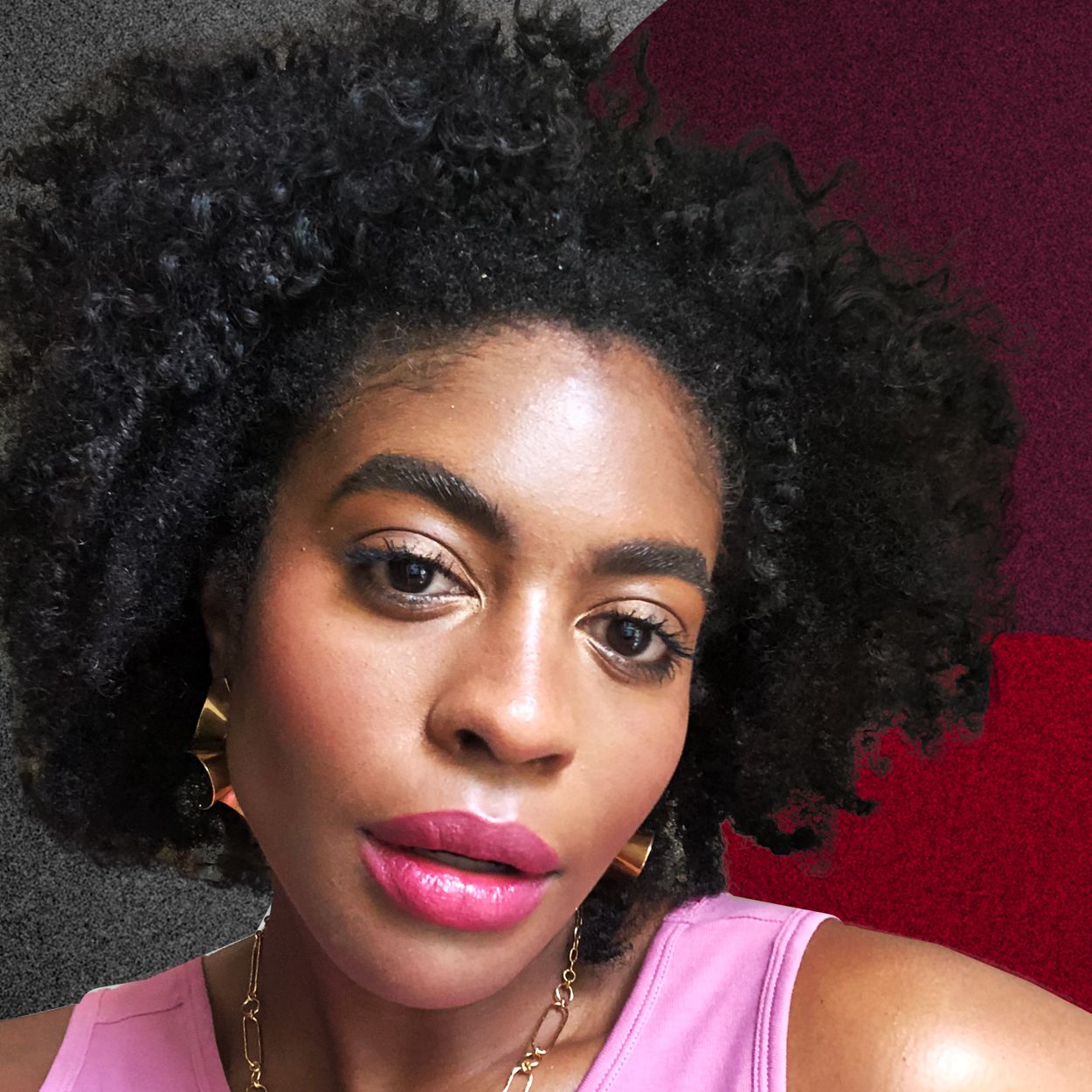 Maya Allen is the former Digital Beauty Editor at MarieClaire.com where she covered makeup, skincare, haircare, wellness, you name it! She has a 15-step skincare routine, owns over 200 red lipsticks, and enjoys testing the latest and greatest in beauty. On most weekends, you can find her at her happy place, which is her makeup vanity. There, she's usually blasting her speakers while singing along to lyrics at the top of her lungs, and making sure her highlighter is on point.