Tina Craig Has Mastered a 10-Minute Skincare Routine
The founder and CEO of U Beauty talks meditation, her signature look, and getting it all done.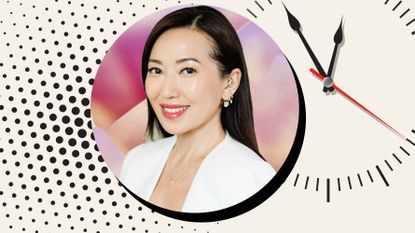 (Image credit: Hearst Owned)
Welcome to Beauty Around the Clock, Marie Claire's weekly peek into the daily lives of some of the most game-changing women in their industries. Ever wonder how they get it all done in a day? Here's your answer.
Tina Craig made a name for herself as the founder of one of the first globally-celebrated fashion blogs, BagSnob, back in 2005. Now, the Dallas-based entrepreneur is diving into her second love—beauty—with the launch of U Beauty, a hyper-focused skincare brand that started with just one product. Here, we spend 24 hours in her world.
Rise and Shine
I'm up at 6:30, checking my phone for texts, followed by 10 minutes of daily meditation with the Calm app. I try to get eight to nine hours of sleep but typically get seven to eight.
Morning Rituals
I spend no more than 10 minutes on skincare: I start with a splash of Koh Gen Do Cleansing Spa Water, then apply U Beauty Resurfacing Compound, the multi-tasking miracle formula I developed to do the work of half the products I'd been beholden to for years. It visibly resurfaces your skin, refines pores, brightens tone, tightens texture, lightens fine lines, tones and hydrates, all in a single step. I follow that with Augustinus Bader Rich Cream, a moisturizer as richly hydrating as the name suggests, and always finish with Dr. Barbara Sturm Sun Drops with SPF 50—I never leave the house without it.
As for my hair: I haven't brushed it in weeks! I credit air-drying after shampooing with Virtue Full Shampoo, which I use twice a week. If I need to take photos or have Zoom press interviews, I'll give it a quick refresh with the Dyson Supersonic hair dryer.
Power Start
I don't eat breakfast. When I immigrated to the United States at age eight from Taiwan, I had a hard time adjusting to American breakfast foods. Cold cereal and milk?! What was that? I wanted hot congee with salted fish and duck eggs. So I stopped eating breakfast. Maybe it's the reason I've maintained the same weight since my teens? I do drink a cup of green tea each morning. I've read the Japanese believe just a single cup of green tea each morning has many health benefits, including boosting the immune system.
Signature Look
Glowy, healthy skin with minimal makeup but mega-lashes and eyeliner to define and accentuate my eyes. I also love a shimmering nude lip gloss. For perfume, I mix the gardenia-scented Kai Perfume Oil with either Le Labo Lys 41 Eau de Parfum or Creed Fleurissimo (a sentimental old favorite because I wore it at my wedding).
Shop Tina Craig's Signature Fragrances
Zoom Beauty Hack
Place a lamp directly behind your iPhone or laptop to soften your face. Never light your face from above or below—it'll cast unflattering shadows!
Mental Health Hack
When I wake up each morning, I do a Daily Calm meditation on the Calm app. And I listen to various meditations before falling asleep. Oprah & Deepak's 21-Day Meditation Experience is a new favorite. When I feel like I need to center throughout the day, I'll do a quick guided 10-minute session.
Fitness Hack
I usually jump on my treadmill the minute I wake up or it won't ever get done! My favorite fitness routine is a series of Pilates mat exercises done at home, along with a quick sweat session on the treadmill, set to the highest incline, holding hand weights.
Self-Care Solution
I shower twice a day, in the morning after working out, and again before bed. Taking care of your body's skin is just about as important as your face. I've used Dr. Bronner's Peppermint body wash, also known as their 18-in-1 Hemp Peppermint Pure-Castile Soap, for 20 years. It might not sound glamorous, but it's the best body wash, period. The cool, minty scent is packed with essential oils to keep your skin supple and soft. Out of the shower, I follow it with UMA Absolute Anti-Aging Body Oil. It smells like a luxurious spa and not like my boring bathroom.
Beauty Icon
My grandmother
Business Icon
Mindy Grossman, the CEO of WW (formerly Weight Watchers)
Career Advice
My father taught me to never give up and always stay curious. This is probably why I ask a lot of questions. As my business partner, Katie, says: "Why is my favorite word."
Scariest Accomplishment
Becoming a mother, which is also the most rewarding. When I became pregnant (my son is now 15), I knew nothing about babies and was living in Texas without my immediate family. I wanted a child more than anything, but after suffering a miscarriage and fertility issues, I was extra cautious. There's a reason the scariest things in life often end up being the best things: high risk, high reward.
Drugstore Find
L'Oréal Paris Infallible Pro-Last Waterproof Eyeliner: I have oily eyelids and never worry about smudges when I use it.
Night-Out Routine
Clé de Peau Beauté's Illuminating Concentrate mask is my go-to treatment before any big events or photo shoots. My nighttime look is a slightly amplified version of my daytime look. I add a shimmering shadow along the lash line, along with thicker eyeliner and brighter lip gloss. It takes just 20 minutes.
Evening Wind-Down
At night, I start by cleansing with iS Clinical Gel then treat with my Resurfacing Compound, seal it in with Augustinus Bader Rich Cream and follow with Clé de Peau Beauté Enhancing Eye Contour Cream Supreme to firm and hydrate around the delicate eye area. My favorite tool is the U Beauty x ReFa I Style. It mimics the rhythmic tapping of an esthetician's fingertips to tighten and firm the skin's appearance. It's usually no more than 10 minutes. On nights I roll with my tool, I spend an additional five minutes. And once a week, I use the TriPollar RF Stop X gadget, great for tightening the skin on a deep level, which adds on 20 minutes. Beside my bed, I keep a Kindle, Doctor Rogers Restore Healing Balm for my poor over-washed hands, my roller and hand sanitizer.
Last Thing Before Bed
I text my son goodnight, then I get in bed and turn on a sleep meditation app.
Lights Out
10:30 p.m.
Correction: An earlier version of this story listed Craig's home-base as L.A.

For more stories like this, including celebrity news, beauty and fashion advice, savvy political commentary, and fascinating features, sign up for the Marie Claire newsletter.
RELATED STORY
Celebrity news, beauty, fashion advice, and fascinating features, delivered straight to your inbox!