Exactly How to Heal a Sunburn, According to Dermatologists
Become BFFs with SPF to make peeling a thing of the past.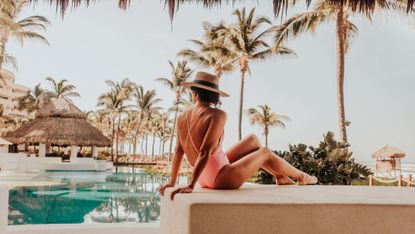 (Image credit: Getty Imsged)
Come on, talk to me. You can admit it: Sometimes you tan without sunscreen, don't you? You've been sunburned before, haven't you? Listen, I don't judge. Occasionally, I only put sunscreen on my face and let my legs get nice and brown. I very rarely re-apply SPF like I know I should. And sometimes, I miss a spot and get a sunburn that starts to peel and takes a year to truly fade. But if you've never put sunscreen on when you go out in the sun, consider this your intervention.
If you look at me and think, Well of course she has to wear sunscreen, she's so pale she's basically transparent, you have great observation skills but you're also wrong. While I need to be careful about using SPF due to my pale skin and family history of melanoma, all skin tones and types are susceptible to sun damage and should be protected. With the help of some stellar dermatologists, we're here to tell you how to heal sunburns, avoid sun damage and protect yourself from future tanning disasters. Bonus: you can still enjoy the without harming your skin—just follow these steps.
First, Let's Debunk Some Myths
Sadly, false. While it's extra necessary to use SPF during peak hours (generally, 10 a.m. to 4 4 p.m.) when the sun is the most powerful, a cloudy or overcast day is not an excuse to not wear sunscreen. "Up to 80 percent of UV rays can penetrate clouds," Dr. Marie Hayag, NYC-based board-certified Dermatologist and Founder of Fifth Avenue Aesthetics, reminds us. UVA rays can also penetrate windows, which actually increases damage to your skin. When the sun is out, wear protection.
Myth #2: If I Have Dark Skin, I Don't Need SPF
False! While people with fair skin are at greater risk for damage, darker skin tones are still capable of getting damaged by the sun, says Dr. Hayag. While dark skin might not turn red as easily a fair-skinned person, redness and sunburns are not the only indicators of sun damage. Scaly, itchy and dry patches are sure-fire signs to look out for.
Myth #3: I Can Tan Safely
Again, false. Even if you don't burn, exposure to UV rays will inevitably damage your skin cells. Because venturing out in the sun is unavoidable at times, it is best to apply sunscreen always. A tan is your skin's defense mechanism caused by damage, explains Dr. Hadley King, board-certified dermatologist based in Manhattan. The only way to tan safely is to use faux-tanning products that do not rely on UV rays.
Here's How To Protect Your Skin From Sun Damage
It may seem obvious, but wearing sunscreen daily and properly is the best way to prevent sunburns and skin damage. This includes reapplying SPF if you have been swimming or sweating, and applying it 20 minutes before you go outside. If you are especially at risk for sun damage, Dr. Hayag recommends wearing protective hats, sunglasses and clothing. Brands like Wallaroo Hat Company, Solumbra, and Coolibar all make products that can protect you from UV rays. Besides your standard body and face SPF, you should also have a lip balm that protect your kissable lips from sun damage.
Frighteningly, Dr. Hayag and Dr. King agree that if you have experienced 5 or more sunburns in your life, your risk of developing skin cancer increases dramatically. That's why prevention is most important. If you're unsure of which SPF will work for you, Dr. King recommends trying Skinsei, which curates a customized regimen which specific products depending on your skin's preferences.
Try These Expert-Picked SPF Products
So, You Have a Sunburn—Here's How to Heal It
Sunburns can be avoided if you're diligent. But if you find yourself with shoulders that are bright red and peeling, there are steps you can take to speed up the healing process and calm itchy, painful and inflamed patches. Dr. King recommends taking anti-inflammatory drugs like aspirin within the first 24 hours of getting burned to reduce inflammation. Cold water and a moisturizer also help to keep the affected area cool and hydrated.
A lot of treatments can be found in your kitchen, too. Dr. King suggests applying cold milk or plain yogurt topically to soothe the skin. A lot of healing comes from within: Dr. Hayag and Dr. King both recommend drinking fluids to reduce dehydration, which will allow your body to cool down from the inside out. It's very important to pay attention to how you're feeling internally. Dr. Hayag warns that blistering over large areas, fevers or chills, and wooziness are all signs that you should seek medical attention.
Shop These Healing Products
A lot of the warnings about reducing sun exposure comes from a place of vanity. As valid as it is to want to avoid unsightly wrinkles and sun spots, protection from harmful UV rays is really about our health. Skin cancer can be life-threatening, which makes self-checks and yearly visits to a dermatologist very necessary. If you notice an unfamiliar freckle on your skin or spend a lot of time outdoors (or neither, just go!) it's important to see a dermatologist and advocate for your own health. In the meantime, throw on some self-tanner, take Vitamin D supplements, and always, always wear sunscreen.
For more stories like this, including celebrity news, beauty and fashion advice, savvy political commentary, and fascinating features, sign up for the Marie Claire newsletter.
RELATED STORY
Tatjana Freund is a Beauty Commerce Writer, covering makeup, skincare, and haircare products and trends. She's a fan of vodka tonics and creepy Wikipedia pages.