Fenty Skin Is Finally On Its Way and the Internet Is Shook
"Y'all ain't hear it from me," Rihanna joked on Instagram.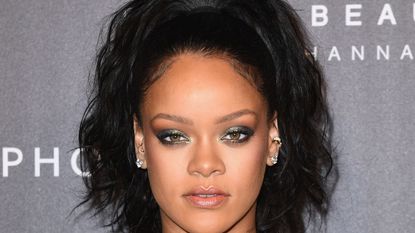 (Image credit: Pascal Le Segretain)
Rihanna is officially extending the Fenty empire. On Tuesday, the mogul took to Instagram to announce the launch of Fenty Skin, the much-hyped upcoming skincare line from her iconic Fenty brand. The mogul posted a video promo to her personal account teasing the product line: "Ima try my best to be humble about this but, @fentyskin is coming July 31st exclusively at FENTYSKIN.COM!! Y'all ain't hear it from me 🤫 but you can shop it early if ya drop me your email through the link in my bio..."
Rumors began to circulate of an upcoming launch back in March when Page Six reported that a trademark was filed for the name Fenty Skin at the United States Trademark and Patent Office. In 2017, Fenty Beauty set the tone within the beauty industry when it launched a foundation range with 40 shades. It was a groundbreaking rollout that quickly shifted the industry as people of color began to finally feel seen.
The internet immediately went into in a frenzy following the announcement:
so y'all tellin me imma b in my fenty clothes complemented by some fenty shoes wit my fenty makeup and to end the night imma b doing my fenty skincare routine? iconic. pic.twitter.com/22c5xa7h8qJuly 14, 2020
See more
It's that time you been waiting for boo! #FENTYSKIN https://t.co/VW65Qkdg8IJuly 14, 2020
See more
Rihanna was really talking to all of us when she said bitch better have my money #FentySkin pic.twitter.com/MA83iKCVRfJuly 14, 2020
See more
my skin after i buy every fenty skin product pic.twitter.com/tzZOwhbqh1July 14, 2020
See more
To be the first to shop Fenty Skin, sign up here to join the waitlist.
The Most Iconic Rihanna Outfits of All Time
Image 1 of 88
February 7, 2020
Rihanna is photographed outside Bergdorf Goodman for her Fenty x Bergdorf Goodman NYFW party.
December 9, 2019
Rihanna looks sleek in an all-black leather ensemble.
December 2, 2019
October 13, 2019
We saw latex grace the Fall/Winter 2020 runway, but RiRi was ahead of the curve in this little latex number.
October 11, 2019
Seen outside of the Guggenheim Museum in New York, Rihanna attends the launch of her first visual autobiography, "Rihanna."
October 11, 2019
Comfortable and cute, Rihanna turned to neutral tones for her airport look. She topped off her casual ensemble with a large Dior tote that's great for travel.
October 10, 2019
In an all-white outfit carrying everyone's fave Bottega Veneta Pouch bag.
September 19, 2019
Spotted in Seoul, Rihanna pairs her Jacquemus look with Fenty sandals.
September 18, 2019
In green Fenty (via Instagram).
September 17, 2019
Rihanna wows in a white power suit at a Fenty Beauty event.
June 25, 2019
In Fenty before the BET awards.
June 18, 2019
Rihanna turns heads in head-to-toe Fenty as she heads into the Webster for the Fenty x Webster pop-up cocktail.
June 9, 2019
In a playful purple look.
May 23, 2019
Rihanna poses in front of her "Fenty" logo in Paris.
May 22, 2019
Rihanna hosts Fenty Launch on May 22, 2019 in Paris, France.
January 30, 2019
February 28, 2018
April 15, 2018
Rocking Y-Project for Coachella 2018.
April 14, 2018
Stunting in custom Chrome Hearts for Coachella 2018.
April 14, 2018
Rihanna poses at her Fenty x Puma event at Coachella.
April 5, 2018
Rihanna attends Sephora's Fenty Beauty By Rihanna party in Milan.
May 7, 2018
The guest of honor heads into her Met Gala afterparty at Up and Down wearing Nina Ricci.
May 5, 2018
When your skirt is too short...wear it as a top.
May 5, 2018
Rihanna shuts it down in Dapper Dan X Gucci.
May 4, 2018
RiRi shows off her neutral-toned look on Instagram.
June 21, 2018
Attending the Louis Vuitton Menswear Spring/Summer 2019 show.
June 13, 2018
Rihanna is bold in gold while out in London.
September 10, 2018
Rihanna poses backstage at the Fent x Puma By Rihanna Spring/Summer Show.
October 3, 2018
In Sydney for a Fenty Beauty event.
January 21, 2017
Feminine AF for the Women's March.
March 23, 2017
Rihanna makes the case for a silk scarf worn over a baseball cap.
April 16, 2017
All that glitters is Gucci.
May 22, 2017
Looking like a boss in an oversized Matthew Adams Dolan suit.
September 9, 2017
The singer loves an oversized blazer. She opted to pair the menswear-inspired jacket with