24 Hours in Jennifer Garner's Life
The actress talks NPR, aging feet, and how she learned how to do her hair in quarantine.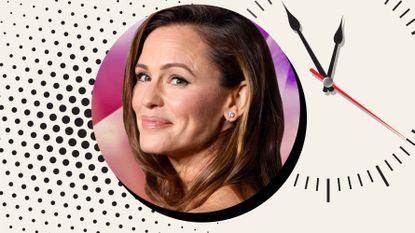 (Image credit: Design by Hanna Varady)
Marie Claire Newsletter
Celebrity news, beauty, fashion advice, and fascinating features, delivered straight to your inbox!
Thank you for signing up to Marie Claire. You will receive a verification email shortly.
There was a problem. Please refresh the page and try again.
Welcome to Beauty Around the Clock, Marie Claire's weekly peek into the daily lives of some of the most game-changing women in their industries. Ever wonder how they get it all done in a day? Here's your answer.
---
Jennifer Garner is a woman who needs no introduction. Whether she's acting in incredible films, inspiring her followers to get out there and vote, or shutting down down Instagram haters, there's one thing we can count on: She'll handle everything that comes her way with class and humor. Below, the mom of three children walks through 24 hours in her world, and shows us the tried-and-true beauty hacks we can all learn from.
Rise and Shine
I get up so much later than I did before we were all shut down. I don't think I'm getting up until 6 or 6:15 a.m. I feel lazy. The first thing I do is stretch my feet because my feet have just been... I don't know, maybe they're getting old. I do some basic physical therapy on my feet while I'm still in bed. Then I get up and get dressed to work out before I have time to think about it.
Morning Maintenance
I have coffee and then I work out. Lately I've been doing the Limit fitness pretty religiously. That's how I start every day. And then, I try to take a shower. I wash my face and I always use SPF right away. I've had a smoothie every day for years. I didn't know that you could make a smoothie and that it could be filling enough to get you through the morning, but you can. Kelly LeVeque taught me how to make [my] smoothie. That was years ago now.
Beauty Signature
I've been doing a lot of press from home. I've had to do my own hair and makeup about a million times more than I would ever do in my life because I'm not a hair and makeup person. So I use a little bit of concealer under my eyes around my nose, and blend it in. And then I really love the Stila Peony Blush. I've used it forever. For mascara, I use the Neutrogena Healthy Lengths Mascara. And for the concealer I've been using Westman Atelier Vital Skin Foundation Stick. It blends really nicely. I can't say that I've really been huge on the old self-care. I mean, if I work out and shower and have coffee in the morning...I just feel you have to pick your battles.
Daily Playlist
NPR. Otherwise I just listen to the country music station, honestly.
Hair Help
I've learned how to do my hair, which is probably the biggest thing that's happened to me in quarantine. You get all this full hair when you're pregnant and then when you're done nursing, your hair just falls out in gobs. And after doing that three times, my hair was so much thinner than it had been. Kind of just sad, just lifeless and heavy. I really do love the Virtue Full Shampoo and Full Conditioner. This line has totally brought my hair back to life. So I'm very happy to share that good news because that's the message every woman wants to hear. I've never used a shampoo before that made my hair actually thicker, healthier, just happier all around. It's a total game-changer. I use Virtue 6-In-1 Styler. Then I blow it dry with a diffuser, which I'd never used before, and then I follow with Virtue Healing Oil. It smells so good. And that is me doing hair.
Beauty Icon
Annette Bening, because she just always looks elegant. She looks like herself. She doesn't look too fussy and made up, she's just beautiful as she is.
Cheap-But-Chic
The thing I love about Neutrogena is that it is so absolutely affordable and available in any drugstore. I would just say go to the drugstore and just buy yourself a bunch of new Neutrogena products and play around with their retinol line. That is probably my favorite cheapskate find because we all think we have to have a prescription or some super fancy retinol product. The Neutrogena Rapid Wrinkle Repair Retinol Facial Oil is great for nighttime, because it's hydrating and it doesn't dry you out.
Alternate Career
When I was a kid, I wanted to be a children's librarian and I still feel I would probably be pretty good at that. Maybe I'll give it a shot.
P.M. Routine
Everyone in my house is staying up too late. And I find during the day I can't get anything quiet done, like a thoughtful email or just responding to people. I'm not complaining because people are really going through it. I don't know where the days go, they just go flying by. But at night I will get my last kid to bed after 10 because she's in high school and I have to stay up and make sure she's finally done with homework and turns her light off. Sometimes I can make myself go straight to bed and sometimes I get caught up. Normally, I am 9:30 or 10 o'clock to bed. And now I'm down 10:30 or 11:00 p.m.
There is no excuse for going to sleep with makeup on your face. I always wash makeup off, so I start with Neutrogena Makeup Removal Wipes—they're classic—and then I move to washing my face. I finish with the Neutrogena retinol oil and call it a night.
Lights Out
I'm really into the Calm app and love their sweet stories. Erik Braa talks to me to sleep many, many nights.
Shop Jennifer Garner's Beauty Favorites
Celebrity news, beauty, fashion advice, and fascinating features, delivered straight to your inbox!
Tatjana Freund is a Beauty Commerce Writer, covering makeup, skincare, and haircare products and trends. She's a fan of vodka tonics and creepy Wikipedia pages.