Dr. Barbara Sturm's Two-Minute Nighttime Routine
The German aesthetics doctor is all about the most efficient path to glow.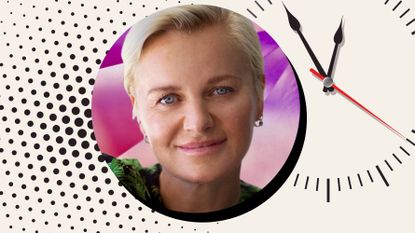 (Image credit: Chris Singer + Hanna Varady)
Welcome to Beauty Around the Clock, Marie Claire's weekly peek into the daily lives of some of the most game-changing women in their industries. Ever wonder how they get it all done in a day? Here's your answer.
---
Ask Barbara Sturm, the 48-year-old, always-glamorous German aesthetics doctor for the secrets to her youthful radiance and, even before she convinces you to buy a $300 hyaluronic acid serum, she'll sell you on the merits of an anti-inflammatory lifestyle. "If we learn what the inflammatory and anti-inflammatory influences are, we can avoid the bad and seek the good," she explains. The bad includes pollution, sun, alcohol, sugar, and flour. Headlining the good are sleep, exercise, antioxidant-rich foods—and the soothing formulas of her namesake skincare line. While Sturm has spent much of this year at home and seeing patients at her Düsseldorf skin clinic, she's also ensured that A-list devotees (Hailey Bieber, Emma Roberts, Angela Bassett) aren't neglected. Just last month, her new West Hollywood sanctuary for glow- and wellness-seeking Angelenos (a.k.a. the entire L.A. population) opened its doors. And she's already onto the next outpost: London 2021. Ahead, the indefatigable CEO walks us through how she keeps stress—and its unflattering effects—in check.
Rise and Shine
I wake up early—my team is spread across L.A., New York, London, and Germany so I need to get in touch with everyone in the morning. The first thing I do is apply my Face Mask, make a coffee, and prepare breakfast for my 6-year-old. I check my emails and then try to fit in a quick workout, sometimes while on calls with my team. I like to mix it up—walking, biking, Pilates, yoga, tennis. Moving is one of the key anti-aging devices. It's also just a great start to the day and the endorphins are the best feeling. I try to get eight hours of sleep and usually do. I'm an anti-inflammatory aesthetics doctor, and sleep is a major part of the anti-inflammatory lifestyle. Sleep is when your cells rejuvenate, including your skin cells.
Power Start
For breakfast, I always have Bircher muesli which I prepare the night before. I'll drink a latte macchiato (without sugar) and also take my Skin Food and Repair Food supplements.
Morning Maintenance
I spend six minutes on my morning skincare routine. I need it to be simple, and it is. Twice a week, I'll either use the Facial Scrub or Enzyme Cleanser in the shower on my face and body to remove dead skin cells, boost circulation, and encourage skin renewal. The rest of the time I use my Cleanser. I apply my Balancing Toner immediately after showering, then Hyaluronic Serum and Anti-Pollution Drops, which actually protect against blue light (more important than ever with extra-heavy digital screen exposure), and my Face Cream. When I have dark circles or puffiness, I follow with my Eye Cream. For Zoom calls and IG Lives, I use Glow Drops instead of makeup. I don't take much time on my hair routine on any day since I have short hair. I recently launched my Scalp Serum and I use that as my haircare product. In warmer weather I like to just comb my wet hair back and then apply some of the Scalp Serum on top.
Signature Look
It's always been a natural look. I don't wear makeup much—I learned from my mom that healthy, hydrated skin doesn't require makeup and is beautiful on its own. And that is a central premise of my skincare line and my personal approach as a doctor. I focus on glowing skin that I feel confident in. If I ever use anything on my eyes, I'll apply some eye shadow by Anastasia Beverly Hills. I also love Jillian Dempsey's Lid Tints because I can apply them with my fingertips. I paint my toes red—Tom Ford has some great red shades. And my go-to scent is Byredo Bal d'Afrique.
Self-Care Constants
We are bombarded every day with inflammatory influences, from harsh skincare ingredients, to UV rays, stress, tailpipe emissions, HEV rays, smoking and drinking, and sugar. If we learn what the inflammatory and anti-inflammatory influences are, we can avoid the bad and seek the good. Getting adequate sleep and daily exercise, along with eating avocados, salmon, olive oil, tomatoes, nuts, dark berries and green tea are my constants for daily self-care.
Beauty Icon
My mom. She never used makeup, had beautiful skin, and looked super young and healthy.
Words of Wisdom
My parents taught me to follow my dreams, be kind to everyone, and keep both feet on the ground.
Worth It
Aesthetic injections, when done by the right hands.
Night-Out Look
I cleanse with the Cleanser or exfoliate with the Enzyme Cleanser, then put the Face Mask on and leave it for 10 minutes. I use my Face Mask on my arms if I'm wearing a sleeveless dress. After 10 minutes, I rub it off (don't use water) and that generates a super-hydrating glow. I then apply my Hyaluronic Serum, Face Cream, and finish with my Glow Drops.
P.M. Routine
At night, cleansing the skin before bed is essential, to remove pollution, pathogens, oil, makeup and other impurities from the skin before sleep. Cleansing also prepares the skin to receive active ingredients. My Night Serum boosts this renewal process. And my high dose, molecularly balanced Hyaluronic Acid works throughout the night to replenish moisture reservoirs at multiple skin layers. I also take my Sleep Food supplements before bed, especially after a stress-filled day. It's a blend of natural active ingredients that relax the body and mind and helps me fall asleep sooner and deeper. At least twice a week, I also use my mask in the evening. Not counting the mask, my entire routine takes just two minutes
Evening Wind-Down
Sometimes in the early evening, I take milk baths with my youngest daughter.
Lights Out
Sometimes I go to bed with my daughter and pat her back and we both fall asleep early. I try to go to sleep before 10 p.m. if I can.
Related Story