Why Sisley's La Cure Treatment Is Worth It
Consider it a month-long vacation for your skin.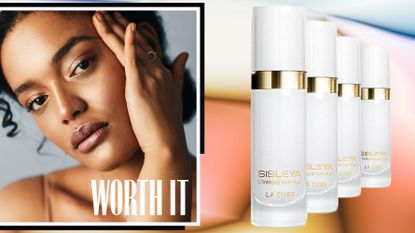 (Image credit: Delmaine Donson/Susanna Hayward)
Welcome back to Worth It, a bi-weekly breakdown of the new beauty products I've tested and adored: I'm talking that drain-it-to-the-bottom-and-tell-my-friends-I've-found-The-One kind of love. If it's featured here, consider this my permission to splurge on it. Read on for the product you don't want to live without, and catch up on the latest Worth It breakdown here.
The Promise
Four vials, four weeks, twice a day. Commit to Sisley's precisely measured complexion reboot system and you'll come out the other side with skin that's smoother, softer, bouncier, more radiant, and radically less tired looking. (Convinced?) The brand credits its botanical-rich blend—boasting gingko biloba leaf, Persian acacia, mariposa blanca rhizome, and peony extracts, along with vitamin E acetate and a "Longevity Sugar Complex"—with improving and protecting the mitochondria function of the cells, ultimately helping skin behave more like its younger self.

The formula has the consistency of serum but also offers light moisturization. You're meant to use it with a rather streamlined routine for the four weeks: give up all other active ingredients (i.e., retinol, vitamin C) and simply remove your makeup, cleanse, tone, and apply eye cream prior to bathing your face and neck with La Cure. Easy enough, right?
Why I'm Obsessed
First, let's get this out of the way: The sticker shock—$1200—is hard to get beyond. Sisley sent me this product to test months ago and, although it sounded promising, and felt lovely when I tested it on my hands, and smelled like a gorgeous peak season French garden, I had trouble justifying the price, or telling anyone else they should justify the price. Then I thought about the math. There are just a few options for serious skincare upgrades (for, say, the weeks leading up to a wedding or big event or re-entry into post-lockdown society) and most of them involve multiple visits to a professional: You could do a series of facials (ballpark $1000 for four facials at $250+ each) or make an appointment at a derm's office for laser or injectable treatments (minimum $1500). Of course, you could also take matters into your own hands and self-cocktail a number of skin-rejuvenating potions together, which may or may not work out for you, and may or may not cause some unhappy and inflamed results. Your call.
With this in mind, La Cure started to sound like a smart, low-risk, low-lift investment, especially for those of us who will not be in the vicinity of a great cosmetic doctor or facialist for some time. (I'd been living like a hermit in rural upstate New York for nine straight months and was more than ready for a little self-care indulgence.) So, at the top of 2021, I officially cracked open my first bottle.
To my delight, La Cure became my daily escape. From the depths of a long winter, from my lovingly clingy small children, from life. For three minutes each morning and evening after I cleansed my face, I would close my eyes, take in that peak season French garden scent, and slather on the serum—exactly eight pumps of it, as directed—all over my face, neck, and décolleté.
My first application was at night. And, as expected, the product was cool and lovely going on, so much so that I felt moved to grab my Joanna Czech face roller to massage it in. Being January in New York, I dabbed a little of my go-to winter moisturizer—Augustinus Bader The Rich Cream—on dry patches to make up for the deep freeze and our home's radiator heating. The very next morning, my skin looked calmer. Angry red patches on my cheeks seemed to have dissipated. Overall, my complexion was remarkably luminous and noticeably softer to the touch. (I'm in constant admiration of my two-year-old's soft, resilient skin. This felt pretty close.) On day two, things were just as good, and I felt inclined to go totally makeup-free (even in isolation, I had been wearing a glowy priming moisturizer mixed with a bit of foundation during the day; the ritual of it lent a bit of normalcy to life).
By week two, I had gotten accustomed to my improved texture and started noticing newfound clarity and brightness. I did break out a tiny bit (a byproduct of my skin cycling through a renewal, perhaps?), but the mild eczema patches that annually surfaced in January were nowhere in sight.
At the end of week three, friends and colleagues started throwing out compliments over Zoom which, I realize, presents a famously soft-focus image. But these were people who were used to seeing me daily over Zoom, even pre-La Cure, so I gladly accepted said compliments.
I finished the full four weeks, and continued to forgo any kind of complexion makeup, even for moments when I needed to look a little more "done." In a word, my skin felt refreshed—even and bright, with clear, tight pores. Miraculously, I looked less tired. And in the process, my skin never peeled, stung, or felt uncomfortably taught as it often does with an exfoliating treatment or laser. Having just wrapped the course, I'm already missing my three minutes of solace with La Cure. But, in some good news, I discovered that three vials of it lasted me the whole month, meaning I can indulge in an occasional escape whenever I need.
RELATED STORY
Marie Claire email subscribers get intel on fashion and beauty trends, hot-off-the-press celebrity news, and more. Sign up here.