Knotless Braids: Your Ultimate Guide
From prep to cost to care, celebrity hairstylist Lacy Redway details every step.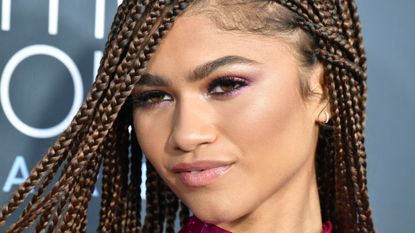 (Image credit: Getty Images/ Frazer Harrison)
Growing up, a trip to my local salon to get my hair braided was a sure sign that summer was near. My mother would rave about how blessed I was to have thick hair, but insisted that it be braided up and protected from the elements if I wanted to spend my time at the pool or beach. For so many Black girls, memories of rocking an array of braided looks is forever etched in our minds: "I have vivid memories of me as a little girl in Jamaica. Almost religiously, every Sunday, my big sister would wash my hair then sit me on an ottoman in front of her to prep my hair for the school week ahead," reminisces Unilever Global Hair Care Brand Ambassador Lacy Redway. "She would start by giving me Bantu knots to help stretch my hair while it dried and then later do braided and twisted styles with barrettes and clips for flair."
Fast forward to the present, and we're seeing all our favorite braids and twists—some with modern updates—make the rounds on social media and virtual red carpets. One particularly popular style now is the knotless braid, a type of feed-in braid. Here, Redway guides us through every step of the process.
What are knotless braids?
Traditionally, when someone gets box braids, each braid starts with a knot at the base where a hair extension is secured. "Knotless braids are installed by feeding small strands of braiding hair, little by little, into a three-strand braid until you reach your desired thickness. This eliminates the knot and makes the hairstyle feel a little more seamless," says Redway. "It appears as if the braids are growing straight out of your scalp as you extend your hair's length and thickness."
This feed-in braiding technique is highly regarded for being pain-free, lightweight, and low-tension on your scalp and edges.
How should I prep my hair for knotless braids?
"Prepping your hair for any protective style should start with your foundational steps—the ones you follow to help lock moisture into your strands before braiding them," advises Redway, who recommends the Nexxus Curl Define range to infuse silk proteins into your curls and coils for maximum hydration. Even though knotless braids are considered a low-tension protective style, you want to be sure to focus a little extra TLC to your hair during the prep stage to minimize future breakage.
What are the pros and cons of knotless braids?
Pros: Protective styles are a great way to give your hair a break from daily manipulation. They're also well-suited for busy schedules and vacationing—some people even experience growth from low-tension protective styles such as knotless braids. Plus, the styling versatility that comes with knotless braids are pure gold.
Cons: Too much of a good thing can turn bad if you abuse it. "It is always a great idea with any hairstyle to give your natural hair a break. If you are someone who braids your hair back-to-back, this can eventually take a toll on your strands and cause breakage or damage," explains Redway. You also want to make sure your stylist puts a strong focus on caring for your hair and not just on the end result of your hairstyle.
How should you care for knotless braids?
The longevity of your knotless braids comes down to your maintenance routine. "Be sure to keep your strands hydrated by using a spray leave-in conditioner," says Redway, who likes Tresemmé Pro Pure Leave-in Conditioner. Also take into account that since your braids begin with your natural strands, you may experience frizz after a couple of weeks of wear. For additional maintenance, wrap your braids in a silk wrap or bonnet before bed. For optimal natural hair health, Redway recommends wearing any braided style for a maximum of six weeks.
How much do knotless braids cost?
"It really depends on your location, the salon's location, the stylist, and their price based on [how they value] their service. Also, whether the artist chooses to base the cost on an hourly or flat rate," explains Redway. "If it's an hourly rate, the braids' size and length, the size of your head, and the density of your hair will play a significant role in the cost." It's safe to say that an average cost can range from $150-$400. But the mesmerizing results and versatility to follow? So worth it.
Marie Claire email subscribers get intel on fashion and beauty trends, hot-off-the-press celebrity news, and more. Sign up here.
Chelsea Hall is the Assistant Fashion and Beauty Editor at Marie Claire, where she covers celebrity style, fashion trends, skincare, makeup and anything else tied into the world of fashion and beauty