Editors handpick every product that we feature. We may earn commission from the links on this page.
How to Bring '70s Fashion Into 2020
Clogs, crochet tops, and fringe, oh my!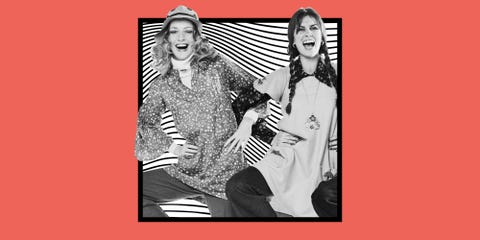 Our obsession with the '70s has finally peaked, and while boomers have lived through crochet and cords once already, we millennials can't help but fawn over the remixed silhouettes of the decade. Why are we so engrossed with the fashion of the bygone days? The clothes that defined it were all of the things we aspire to be: free-spirited, inherently cool, and a little rock n'roll. Even the greats—from Celine to Saint Laurent to Gucci—have taken inspiration from their own collections 50 years ago, reintroducing iconic prints, burnt hues, and embroidered fabrics. Understandably, you may not want to be confused for a member of The Brady Brunch, so remember that a soft take on the trends will keep you firmly planted in the present. Still not convinced? Side step your comfort zone and try out that flared corduroy pant, a clog sandal, or a crochet top—just don't wear them all at once. Ahead, seven blast-from-the-past trends to consider adding to your springtime wardrobe.

This content is created and maintained by a third party, and imported onto this page to help users provide their email addresses. You may be able to find more information about this and similar content at piano.io