'70s Fashion Is All Over My Mood Board for Fall 2023
Clogs, leather pants, and fringe, oh my!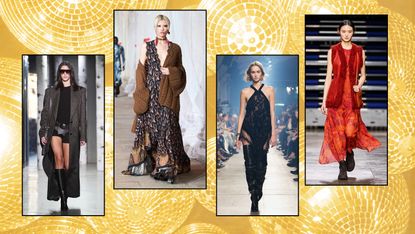 (Image credit: Future)
I've typically leaned toward minimalist, '90s-inspired pieces, but I've been pulling from an earlier decade as of late—the '70s—and I'm not alone. Fashion from the 1970s has been popping up on television by way of Daisy Jones & The Six, as well as on the runways for Fall/Winter 2023. But it's not all groovy prints and shaggy coats. So many of Fall 2023's fashion trends have to do with the softer, sweeter side of '70s fashion, and I'm obsessed.
"The 1970s was one of the most radical eras in fashion history for a number of reasons," says fashion historian and curator Michelle Tolini Finamore of the decade and its sartorial roots. "Although we like to think about history in decades, the seeds were sown in the 1960s for a cultural transformation that continued into the 1970s. The early 1970s styles were a bit of a holdover from the 1960s trends and in the later 1970s, minimalism and early disco started to take hold."
The flow from '60s minimalist style into the high-glam looks of the latter half of the decade made for an eclectic mix of pieces, many of which are trending now. Crochet and sheer lace pieces, both of which were popular during the early and mid-seventies, dominated during the spring and summer 2023 seasons. This sweeter appeal was also encapsulated in the modern rise of Cottagecore and romantic aesthetics.
The softer side of '70s fashion is defined by feminine silhouettes and was referenced on the runways at Etro and Isabel Marant. Think: bohemian dresses paired with oversized cardigans with edgier boots. Boho dresses in particular have skyrocketed in popularity over the last few months on resale platforms. "Boho dresses have seen a tremendous 138 percent increase in searches since the start of the year," says Steve Dool, Brand and Marketing Director at Depop. Similar rises have been seen with classically-1970s accessories like clogs, which Dool says have "have spiked 111 percent across the same timeframe," as well as platform boots, which have increased in search by "14 percent n Q2 with a continuing trend upwards."
The fall and winter seasons also mark the apex of trendy denim. Luckily, many of the styles which have been popular this year—like low-rise jeans and flared jeans—are continuing to maintain their viral status for the fall and winter seasons. "Searches for "Bell bottom jeans" have increased by 71 percent and "low rise jeans" has increased by 53 percent," Dool says.
Ahead, we broke down our favorite '70s-inspired pieces by category. And take it from me, a self-proclaimed minimalist: These pieces are bound to work in any wardrobe.
'70s-Inspired Pants and Skirts
I never realized how many of my pants and skirts are secretly '70s-inspired—I love leather pants and leather skirts, as well as flared jeans. Buy yours in neutral colors like latte brown—one of the fall's trendiest shades—for maximum wearability.
'70s-Inspired Tops and Jackets
The onset of fall weather means that it's officially layering season. This time around, look for cropped cardigans, velvet fall jackets that have some major Sgt. Pepper flair, and tie-dyed tops for an extra-groovy edge.
'70s-Inspired Dresses
When I think about '70s fashion, I think of glamorous silk halter dresses alongside bold prints with maximalist details like fringe. Channel iconic '70s designers like Halston this season by following suit on both fronts.
'70s-Inspired Accessories
Look to textures like suede or leather if you're interested in incorporating something '70s-inspired into your fall wardrobe. Crossbody bags and woven bags were especially popular during the early and mid-'70s, for instance, and they've been wardrobe staples ever si