Unsurprisingly, Lindsay Ellingson Is Killing It
The Wander Beauty co-founder, supermodel, and new mom talks manifestation and getting behind the camera.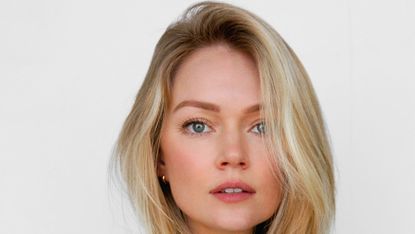 (Image credit: Cesar Buitrago)
Welcome to Beauty Around the Clock, Marie Claire's weekly peek into the daily lives of some of the most game-changing women in their industries. Ever wonder how they get it all done in a day? Here's your answer.

For Lindsay Ellingson, co-founder of Wander Beauty, entering the beauty space was written in the stars. The supermodel has walked runways and graced billboards and magazine covers since the early aughts, which meant hours sitting in the glam chair watching and learning from the best makeup artists in the world. Last year, she added 'mom' to her list of titles, expanding her commitment to mindfulness and focus on staying well. Here, how she gets it all done in 24 hours.
Rise and Shine
I have a 1-year-old who is an early riser, so I'm up every day at 6 a.m. I like to wake up a few minutes before Carter does so that I can have my coffee and make my to-do list for the day.
Morning Meal
Convenience is key for me as a new mom, so I gravitate towards quick, healthy breakfasts like yogurt with granola and fruit. Sometimes I'll have homemade overnight oats ready to eat in the fridge. Coffee is a must for me, I stick to one cup and then switch to ice tea later in the day. I love to add vanilla almond milk creamer to my coffee; I look forward to it every morning.
Skincare Routine
In the morning, I start with CeraVe's Hydrating Micellar Water. It's perfect to use when I don't have makeup on and just need a quick cleanse. I struggle with hyperpigmentation, so next I apply Sight C-er Vitamin C Concentrate by Wander Beauty to brighten my skin and fight off skin damaging free radicals. To hydrate, I love our Dive In Moisturizer. It's an amazing lightweight formula with an ingredient called Pentavitin that gives you 72 hours of hydration. I love how my skin glows all day. Finally, I always apply sunscreen—right now I am loving the Unrivaled Sun Serum by Eleven, created by Venus Williams, it's 100 percent mineral and actually goes on sheer.
Shop Ellingson's Morning Skincare Routine:
A.M. Glam
I like to keep my routine fresh and effortless, so I rely on a few multitaskers to get me ready every morning. I always start with my brows. I think it's the most important feature on your face, and the right shape adds instant youth. I use Wander Beauty's Frame Your Face Micro Brow Pencil. I love how the micro tip creates hairlike strokes that look so natural and it stays in place all day. Next, I perfect my complexion with our Dualist Matte & Illuminating Concealer. What I love is how the two formulas work to cover anything from dark circles to blemishes; it's a must have! My holy grail mascara is Unlashed Volume & Curl, because the curved brush makes my lashes so fluttery and fanned out and I love how I can layer the formula without it clumping. To finish off my look, I use our Double Date Lip & Cheek. It's the perfect pinky nude and gives my skin a healthy glow.
Shop Ellingson's Makeup Routine:
Hair Sitch
I wash my hair at night and use Reverie Milk Anti-Frizz Leave-In Treatment, so I sleep with my hair damp. I love the bed head texture I get in the morning; it makes styling my hair so much easier—I don't need any styling tools. For extra texture, I tousle my hair with Oribe's Matte Waves Texture Lotion. If I need a refresh, my go-to dry shampoo is Sam McNight's Lazy Girl Dry Shampoo. A good trick is to apply it: let the oil absorb and then brush it out.
Shop Ellingson's Hair Routine:
Work Day
Most work days, I'm in the office with my Wander Beauty team. We have team meetings in the morning to keep us all updated on upcoming projects, and then we go into our product development meeting. I am especially passionate about product development; I fell in love with beauty during my modeling days [and absorbed] so much information about formulas and makeup application. I love conceptualizing and testing new formulas, because it's so fun to work collectively towards a common goal.
Next, I work in our studio and shoot any content we may need for product launches. I have a lot of fun behind the camera these days and love bringing the products we create to life. I end my day by catching up on emails and retouching any content that is due.
Self-Care Practice
I have less time for myself these days, but I do make time to disconnect in the evenings when my son is asleep. I like to wear Wander Beauty's Baggage Claim Eye Masks and do my nails—there's something so soothing about doing my own nails. It's the perfect way to unwind and do something for myself after a long day.
Sweat Sesh
During the quarantine, I tried a lot of online fitness classes. My favorite is Ballet Beautiful by Mary Helen Bowers. She trained me one year for the Victoria's Secret show, and I love how her workouts make me long and lean. As a former dancer it's a lot of fun to feel like a ballerina again. I workout a few times a week while my son is napping. I also started live pilates classes again, and I'm loving the energy and motivation I feel in a group setting.
Mindful Moment
I find guided meditations by Gabby Bernstein are very helpful, especially for novice meditators like me. I used her meditations when I was trying to get pregnant, and I swear they helped manifest Carter.
Beauty Muses
I love to follow makeup artists on Instagram because their looks give me endless inspiration. Some of my favs are Pati Dubroff, Katie Jane Hughes, and Carolina Gonzalez.
Instant Fix
I love my Kitsch Ice Roller, it's a great way to depuff my under eyes before a shoot and wake up my complexion.
Nightly Chill Out
As soon as I get home from work, I'm back to being a mom, which I love. I read to Carter and get him ready for bed while my husband makes us dinner. As soon as Carter is down, we eat, catch up, and then wind down with a good [TV] series.
P.M. Skincare
In the evening, I cleanse with Wander Beauty's Drift Away Cleanser. It contains a coconut-derived surfactant, so it's really gentle on skin but removes all traces of makeup. Next, I use Dr. Loretta's Micro Peel Peptide Pads with 10% glycolic acid. I finish off with Mutha's Cream Extreme—it's a brand I discovered while pregnant and I love how the formula is 100 percent clean and treats my skin overnight.
Shop Ellingson's P.M. Skincare Routine:
Lights Out
Sleep is so essential for me, and I feel my best when I've had at least 8 hours, so I'm in bed by 9:30 p.m. The last thing I do before bed is listen to a podcast. There's something so soothing about it, so I make sure and set a sleep timer and I'm usually asleep within minutes.
Taylore Glynn is the Beauty and Health Editor at Marie Claire, covering skincare, makeup, fragrance, wellness, and more. If you need her, she's probably roasting a chicken, flying solo at the movies, or drinking a bad Negroni at JFK.