Beauty Around the Clock: Charlotte Tilbury
The makeup artist on magical confidence, dry skin saviors, and why her new Airbrush Flawless Lip Blur feels like a "velvet cushion hug."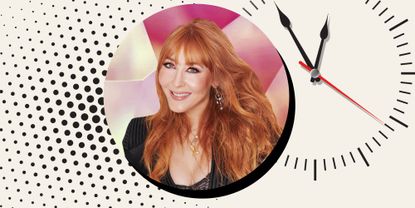 (Image credit: Future)
Marie Claire Newsletter
Celebrity news, beauty, fashion advice, and fascinating features, delivered straight to your inbox!
Thank you for signing up to Marie Claire. You will receive a verification email shortly.
There was a problem. Please refresh the page and try again.
Welcome to Beauty Around the Clock, Marie Claire's weekly peek into the daily lives of some of the most game-changing men and women in their industries. Ever wonder how they get it all done in a day? Here's your answer.
Charlotte Tilbury wholeheartedly believes that "lipstick can change your life." It's in part why her mission in life is to create the best ones in existence. A tube of her iconic Pillow Talk shade sells every two minutes, and it wouldn't surprise me one bit if her newest launch, Airbrush Flawless Lip Blur, which she describes as a "velvet cushion cloud" for your lips, follows suit. "Makeup has always been confidence in a tube for me. It has been since I was 13. It still is now. That's what I want to give to everyone around the world," Charlotte exclusively tells Marie Claire. "If you can give people confidence, if you can give people happiness, if you can give people joy, and make them feel empowered, that's the most incredible gift in life."
Rest assured, Charlotte is doing her part to make sure everyone feels the magical powers of makeup. Her brand new AI-powered app is, in her words, the equivalent of having her in your pocket. It assesses your skin tone, hair color, and eye color before recommending products—and showing you how to apply 'em. She's actively formulating new SKUs with the intention of disrupting every sect of the beauty market. (I can't spill the details, but trust me: Everything coming is *really* good.) In short: Charlotte has been busy.
So, how does the industry icon manage her days? I have the answers—and a whole lot more. From the morning green juice that wakes her up to the lavender pillow spray that puts her to bed and the 1,000 beauty products she uses in between, Charlotte shared every minute of her day with me. Of course, she snuck in a handful of beauty tips, professed her love for body care (read on for the "first body cream in the history of the world" to give her soft skin), and shared the wise motto she swears by in work and life. To get the complete rundown straight from the makeup artist herself, read ahead.
Rise & Shine
Someone always has to wake me up in the morning because I don't want to get out of bed. I'm a night owl. I'd love to lie in bed, but that doesn't happen. I have a business so I have to get up. I'll then have all my supplements and a green juice before my meetings.
Morning Maintenance
My skincare routine is long. I am not lying, darling. I don't even know if we have time to talk about all the products. I start off with the Glow Toner. I'll do my Crystal Elixir Serum—it's amazing. Now, I love layering, so in between that I'll use my Magic Hydrator Mist, which acts likes a missile to *really* hydrate the skin. It oxygenates your skin so it looks way smoother. There's a step I can't talk about because it's not out yet, but then I'll use my oil which is clinically proven to give you five times less fine lines in eight weeks. The balancing it does for the skin? It's unbelievable—it's a boot camp for your pores. Because I need to slug I'll do the Magic Cream on top. I'm a dehydrated woman; I'm thirsty. My Cryo Recovery Depuffing Eye Serum is my alarm clock for my eyes because I am puff-fy and this is de-puff central. I'll finish off with my Invisible Flawless UV Primer. It's our unsung hero.
Signature Look
It takes me a minute to get ready, probably 20 minutes to a half hour—maybe 40 minutes sometimes. I do switch it up every day, but there are certain things that I'm just never without: My Hollywood Flawless Filter, Beauty Light Wands, Contour Wands, Beautiful Skin Foundation, and Beautiful Skin Concealer. Because I'm so dry, I prefer a glow look to a matte, but if it's hot out or I'm filming or I'm on location, I'll do the Flawless collection. I'll use my Color Theory Eyeliner in Copper Charge. I'll go through different palettes and Pop Shots depending on my mood. I'll do my brow lift and legendary brows. For lips, I'll use Runway Royalty, Pillow Talk, or Penelope Pink.
Then, there's my new Airbrush Flawless Lip Blur. Longwear lipsticks were making me look like a dried up raisin, which is not a good look, so I thought: How do we innovate? At first, looking at the liquid lip category it was like, Well, just give up and die. Everyone was looking like a person from The Mummy Returns. But we don't want to look like a cat's ass, we want gold. We wanted gorgeous, cushion cloud lips. We had to bring the airbrush finish, the smoothing effect, the hydration, and the light feel. We had to bring in this stretchability, which is like a velvet cushion hug. We wanted to smooth out fine lines and amplify the size of your lips. It took years to innovate.
I'm always thinking about mixing trends with science and the power of products. Our new lip blur technology is going to have everyone mad because you can have it all. It's soft and intensely hydrating, but the product holds in place. I just gently blur it over my lip line and it diffuses the area between my skin and my lips. It's really forgiving and you can just go over it with your fingers—it's mirrorless makeup. It's really airbrush lipstick.
Body TLC
Oh my god, Magic Body Cream. There is no product in the world that does what this does—literally. People do not invest in body; they just don't want to invest in body creams. When you put this on, in one fell swoop, you have silky smooth arms and legs. I don't know if I told you told you how dry I am, but I am *dry* and this is the first body cream in the history of the world that has ever given me soft skin. I run my legs together and it's silky, silky smooth. Understand this: There is nothing else that does this. None, zero, nothing, not possible. This is an immediate skin revival. It's immediate, you will die.
Fitness Fix
I would love to do more exercise. I walk around my garden. I go up and down the stairs. Or I run for airplanes.
Signature Scent
Watch this space.
Hair Help
I use Sam McKnight shampoo and conditioner and I actually love LolaVie from Jennifer Aniston. I love it—it's great. There's a detangler that I spray on after the shower. I'll use the LolaVie oil and then I'll dry it with the Dyson Airwrap. Use Sam McKnight's Cool Girl spray to give my hair a little rock and roll vibe. I'll also use his hair wipes for my fringe if I'm not washing it that day to get all of the oils out. Then I'll use a Mason Pearson brush to get my height.
Daily Rundown
I work probably all day every day—not the weekends. Well, sometimes on the weekends. But I love what I do, so it's great. I'm the president of the business, so I run the business. I do business strategy, I do marketing, product design, product development, finance, five year plans, markets, I'm chairman of the board—I have so many different hats that I wear throughout the day and I'm always switching gears, but it keeps it very exciting. For me, it's about giving people magic, confidence, happiness and joy. I genuinely want to make people stop saying, I can never look like that. Yes, you can. You are amazing, you can achieve your dreams. My big motto in life is dare to dream. I believe that anyone can achieve their dreams. I believe that everyone is beautiful and I think that makeup and skincare are just two amazing things that you can use to make yourself look and feel great. If you look great, you feel great.
Cheap-But-Chic
I'll always get cotton buds—not the regular ones, the really pointed ones. They're good for cleanup, I love them.
Beauty Icon
Oh god, there's so many. I love Brigitte Bardot. I love Marilyn Monroe. I love my mother. I love all those really great icons from the past. Kate Moss and Bella Hadid for today.
Backup Career
I sometimes say I'd be a nerdy, sexy scientist. I genuinely don't know what I'd be doing if I wasn't a makeup artist. I love art, my father's an artist, but I wouldn't want to be a painter. I love finance and numbers. I love disrupting a market and PNLs. I love psychology and history. In this branch that I'm in, I kind of get to do everything.
PM Routine
I have to talk about the Radiance Resurfacing Facial. It gives me glass, gleaming, glowing skin. It's baby skin. If you don't have time to go to the facialist, you use this. Dead skin cells no more. Sometimes I see people and start handing this out to the world. It's dead cell central and I'm like, Use this! Take this! It resurfaces the skin and puts radiance and hydration back in the skin. I use my Magic Eye Cream at night which is amazing and my Magic Night Cream which is a very intense elixir texture. For anyone with dry skin, medium skin, mature skin–use this; it will change your life. When I wake up, my face is like a cushion.
Lights Out
I use a sleep spray and my candle. I also love to take a hot bath with epsom salts and oils. It really relaxes me. I use Kate Moss' sleepy tea. That's everything I do to unwind.
Celebrity news, beauty, fashion advice, and fascinating features, delivered straight to your inbox!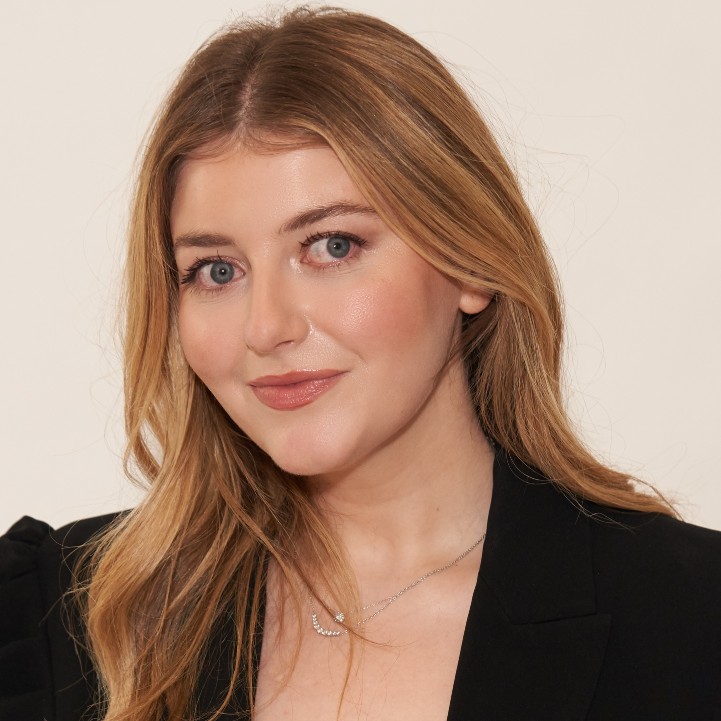 Samantha Holender is the Beauty Editor at Marie Claire, where she reports on the best new launches, dives into the science behind skincare, and keeps up with the latest trends in the beauty space. She has previously written for Us Weekly, Popsugar, Makeup.com, Skincare.com, and Philadelphia Wedding. Follow her on Instagram @samholender.