The Best Products for Laying Your Edges
Practices and products for that extra touch of glamour.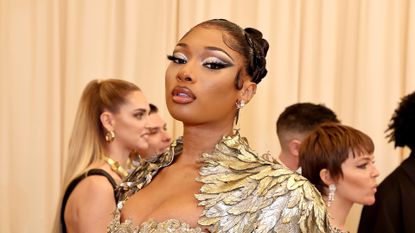 (Image credit: Arturo Holmes/MG22/Getty Images for The Met Museum/Vogue)
Laying edges is hugely popular for women with natural hair, and is a gorgeous method within the world of Black beauty. But did you know that the sleek style is around a century old? The practice of styling one's soft, short baby hairs spread in the 1920s and was popularized by Josephine Baker, the iconic American-born French performer (who was also a World War II hero and outspoken civil rights activist). The look gained speed in the ensuing decades and persists to this day, particularly among Black women, and is still seen widely on red carpets, in street style, and in beauty editorials. Given how in-vogue this look is, you may be wondering how to achieve the look and which products are best to use.
Therefore, I've asked Taliah Waajid, "the queen of natural hair," for her advice on which products to use to lay your edges and how best to apply them. With these tips and tricks, you'll be channeling your inner Josephine Baker in no time.
How to Lay Edges
As with all haircare practices, when it comes to laying edges, it's important to start with the basics.
"Edge control is a hair care viscous styling gel," explains Waajid. "It's needed to 'control,' smooth, or lay the delicate hair at the edge of the hairline often referred to as 'baby hair.'" From there, baby hairs can be locked into swirls, loops, waves, pinwheels, and even shapes like hearts and circles.
When applying your edge control gel, though, Waajid reminds users to start small and that less is more.
"Do not over apply!" she warns. "One doesn't need to slather a heavy amount of product on the hairline in order to 'control it'—no matter their texture. Apply to the very edge of the hair and smooth with a thin-toothed comb or brush to achieve a professional look. A little bit goes a long way."
Best Edge Control Brush Set
This three-piece set includes a pintail comb, a teasing brush, and an edge brush, so you can easily fine-tune your edges. The pintail comb is great for creating pin-straight part lines on one end and then smoothing hair on the other. Meanwhile, the teasing brush, which is made from vegan boar bristle, is great for taming flyaways or for creating volume. Finally, the edge brush, which is double sided, has flexible teeth that allow you to smooth, separate, and style hair without irritation.
Pros: vegan; allows you to create many different styles
Cons: less compact than having a single brush
Best Edge Control Brush
PATTERN by Tracee Ellis Ross Edge Tool
This brush fulfills three needs in one, allowing users to comb, brush, and swirl baby hairs with incredible precision. The brush is also made from vegan bristles that are strong enough to last for years of continued, everyday use—just be sure you take care of your brush by cleaning it regularly (something that will also save your hair and skin from acne-causing bacteria). While brush sets are lovely, I appreciate the convenience of this tool, which is perfect for simplifying your beauty routine, traveling, or simply keeping your makeup bag clutter-free.
Pros: three-in-one; easy to use; strong bristles; long-lasting
Cons: some users found the bristles too rough on skin
Customer Review: "I love it! Gone is my dingy toothbrush and hello to my sleek and aesthetically pleasing edge brush. The bristles are strong but not harsh so you don't have to worry about it ripping out your edges." -Sephora
What to Look for In an Edge Control Gel
When it comes to shopping for an edge control gel, you'll want a product that doesn't flake, run, or dry out your hair with harsh or buildup-causing chemicals.
"Look for an edge control that will stand firm against body temperature and will not 'melt' after application," adds Waajid. "With edge controls, formula truly matters. Avoid products with a higher concentration of solids. It's why hair will sometimes will feel hard and crunchy and develop a flaky white residue."
Best Gels for Edge Control
Best Nourishing Edge Control Gel
Taliah Waajid Protective Styles Braids & Edges Smooth Holding Gel
"Many use edge control gels to braid hair. It works for some, but not for all—too viscous," explains Waajid. "For those who like to braid with a thick gel, but also desire more pliability, try our Braids & Edges Smooth Holding Gel." Infused with bamboo, biotin, and basil, the formula also promises to strengthen and moisturize hair while keeping styles in place, this way you won't have to worry about your gel drying out your hair. It also never flakes—a godsend for anyone who's dealt with the dreaded style malfunction.
Pros: expert-approved; a little goes a long way; all-day hold; nourishing
Cons: none found
Customer Review: "My edges are fuller, the hold stays all day & doesn't flake. Definitely my go to for edge control." -Walmart
Best Silicone-Free Edge Control Gel
PATTERN by Tracee Ellis Ross Edge Control
One of the reasons buying haircare from Black-owned brands is so great is because they're able to anticipate all the needs of natural hair—after all, their founders have lived experience! And this is certainly the case with Tracee Ellis Ross' brand PATTERN Beauty, whose products, like this edge control gel, are made with natural hair in mind. The gel is formulated without harmful or buildup-causing ingredients like phthalates, silicones, parabens, and formaldehydes. Plus, its made to provide maximum hold while simultaneously infusing hair with moisture.
Pros: strong hold; moisturizing; affordable
Cons: some users find it greasy
Customer Review: "Holds every little hair in place and doesn't leave a white film or caste behind on your forehead. This some good edge control. It's that good good kinda stuff that you need in your hair routine."
Best Edge Control Gel for Brittle Hair
Taliah Waajid Green Apple & Aloe Nutrition Hold Me Down! Gelle
"For those who have a weak or brittle hairline, our Apple & Aloe Hold Me Down! Gelle is a perfect solution," Waajid tells us. "Formulated with Aloe Vera and Green Apple extract, it is loaded with the vitamins needed to strengthen hair that may be weak due to excessive styling while also providing a nice, smooth, finished look."
Pros: strong hold without crunch; expert-approved; works for curl lengths and for edges
Cons: strong smell
Customer Review: "This is my second purchase I love this product. It smells very good it leaves my hair soft and has a very good hold without being hard and flaky." -Natural Hair
Best Edge Control Gel for Dry Hair
Mizani Artful Edges Edge Tamer
If you have dry or high porosity hair, you may want to opt for a gel with moisturizing properties so that your delicate baby hairs don't break or become brittle. This gel not only eschews alcohol, but it also includes nourishing ingredients like castor oil and shea butter, which condition the hair and scalp so you can look good without sacrificing your hair and skin's long term health. Remember that a little goes a long way, though—especially since castor oil is so thick!
Pros: alcohol-free; long-lasting; doesn't flake
Cons: some users find it too rich
Customer Review: "I love that it is not alcohol based edge control because I have a skin condition that just doesn't allow for alcohol based products. It lasts for a long time and doesn't make my hair feel heavy." -Sephora
Best Edge Control Gel for Hair Growth
Rosemary Mint Strengthening Edge Gel
If you love Mielle's wildly popular rosemary mint line (their hair growth oil is the most famous product in the bunch), consider capping off your routine with the matching edge control gel. Like all of Mielle's products, it's made with curly and textured hair in mind, is clean, and is completely vegan. It's also infused with ingredients made to strengthen hair and encourage existent growth, the primary of which are rosemary, of course, along with coconut oil, biotin, and babassu seed oil.
Pros: vegan; strengthens hair; clean; affordable
Cons: strong smell
Customer Review: "My broken little fly aways make me look like i was electrocuted when my hair is up. This gel is so nice for keeping the broken pieces down and in place all day long. Its not heavy and its not greasy as I have super fine and thin hair." -Ulta
Best Sweat-Resistant Edge Control Gel
Curl Talk Long-Lasting Edge Control Gel
Not Your Mother's is a clean, cruelty-free brand whose Curl Talk line has transformed many women's hair (including my own) by defining and conditioning curls without weighing them down. Plus, their affordable products smell fabulous. The same goes for this edge control gel from the line, which provides maximum hold without making curls feel crunchy—so long as you make sure you're not using too much. It's also sweat resistant, which is fabulous for the hair aficionado on the go and for those living in warm climates.
Pros: strong hold; a little goes a long way; vegan; free of gluten and alcohol; cruelty-free
Cons: strong smell
Customer Review: "I really like this Not Your Mother's - Curl Talk Long-Lasting Edge Control. It has max hold and it's sweat resistant and humidity resistant! It's best for coily to tighter textures. Doesn't flake or dry out curls which I love. It has a Citrus Jasmine scent." -Ulta
Best Frizz-Fighting Edge Control Gel
This versatile gel from verb is made to do everything from edge control to taming flyaways to holding your curl pattern in place, and promises to fight frizz. It's made to work on all hair types and curl patterns, but is especially suitable for fine and medium hair. Its formula is also infused with provitamin B5, which strengthens hair by helping it retain moisture. Remember that a little goes a long way with this formula, and you can lock your style in by letting the gel air dry or by taking a blow dryer to it.
Pros: free of parabens, sulfates, SLS, and SLES; vitamin-infused; fights frizz
Cons: some users find it too thick
Customer Review: "I have tried so many muds/pomades in my hair and they all leave it greasy or just don't hold....until I discovered this product! It holds all day and leaves my hair feeling/looking natural. You can add it to dry hair, however I prefer to apply it to damp hair and let it air dry." -Sephora
Best Edge Control Gel for Definition
Taliah Waajid Black Earth Products Lock It Up for Natural Hair
"Though consumers are using this product to achieve a variety of styles, it was originally crafted and is trusted as a solution for those wearing locs and twists," Waajid says of this popular moisturizing gel. "Use it to shape, define, and control the frizz and matting often associated with these long wearing styles."
Pros: strong hold; doesn't flake; expert-approved; contains nourishing ingredients
Cons: strong smell
Customer Review: "My broken little fly aways make me look like I was electrocuted when my hair is up. This gel is so nice for keeping the broken pieces down and in place all day long. It's not heavy and its not greasy as I have super fine and thin hair." -Walmart
Meet the Expert
Taliah Waajid Brand is a natural hair stylist and cosmetologist with years of experience styling and educating. She created the first complete line of chemical-free natural hair products, Black Earth Products. She also founded the World Natural Hair show and the Taliah Waajid Brand, which carries four collections of hair products made with the health of natural hair in mind.
Marie Claire email subscribers get intel on fashion and beauty trends, hot-off-the-press celebrity news, and more. Sign up here.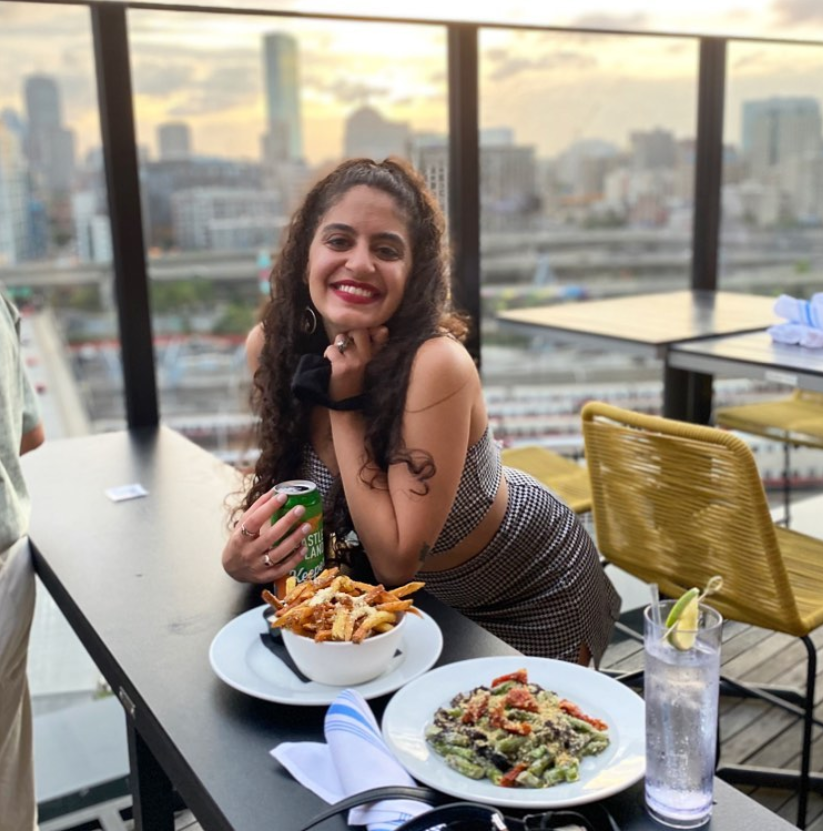 Gabrielle Ulubay is an E-Commerce Writer at Marie Claire and writes about all things beauty, sexual wellness, and fashion. She's also written about sex, gender, and politics for publications like The New York Times, Bustle, and HuffPost Personal since 2018. She has worked extensively in the e-commerce and sales spaces since 2020, including two years at Drizly, where she developed an expertise in finding the best, highest quality goods and experiences money can buy. As a film school graduate, she loves all things media and can be found making art when she's not busy writing.