The 18 Best Eye Creams for Puffiness in 2023, According to Editors and Experts
Who says you didn't get eight hours of sleep?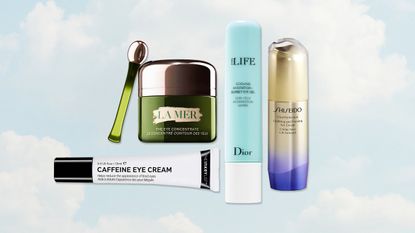 (Image credit: Future)
Ever wake up in the morning with puffy eyes? Yea, same. While dunking your entire face in an ice bath is a worthwhile solution (seriously, the technique is all over TikTok), slathering on one of the best eye creams for puffiness will work just as well—and be a heck of a lot more enjoyable. Whether you're partial to gel formulas and serums or gravitate towards rich, creamy creams that layer flawlessly under makeup, there's a de-puffing, cooling, and hydrating eye cream out there that will make your under eyes look fresher than ever.
That said, there are a ton of eye creams to choose from. It can be overwhelming to weed through all the claims and marketing jargon. And when eye puffiness is your primary pain point, you need a product that addresses the swelling. Caffeine and hydrating ingredients are going to be your BFFs. To make your shopping as easy as can be, we did our research, tested a range of products, and spoke to the experts to hunt down the best eye creams for puffy eyes.
Overview
The Best Deals on Eye Cream for Puffy Eyes
What to Look For in a Puffy Eye Cream
Not only can retinol be a transformative ingredient for your entire face, but it can also substantially improve the look of your under eye area. "Retinol helps stimulate collagen and helps reduce the hyperpigmentation which is common in this area," says board-certified dermatologist Dr. Karan Lal. That in mind, you're not going to want to double dip—pick a retinol eye cream specifically designed for the delicate skin under the eye.
This is pretty much the baseline for any good eye cream. Dry and dehydrated skin is only going to contribute to puffiness. Moisturizing ingredients are far and wide, but it's best to make sure your eye cream has been proven to boost moisture. "Ceramides and hyaluronic acid will make sure the skin is hydrated," says board-certified dermatologist Dr. Morgan Rabach. "Peptides can also help repair damaged collagen, which is prevalent in the aging eyelid region," adds Dr. Lal. Glycerin, fatty acids, and squalane are also worth noting.
"Caffeine is another great ingredient which helps shrink blood vessels in the skin which reduces puffiness, albeit temporarily," says Dr. Lal. If you want to up the ante on the puffiness-reducing power, pop your caffeine-infused eye cream in the fridge before application.
While in large part fragrance in a product is personal preference, just be warned that it can exacerbate puffiness via an allergic reaction. Fragrances can also react with the sun and cause hyperpigmentation. "Hyperpigmentation in this region can last for months to years," says Dr. Lal. A product that contains fragrance isn't necessarily bad, but just use extra caution if you have sensitive skin or eyes.
The Best Eye Creams for Puffy Eyes
The products on this list have been vetted by Marie Claire's Beauty Editor, Samantha Holender (a.k.a. yours truly) and Marie Claire's Beauty Director, Deena Campbell; or have been hand-selected by a board-certified dermatologist. Each and every one includes ingredients clinically proven to deliver de-puffing results, is highly rated by reviewers, and provides hydration. While the *best* eye cream for you will vary based on personal preference, you truly can't go wrong with one of the items on this list. For a more personalized recommendation or if you have any concerns, check with your board-certified dermatologist.
The Best Overall Eye Cream for Puffiness
La Roche-Posay Redermic R Anti-Aging Retinol Eye Cream
If you're on the hunt for an eye cream that's going to check off all your boxes (think: Hydrating, anti-aging, and de-puffing), just pop on over to the drugstore. "This has everything you need to target everything," says Dr. Lal. With retinol, caffeine, and the brand's proprietary hydrating Thermal Spring Water, it's going to take a multi-action approach to your under eyes. You can expect some *very* gentle exfoliation (Dr. Lal says this one is great for all skin types), a brightened appearance, and a smooth and soft texture on the delicate eye contour.
Pros: Derm-approved; Contains retinol and caffeine; Good for all skin types
Cons: Can tingle upon application
Customer Review: "I like that it is really easy to use and suitable for sensitive skin. I have very sensitive skin and while it initially tingles for about 10 seconds after first applying it, I have not had an allergic reaction to it. I've been using this every night and do feel like my eyes don't look as tired all the time, but Ihaven't seen a real noticeable reduction in dark under eye circles. The skin around my eyes feel more moisturized and I'm hoping with continued use, I can notice more of a difference." — Ulta
The Best Splurge-Worthy Eye Cream for Puffiness
La Mer The Eye Concentrate
"I tend to shy away from beauty brands that are cult faves—they can be too trendy, lack efficacy, and are more than likely incongruous with my beauty staples. But that's not the case with La Mer The Eye Concentrate. When I started noticing traces of crow's feet around my eyes this eye concentrate deeply penetrated the area and reduced puffiness after a few applications. I also adore that the silver applicator brings coolness to my eyes, which is great on sweltering hot days." — Deena Campbell, Beauty Director
Pros: Editor-approved; Great applicator
Cons: Expensive; Contains fragrance
Customer Review: "So far this is the best eye cream I have ever used (and I have tried a ton of them). I have really dark circles and this is the only eye cream that has made a difference for the better. I love the applicator, as well—like a little massage each time." — Sephora
The Best Fast-Acting Eye Cream for Puffy Eyes
Dermalogica Awaken Peptide Depuffing Eye Gel
If you want to watch a wild transformation happen in the mirror, you're going to want to scoop up this eye cream for a lil science experiment. Within 10 minutes, your swelling will go down and your puffy eyes will look brighter and tighter thanks to a strategically curated combo of ingredients. "This has peptides and caffeine both of which reduce puffiness," explains Dr. Lal. "It has an elegant gel texture and goes on smoothly."
Pros: Derm-approved; Contains caffeine
Cons: Some report pilling under makeup
Customer Review: "Really works! when I wake up with puffy eyes or after crying, I use this and it actually depuffs within minutes. It's not claiming to be anti-aging or anything else, so for what it is I'm happy. The one downside for me is that it pills heavily under makeup. So if I'm using it in the morning I'd have to wash it off after it does its job and before applying makeup." — Sephora
The Best Smoothing Eye Cream for Puffiness
Biossance Squalane + Peptide Eye Gel
If you haven't caught on by now, let me make it plain and clear: The key to a bright and youthful under eye is hydration. Squalane, peptides, and hyaluronic acid make up the nourishing triple threat in this ultra-clean cream. Caffeine is also in the mix, so you know you'll look less puffy when all is said and done. Dab a bit of this gel-based cream underneath your eyes for a seamlessly smooth appearance. Personally, I'm obsessed with this in the morning—it's uber-lightweight and wears flawlessly under makeup.
Pros: Editor-approved; Great under makeup; Smoothing
Cons: Bottle doesn't last very long
Customer Review: "I've tried a variety of creams, gels, what have you, but most of them make my eyes burn, and they never feel like they're really doing anything preventative or otherwise. This eye gel is the real deal. It's delightfully lightweight, and it really helps reduce the puffiness and bags under my eyes. I keep this in my tiny beauty fridge so it's nice and cold when I apply it, and it's really worked wonders. Highly, highly recommended!" — Sephora
The Best Firming Eye Cream for Puffiness
This hard working eye cream instantly does away with loose or puffy skin , leaving you with a smooth appearance. The magic powers lie in the formula, which is peptides, mango butter, and special tightening complexes designed to give a temporary lifting effect that will only increase with time.
Pros: Fast acting; Temporarily lifts and tightens
Cons: Irritating and contains fragrance
Customer Review: "After using it less than one week I no longer needed under-eye concealer. I swear to you I am not exaggerating. Also the very fine lines under my eyes and at the corners nearly disappear." — Ulta
The Best Eye Cream for Anti-Aging and Puffiness
Versed Smooth Landing Advanced Retinoid Eye Balm