The 21 Best Retinol Eye Creams for Serious Results
Crow's feet and dark circles are shaking.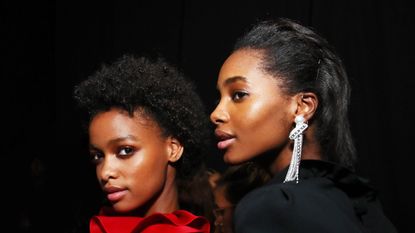 (Image credit: Getty)
To understand the benefits of a retinol eye cream, one must first grasp what a retinol is. Definition, please: Retinol is a vitamin A derivative that spurs cell turnover and enhances collagen production, which ultimately yields healthier and younger-looking skin. Dermatologists consider retinols and their various forms—retinyl palmitate and retinaldehyde—among the most efficient and safe options in the entire skincare universe. (That, and daily SPF to prevent sun damage, especially since retinol makes your skin more vulnerable to UV rays.)
Over the counter, the highest concentrations of retinol available top out at one percent. That's because formulas with higher percentages of retinol can cause skin irritation and peeling, and may require the oversight of a doctor. Which doesn't mean you can't get a good retinol cream without a prescription—just that it'll take a little longer to see results.
Is retinol safe to apply to the sensitive eye area? 
When it comes to the products Marie Claire recommends, we take your faith in us seriously. Every product that we feature comes recommended by a MC writer or editor, or by an expert we've spoken to. Learn more about how we review products.
For many years, retinols weren't present in eye products at all—the strength of the formula was considered too damaging for the very delicate skin around the eyes. Today, we're lucky enough that science has gifted us a wide range of safe and effective retinol eye creams.
So which retinol eye cream should you use?
When considering the retinol eye cream that might be right for you, think about the other benefits you're hoping to achieve. Some contain powerful moisturizers that can plump fine lines and minimize the appearance of wrinkles. Others contain brightening ingredients that can address dullness or dark circles. Whatever result you're after, retinol eye creams are an essential part of a well-rounded skincare regimen. These are our favorites.
1/21
1. The Inkey List Retinol Eye Cream
Chances are, you've already heard of this cult classic retinol eye cream. It's proof that pricey doesn't always mean better, especially when it comes to good skincare. A time-released version of stabilized retinol means you'll experience none of the peeling, flaking, or redness and irritation often associated with retinol.
2/21
2. RoC Retinol Correxion Anti-Aging Eye Cream Treatment
This is not a sponsored post: RoC makes some of the best OTC retinols on the market. I said what I said. Thanks to a hypoallergenic formulation and a soothing mineral complex, you'll experience none of the retinol downsides (puffing, scaling) and all the upsides (visibly smoother, clearer skin).
3/21
3. Neutrogena Rapid Wrinkle Repair Eye Cream
Here, the absorption and efficacy of the relatively low-dose retinol is enhanced by the presence of a proprietary glucose complex. If that sounds like word salad, it's not; Neutrogena has plenty of internal studies to back up the claim. In short, they have the retinol receipts.
4/21
4. Olay Regenerist Retinol24 Night Eye Cream
Eyes are sensitive—we can agree on this, no? This fragrance-free cream manages to be deeply nourishing and quenching while not being one bit irritating.
5/21
5. First Aid Beauty FAB Skin Lab Retinol Eye Cream
What we love about this find from across the pond: Not only will you get the skin-rejuvenating benefits of retinol, but you're also getting a really, really lush eye cream thanks to the presence of hyaluronic acid, colloidal oatmeal, and vitamins A and C.
6/21
6. Kate Somerville Retinol Firming Eye Cream
Sweep on this feather-light blend of hyaluronic acid and retinol with the tube's cooling gold tip and you'll feel like a rich, crow's-foot-free lady. (Who checks her privilege and is also doing the work, mind you.)
7/21
7. Sunday Riley 5 Stars Retinol + Niacinamide Eye Serum
This lightweight serum is applied before bed so you'll wake up looking wide-awake and rejuvenated. In addition to our beloved retinol, it also features brightening niacinamide, and a moisturizing complex of ceramides and olive oil (in other words: It does it all).
8/21
8. Elizabeth Arden Retinol Ceramide Line Erasing Eye Cream
With time-released encapsulated retinol, a blend of firming peptides, and niacinamide, this eye cream ticks all the "anti-aging" boxes. Even better, the airless pump dispenser ensures you get the perfect amount of product with each use (and that it won't get contaminated).
9/21
9. Avène PhysioLift Eyes Wrinkles
Retinol has a reputation for being harsh—especially on more sensitive skin. But thanks to a more minimalist ingredient list (still containing the star ingredient, don't worry), this formula is gentle enough all skin types.
10/21
10. Eve Lom Time Retreat Eye Treatment
It may technically be a "treatment," but this retinol-spiked formula moisturizes with the best of them thanks to added squalane, vitamin E, and hyaluronic acid. Apply like you would any other eye cream, morning and night.
11/21
11. Dr. Dennis Gross Skincare Advanced Retinol + Ferulic Triple Correction Eye Serum
Looking for something that packs an extra ingredient punch? Rather than just retinol or bakuchiol (a gentle, plant-based retinol alternative), this gel-like serum teams both ingredients for extra skin-firming benefits.
12/21
12. Glow Recipe Avocado Melt Retinol Eye Sleeping Mask
This isn't your average eye cream—it's a luxe eye sleeping mask. It's formulated with avocado, encapsulated retinol, and coffeeberry to give you brighter, smoother-looking under eyes.
13/21
13. bareMineralsR Ageless Phyto-Retinol Eye Cream
This eye cream from Bare Minerals is created using phyto-retinol, which is just a fancy way of saying that it's a plant-based formula. It's actually been clinically proven to reduce the look of pesky crow's feet!
14/21