Shampoos and Conditioners Designed to Soothe Dry, Itchy Scalps
Do away with dryness for good.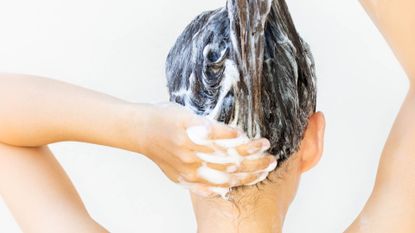 (Image credit: Getty)
Everyone's experienced it: Without warning, you find yourself with a dry scalp that leaves you itching at your skin or picking self-consciously at flakes. Whether due to diet, illness, a change in hair products, or a sudden drop in temperature, scalp dryness can ruin your day and simply make you feel self-conscious. There are a variety of effective dry scalp treatments on the market that soothe irritation, but you may also want to combat dryness by tackling it at the foundation of your haircare routine: with your shampoo and conditioner.
By opting for a nourishing, soothing shampoo and conditioner set, you can tackle your dry scalp at the root (pun intended) and banish any flakiness or buildup that could be worsening the situation. Ahead, we consult Mayraki Professional's in-house hair expert, Eliza Pineda, about the causes of scalp dryness. She also provides advice on how to handle a dry scalp and which products are best for mitigating the dreaded condition.
What Causes Scalp Dryness
Lack of Moisture
The first cause of scalp dryness, of course, is a simple lack of moisture due to styling, sun exposure, and cold, dry temperatures. While she reassures us that dryness happens to just about everyone, she points out that the way you treat your hair directly impacts the state of your scalp
"The scalp's moisture balance can decrease over time, especially if you frequently apply heat styling, use harsh hair products, or undergo chemical hair treatments like dyeing, relaxing, or perming," she says. "This can cause dryness, flaking, and dandruff."
Buildup
Similarly, she notes that neglecting your hair can also impact the health of your scalp.
"A dry scalp can also be caused by product, dirt, and sebum buildup in the scalp," she warns. "This happens when the scalp isn't properly cleaned, multiple styling products are used, the hair is naturally oily, and there is daily exposure to environmental factors. The buildup can cause skin irritation, leading to eczema, rashes, seborrheic dermatitis, and more. This can make the scalp extremely dry, flaky, itchy, and sore."
If you're particularly concerned about buildup, or if your haircare routine regularly involves the use of multiple gels and stylers at once, consider using a clarifying shampoo once to twice a month in order eradicate flakes, dandruff, buildup, and excess oil. Clarifying shampoos are notoriously drying, though, so consider the cause of your scalp irritation before use, and be sure to only employ a clarifying shampoo occasionally.
Nutrition
Finally, Pineda reminds us that what we put in our bodies impact how they look on the outside.
"Your hair and scalp depend on the nutrition of your diet," she says. "If you have a dry scalp, it might be because your diet lacks the vital nutrients your hair needs." This means ensuring that you consume a well-balanced diet filled with water, Vitamin B, collagen, protein, and other essential nourishment.
"Boost your diet with amino acids, antioxidants, and protein-rich foods," agrees Pineda. "Think fatty fish, avocados, berries, eggs, and lean meats while avoiding processed food. If your diet falls short, you can supplement it with vitamins. Consult a healthcare professional to know what you can take."
Best Shampoos for Scalp Dryness
Olaplex No. 4C Bond Maintenance Clarifying Shampoo
"Deep cleansing should be done weekly or every few weeks, depending on how oily your hair is, how much product you use, and how exposed your hair is to environmental elements," Pineda advises. "A regular shampoo won't be enough for this, and you'll need a cleansing agent that's deeply clarifying and can break down the heavy buildup on your scalp." This formula from Oleplex is a perfect option for all hair types and curl patterns, promising to banish buildup and pollutants in one single wash.
Pros: clean; works on all hair types and curl patterns; award-winning
Cons: can be drying—use sparingly
Customer Review: "Best clarifying shampoo I have ever tried. It works wonderfully on my fine curly hair, as well on my daughter's long, course, thick hair. Both of us have oily scalps. My curls look bouncy, fresh, and so lightweight after each time. So far my hair looks very healthy and renewed—I have been using it for over two months." -Sephora
Philip Kinglsey Flaky Scalp Cleansing Shampoo
This is the shampoo that I use whenever my scalp gets dry and itchy. In particular, I have a spot on the back of my head that gets inflamed from time to time—and this is the only shampoo that's been able to clear flakes and soothe irritation after just one wash. It was developed at the Philip Kingsley Trichology Institute in New York City, so it was developed by trichologists (dermatologists who focus on the scalp) and clinically tested to improve the look and feel of a dry scalp, and to encourage hair growth by eradicating buildup and excess oil.
Pros: editor-approved; developed by trichologists; independently tested
Cons: expensive
Customer Review: "I've used the flaky scalp shampoo for a few years now. And nothing works as well. I'm a hairdresser and have also got it for several clients who say the same thing" -Neiman Marcus
Mayraki Sea Salt Scalp Scrub for Hair Growth
"The scalp will benefit from regular exfoliation and stimulation," says Pineda. "This scalp scrub contains sea salt, a gentle exfoliant that boosts blood circulation in your scalp. Plus, it contains Camellia Sinensis Tea Leaf, a powerful antioxidant, anti-inflammatory, and antimicrobial that cleanses the scalp while protecting it from irritation."
Pros: expert-approved; exfoliating; gentle
Cons: exfoliating, so may not be suitable for broken or extremely dry skin
Customer Review: "It smells wonderful and helps clean my scalp. I have been using the product for a month and have noticed a difference in my hair growth. My hair feels nourished." -Mayraki Professional
Act + Acre Cold Processed Hair Cleanse Shampoo
I love Act + Acre's gentle yet effective cold-pressed hair products. They never fail to balance my hair and scalp, cleansing my strands and skin so that my type three curly hair can look its bounciest and shiniest. This cleanser's formula, in particular, is infused with apple amino acids, which remove buildup and pollutants without ridding your hair and skin of the moisture they need. It also contains baobab oil, which supports a healthy scalp microbiome, discouraging the development of flakes, dandruff, and irritation.
Pros: free of sufates; hydrating; editor-approved; gentle enough for daily use
Cons: some found it drying; strong smell
Customer Review: "This shampoo was an adjustment with the low lather and feel of my hair while wet but once dry my hair felt amazing! So soft and my scalp dryness and irritation has been much better." -Sephora
Mayraki Professional Scalp Purifying Anti-Aging Serum
"This serum is designed specifically to eliminate buildup and purify the scalp," Pineda says of this gentle formula. "It has deep cleansing properties while still being completely sulfate- and paraben-free. It harnesses the power of Sapindus Saponaria, a plant-based surfactant that creates a rich lather and deeply cleanses the hair but does not strip away the natural oils."
Pros: expert-approved; vegan; mild scent; gently eradicates flakes; soothes irritation; free of sulfates and parabens
Cons: small bottle
Customer Review: "Feels ultra gentle but potent and clarifying at the same time. I love how the smell is also so mild and clean." -Mayraki Professional
Kérastase Chronologiste Shampoo for Dull and Brittle Hair
If you struggle with both scalp and hair dryness, or if you have dry skin in general, then this is the shampoo for you. It's suitable for all hair types, and focuses on moisturizing hair and enhancing softness while ridding the scalp and roots of impurities. It also promises to transform dull hair and undefined curls, and to mitigate and prevent breakage and split ends. These benefits can be attributed to the shampoo's all-star formula, which includes nourishing ingredients like Vitamin E, hyaluronic acid, and abyssine.
Pros: anti-aging; moisturizes hair and scalp; enhances curl definition; softening; mitigates breakage; good for all hair types
Cons: contains sulfates; strong smell
Customer Review: "I love it. It's worth the money. My hair feels soft after using it. I use this shampoo with the mask and the heat protection. Hair is shine and very soft after blowing dry. You will love its smell!" -Sephora
Best Conditioners for Scalp Dryness
Bondbar Bonding Conditioner
"The skin on the scalp is just like everywhere else and needs to be moisturized regularly to maintain a healthy balance," Pineda reminds us. And if you're experiencing dryness on both your scalp and your hair itself—or if you have damaged or high porosity hair—consider this super moisturizing conditioner from Bondbar. It's free of sulfates, parabens, and other buildup-causing ingredients. Plus, it promises to strengthen hair, lessening the appearance of breakage and preventing split ends and other types of damage.
Pros: affordable; moisturizing; free of parabens, phthalates, sulfates, SLS, and SLES; prevents breakage
Cons: strong smell
Customer Review: "This is a great product for thinning hair. I have been using this product line for several months. My hair is now silky soft and no more breakage. No more strands of hair in the drain! My thinning hair is healthy again." -Sally Beauty
Living Proof Restore Conditioner
Living Proof's Restore conditioner is popular for a reason: It promises to smooth out frizz, enhance shine, and protect and repair hair from environmental damage. And according to dozens of rave reviews, the formula holds up. This is because of its high quality ingredients, which include hemisqualane, a cuticle-sealing compound that enhances shine, and glutamic acid-based emollient, which prevents and ameliorates breakage. The color-safe conditioner also contains functionally active meadowfoam seed oil, which conditions hair and protects it from potentially damaging environmental factors.
Pros: vegan; free of silicones, sulfates, SLS, and SLES
Cons: small bottle
Customer Review: "I am absolutely amazed at how amazing this shampoo and conditioner make my hair feel. Just so soft and hydrated. I just can't rave enough about how much I love this product. And it smells nice too! For reference, I have medium hair which tends to be dry and frizzy with a partial wave." -Sephora
Oribe Serene Scalp Balancing Conditioner
This conditioner by Oribe is beloved by reviewers for its softening, shine-enhancing capabilities. It works on all hair types and curl patterns, from pin-straight locks to tight curls and coils, and it's color-safe to boot. Formulated with dry, flaky scalps in mind, it promises to hydrate the scalp while soothing any existent irritation or redness. It addresses strand health, too, fortifying hair and deeeply conditioning the shaft so that your mane is easier to detangle and bouncier than ever after each use.
Pros: vegan; free of sulfates, SLS, and SLES; shine-enhancing; made for dry, flaky scalps
Cons: strong fragrance
Customer Review: "I absolutely adore this conditioner! I live in a lake area and swim alot and have very harsh water at home. Oribe Serene Conditioner left my hair silky smooth every single time. Usually when I get out of the shower, it takes me awhile to comb through my hair, but after using this conditioner, I can easily comb through my hair in a matter of seconds!" -Sephora
Mayraki Weightless Essential Oil Nutritive Treatment
"Hair oils are a quick and easy way to regain moisture in your scalp and hair," says Pineda. "This hair oil is light but packs a punch with its moisturizing and nourishing properties. It contains organic plant oils like Camellia Reticulata Seed Oil, leaf extracts from Aloe Barbadensis, Ginkgo Biloba and Canarium Album, Lilium Candidum Flower Extract, and Multi-Peptide complex that moisturizes the scalp and hair and improves strength and elasticity." Apply the oil and leave it in for long-term nourishment (especially if you have thick or high porosity hair), or wash it out if you have thin, oily strands.
Pros: vegan; free of sulfates and parabens; expert-approved
Cons: expensive
Customer Review: "I've been using it for about 18 months now and I'm very happy with it. It took some figuring out, with all the different instructions, but now I have the perfect her team. I wash my hair first towel dry it, then apply the Mayraki grey treatment on my scalp. Let it sit for about an hour or two hours if you prefer. I also put in hair conditioning from my mid shaft down and then after an hour or two I wash everything out and I'm good usually for a week. I wash my hair twice a week so most times I put the treatment in every other wash. I get so many compliments on my hair!" -Mayraki Professional
Nécessaire The Conditioner- Hydrating Cream with Hyaluronic Acid, Niacinamide + Panthenol
Nécessaire is another brand that I absolutely love. Its no-nonsense, certified clean approach means that it rigorously tests all of its products for effectiveness and safety before they hit the market. This conditioner is no different, with its award- winning formula that contains hydrating ingredients like hyaluronic acid, panthenol, and niacinamide, all of which nourish hair of ever type and curl pattern without weighing it down. Plus, because its free of buildup- causing ingredients like sulfates, it won't clog the pores on your scalp.
Pros: award-winning; fragrance-free; clean
Cons: contains Behentrimonium Methosulfate, which can cause some irritation in those who have very sensitive skin
Customer Review: "My fine, thinning hair remains full, manageable, and softer than ever after using this conditioner. Best conditioner I've ever found. I love that a little goes a long way and it doesn't weigh down my hair. It detangles my damaged ends easily." -Sephora
Carol's Daughter Curl Quenching Conditioner
If you have curly, wavy, or coily hair, consider this super moisturizing formula by Carol's Daughter. It's packed with hydrating natural ingredients like coconut oil, mango seed butter, and coconut milk, in addition to making the conditioner smell delicious, fortify and deeply condition strands. This way, your curl pattern will emerge bouncy and full-bodied, and you can worry less about breakage and split ends. This is particularly helpful if you have natural or thin hair, which tends to be delicate, and if you have damaged or high porosity hair.
Pros: made with curly and natural hair in mind; free of silicones and parabens; affordable
Cons: small bottle; strong smell
Customer Review: "I love it!!! It smells wonderful!!! My curl pattern have been very difficult to moisturize until this product. My hair is moisturized my natural curls are bouncy and soft and it even has shine." -Sally Beauty
Meet the Expert
Eliza Pineda is a hair, beauty, wellness, and lifestyle journalist and an internal expert for several organic, earth-focused personal care brands. She currently works with Mayraki Professional as a content specialist and internal expert to spread the word about the benefits of natural ingredients and impart traditional and innovative solutions for clean and sustainable skin, body, and hair care.
Marie Claire email subscribers get intel on fashion and beauty trends, hot-off-the-press celebrity news, and more. Sign up here.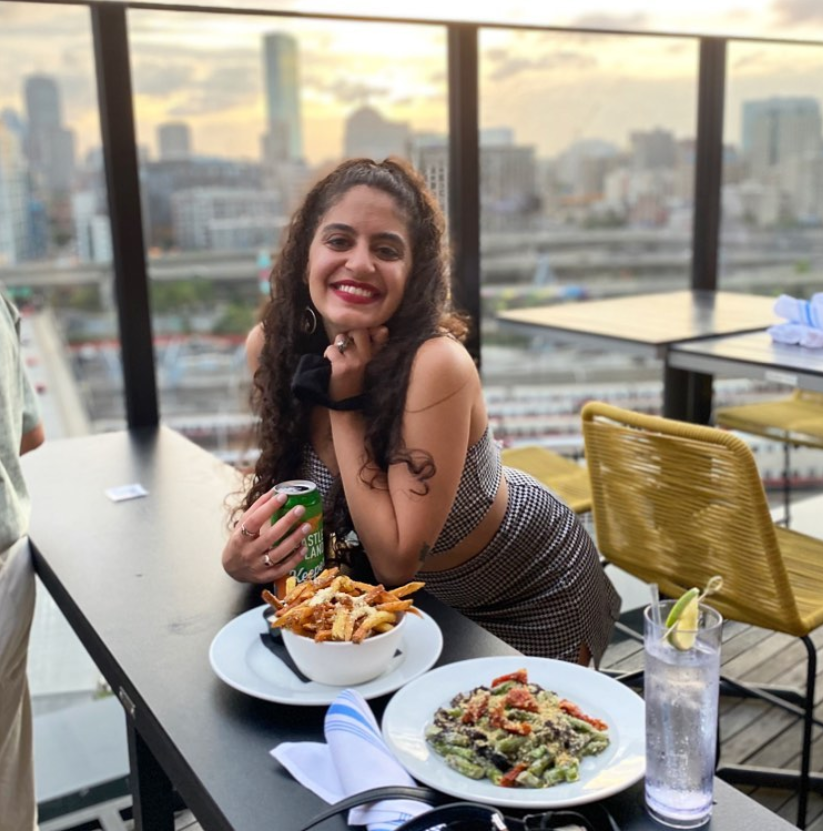 Gabrielle Ulubay is an E-Commerce Writer at Marie Claire and writes about all things beauty, sexual wellness, and fashion. She's also written about sex, gender, and politics for publications like The New York Times, Bustle, and HuffPost Personal since 2018. She has worked extensively in the e-commerce and sales spaces since 2020, including two years at Drizly, where she developed an expertise in finding the best, highest quality goods and experiences money can buy. As a film school graduate, she loves all things media and can be found making art when she's not busy writing.