Editors handpick every product that we feature. We may earn commission from the links on this page.
13 Treatments for Chapped Lips That Go the Extra Mile
Keep your pucker in lip-top condition with these formulas.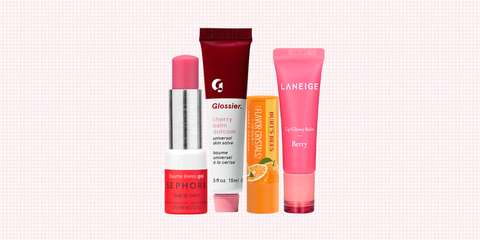 Flaky, cracked, itchy, tight—all words you don't want to hear when describing lips. Unfortunately, the issue is a common nuisance. Simple factors like sun exposure, hormonal changes, and dry air can quicken the chapping process, resulting in fine lines, scaly skin, and lips that feel like sandpaper. Instead of coating your lips with saliva in a futile attempt to assuage them (it doesn't help), try our top lip treatment picks. Unlike some balms, which rub off quickly and leave you continuously re-applying, these are packed with moisture to leave your lips shinier, smoother, and more hydrated for longer.

1
The Fruity One
Lip Balm & Scrub
Sephora Collection
sephora.com
$7.00
Sephora's lip balm collection is like dessert for your lips: their wide range of flavors like coconut, watermelon, and banana leave you with the juiciest, most delicious pucker.
2
The Multi-Use One
Rosebud Salve
Rosebud Perfume Co.
sephora.com
$7.00
We stan a chapstick classic. Smith's Rosebud Salve can be best described as a miracle potion in a tin can. Dab it on chapped lips, elbows, or knees to instantly condition and relieve dryness.
3
The Nostalgic One
Watermelon Burst Hydrating Lip Oil
Ciaté London
sephora.com
$16.00
Ciate's lip oil is reminiscent of '90s Lip Smackers in the best way. Watermelon seed oil and Vitamin E team up in this glossy tube to give your lips a refreshing burst of hydration.
4
The Sparkly One
Confetti pH Lip Balm
Winky Lux
winkylux.com
$16.00
For gals wanting a bit more glam: Winky Lux's balm features pH-activated ingredients that trigger after application, leaving your lips with a flattering shade that's completely unique to you.
5
The Nighttime One
Mood Stones Lip Balm & Cheek Tint in Dazzling Ruby
These mood stones inject your lips with color without the overwhelming starkness of a red lipstick. Plus it's super moisturizing so it won't stick to dry patches and fine lines.
6
The Classic One
The Lip Balm
La Mer
cremedelamer.com
$60.00
Slather your lips in this minty goodness for a plumper pucker. Developed with the key ingredient of Miracle Broth (created through the biofermentation or combination of ingredients like sea kelp, calcium, magnesium, and wheat germ), the texture is moisturizing without being overly greasy.
7
The Winter One
Balm Dotcom
Glossier
glossier.com
$12.00
A staple for those cursed with infinitely dry lips, the Balm Dotcom is an ultimate savior for the drier, winter months. Throw it in your bag when you're on the go for an instant dewy lip.
Laneige
sephora.com
$17.00
Laneige's squeezable balms coat the lips with a thin film that provides subtle color and locks in moisture to banish any dead skin cells.
9
The Juicy One
Flavor Crystals 100% Natural Lip Balm in Sweet Orange
Burt's Bees
amazon.com
$3.81
Treat your lips to a summertime treat with a swipe of citrus. It's the same hydrating goodness as your trusty Burt's Bees balm–just infused with crystallized fruit juice to amp up the flavor.
10
The Anti-Aging One
PERFECT Lips
3Lab
net-a-porter.com
$45.00
Your lips age too: 3Lab's balm goes beyond just hydration to treat fine lines and wrinkles. Formulated with apple stem cell technology, it stimulates regeneration while boosting collagen production.
11
The Gym-Friendly One
Basic Balm
Lululemon Selfcare
sephora.com
$14.00
Lululemon is entering the world of beauty with their new line "Lululemon selfcare," and we're definitely here for it. Their quick-absorbing lip balm is packed with rich butters and natural oils to nourish your lips before and/or after a workout.
12
The Luxurious One
Sugar Advanced Therapy Lip Treatment
Fresh's formula has creamy coats of sea fennel and hyaluronic acid to help smooth fine lines, and of course, sugar to prevent moisture loss over time.
13
The Clean One
Lippe Balm
Drunk Elephant
sephora.com
$18.00
Nourish your lips sans sulfates and parabens. Drunk Elephant's clean formulation is spiked with an exotic blend of avocado, mongongo, cranberry, and marula oils to instantly replenish and soften.
•••
For more stories like this, including celebrity news, beauty and fashion advice, savvy political commentary, and fascinating features, sign up for the Marie Claire newsletter.
This content is created and maintained by a third party, and imported onto this page to help users provide their email addresses. You may be able to find more information about this and similar content at piano.io