The 18 Best Bubble Bath Products for a Luxurious Soak
It's time to luxuriate.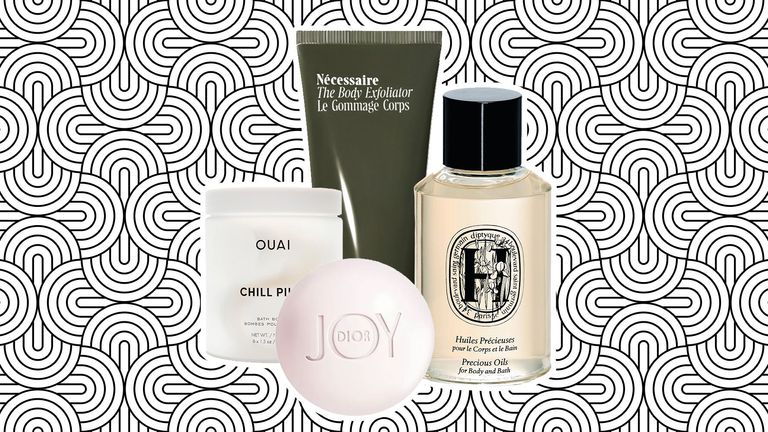 (Image credit: Morgan McMullen)
As an avid, self-proclaimed Bath Person, I would forgo quick, utilitarian showers completely in favor of the self-care practice that is bathing if I could. I've been known to luxuriate in the steamy water for hours on end; my medicine cabinet overfloweth with bath time accoutrements; and an antique clawfoot tub sits atop my interior design wishlist. So, having prepared hundreds of soaks in my life, I've come to the conclusion that cultivating the perfect bubble bath is all about the mise-en-scene. The lighting should be just right—moody and dim—to help you unwind or get in the zone, depending on the time of day. The playlist should be set to whatever vibe you're feeling—I'm partial to Spotify's Cinematic Chillout playlist or some Florence and the Machine—and a bounty of glowing, fragrant candles can only add to the ambiance. But most importantly, the tub itself should be flanked with products that amplify a typical bubble bath. And that's not to say you can't repurpose these for your a.m. rinse-off, but investing in a few indulgent body care products can turn even the most ardent Bath Denier into a full-blown believer, and add a truly calming ritual to anyone's personal self-care routine. From bubbling bombs and gentle body scrubs to invigorating washes and sumptuous oils, it's easy to take your standard soak up a luxe notch. Here, a few of my personal favorites.
1/18
Voya Voya's Seaweed Bath
The Irish Export
Ireland's traditional seaweed baths are known for their anti-inflammatory, calming, and healing effects, but a trip across the pond isn't always feasible. Voya hand harvests, dries, and packages their mineral-rich seaweed so those with muscle soreness and general malaise can get their fix at home: Run the water ripping hot, submerge the long strands, and watch them rehydrate like they never left the Atlantic. You'll feel like a mermaid in moments.
2/18
Herbivore Botanicals Natural Coconut Milk Bath Soak
The Simple Soak
With just four ingredients, this island-scented powder softens the skin and reduces inflammation. Dump a handful into a hot tub and repose.
3/18
Prima Bath Gem
The CBD Soak
This is a fizzy, chic upgrade from that dusty bath bomb that might have rolled to the back of your linen closet. Epsom salts and 25 mg of hemp-derived CBD soothe the body and muscles, while meadowfoam seed oil provide intense hydration to the skin.
4/18
ThisWorks Deep Sleep Bath Soak
The Sleep Fairy
If 2020 stress is keeping you awake at night, try a quick bubble bath before bed to imbue some sleepiness. This blend of lavender, vetiver, and chamomile will help ease the mind, and in turn, the nervous system.
5/18
Dior Dior's Bath Soap
The Palm-Size Luxury
If your bathroom lacks refinement, a dainty designer soap will instantly chic up your tub set-up. And it'll imbue your suds with the same floral citrus scent as its namesake eau du parfum, so try layering the notes.
6/18
J.R. Watkins J.R. Watkins' Bath Elixir
The Espresso-in-a-Bottle
While some soaks are meant to act as an adult Snoo and rock you to sleep, this stimulating option is best enjoyed in the morning. J.R Watkins' turmeric and ginger blend is warming and invigorating to help your mind get into WFH-mode.
7/18
Aveeno Soothing Bath Treatment With Colloidal Oatmeal
The Oatmeal Healer
It might not look like the most luxe thing on this list, but colloidal oatmeal makes for an intensely soothing and healing soak, especially for dry skin on cold winter nights.
8/18
Dr. Singha's Mustard Bath Salts
The Old-School Fix
Mustard soaks have been shown to quell muscle and joint aches, heal damaged skin, and speed up recovery after sports injuries. So if you went a little hard with your at-home gym set-up, give this powder a try.
9/18
Fur Fur's Bath Drops
The Shaving Savior
You may know the brand for its multi-use oil, and now they're back with another self-care must-have. The capsules release a nourishing blend of oils to sink into the skin and soften it. (If you're a person who shaves, these prime your legs for a silky-smooth glide from your razor.)
10/18
Nécessaire Nécessaire's Body Exfoliator
The Resurfacer
A soothing soak is refreshing on its own, but a full-body scrub down feels like an instant reset. This formula—now available in an invigorating new Bergamot scent— uses pumice and bamboo charcoal to slough off rough skin and cocktails glycolic, salicylic, and lactic acids to dissolve dead cells.
11/18
Le Labo Le Labo's Shower Gel
The Throwback
Missing your sweaty spins at SoulCycle? Invest in a bottle of this citrus-y wash from Le Labo. It's the signature bergamot scent of those toiletries you may or may not steal those locker rooms post-class.
12/18
OUAI Ouai's Bath Bombs
The Floral Favorite
Jasmine and rose are the top notes in these ahhh-inducing dissolving bombs. Pop one (or more) in a steamy tub, close your eyes, and imagine you're plucking flowers in a countryside English garden.
13/18
True Botanicals True Botanicals' Wash
The Road Trip
Consider this body wash the Big Little Lies theme song in a bottle. It's NoCal-inspired wood and citrus notes are dreamy and soothing, and the formula is gentle, too.
14/18
Eminence Organic Skin Care Éminence Organic's Body Scrub
The Sweet Scrub
Raw sugar and rock salt are the gentle exfoliators in this organic exfoliator, which has a kick of lemon for extra brightening and smoothing effects. It might sound more like a dessert than a scrub, it's effective—trust us.s
15/18
Dr Teal's Dr Teal's Mineral Soak
The Muscle Soother
Epsom salt is a muscle recovery workhorse thanks to its mineral-rich composition, and this variation of Dr. Teal's trusty formula is boosted with detoxifying Pink Himalayan salt. Sprinkle in a cup or two after an arduous workout.
16/18
Diptyque Diptyque's Oil
The Triple Threat
The brand is known for its intoxicating candles and perfumes, but don't sleep on its luxurious skincare. This oil is particularly versatile: pour some under running water for a bubbly soak, and then after yo've toweled off, rub some into your skin to promote extra silkiness. Added bonus—the gorgeous bottle is practically made for shelfies.
17/18
Sol de Janeiro Sol de Janeiro's Body Cream-Cleanser
The One-Way Ticket
Whether Brazil is already stamped on your passport or just on your bucket list, this moisturizing body cleanser will give you a few moments of wanderlust. It's scent is inspired by Rio de Janeiro's beaches—think native coconuts, tropical orchids, and a touch of creamy toasted praline.
18/18
Susanne Kaufmann Susanne Kaufmann's Oil Bath
The Instant Spa Day
You know that feeling you get at the spa when you hear that ambiguous, calming music and the taste that first sip of cucumber water? A healthy pour of this sensorial, rosemary-scented oil provides the same tranquilizing effect, but in the comfort of your own tub.