The 28 Best Anti-Aging Products Dermatologists and Beauty Editors Swear By
You'll wonder how you ever lived without them.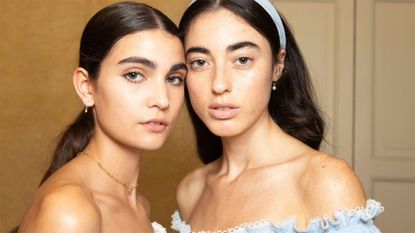 (Image credit: Getty Images/Rosdiana Ciaravolo)
Fellow beauty editors will feel this hard: The texts usually come on Sunday nights. The tone is direct, if slightly twinged with desperation: "Have you heard of the Hanacure mask?" (Yes.) "Do wrinkle creams actually work?" (Yes.) "What are the best anti-aging products?" (Right this way.) I've gotten these texts from my closest friends, my 16-year-old niece, my far-flung college acquaintances, and my baby daddy. Aging is an honor and a privilege—and it's coming for all of us. So while some of us foster our commitment to it when we're in our halcyon twenties, others don't catch the skincare bug until their thirties or beyond. And guess what? All of those approaches are okay, especially considering the quality products available.
That being said, finding the best anti-aging products isn't easy, per se. If a drugstore or beauty counter felt dizzying, Instagram just makes the market even more cluttered. That's why consulting expert advice is essential. We reached out to the best dermatologists in the game to find their favorite anti-aging products on the market today. (We also threw in a few of our own personal favorites.)
What ingredients should I look for in an anti-aging product?
When it comes to the products Marie Claire recommends, we take your faith in us seriously. Every product that we feature comes recommended by a MC writer or editor, or by an expert we've spoken to. Learn more about how we review products.
When it comes to anti-aging, a few proven ingredients reign supreme: Hyaluronic acid, antioxidants, retinols, and niacinamide.
But if something seems too good to be true, and promises to deliver the moon in 20 minutes flat? Well, be wary. And then send me a text. Ahead, the anti-aging products I feel completely comfortable recommending to my nearest and dearest.
Olay Micro-Sculpting Cream
You need power active ingredients, but you also need a good go-to moisturizer, which is why so many turn to the red jar. Hyaluronic acid moisturizes while a proprietary peptide-B3 complex hydrates and renews cells alongside antioxidants vitamin E and green-tea extract. It's thick, creamy and fragrance-free, making it an indispensable step in a lifetime skincare routine.
Drunk Elephant A-Passioni Retinol Cream
"This is one of the most effective over-the-counter retinol creams on the market. At one percent vegan retinol, it has a higher concentration than the average OTC retinol, but still quite sustainable for skin that's sensitive or dry. Plus, it's formulated with a blend of three peptides that firm the skin and enhance the benefits of the retinol." says Dr. Gretchen Frieling, a dermatopathologist in Boston.
RoC Deep Wrinkle Night Cream
This is not the first time I've written about my love for RoC retinols and God willing, it won't be my last. Thanks to a hypoallergenic formulation and a soothing mineral complex, you'll experience none of the retinol downsides (puffing, scaling) and all the upside (visibly smoother, clearer skin).
CeraVe CeraVe Eye Repair Cream
"I love this product because it helps to smooth fine lines and wrinkles, plus it's great for lightening dark circles and highly recommended for patients with sensitive skin since it's fragrance-free, hypoallergenic and non-comedogenic," says Dr. Stacy Chimento, a dermatologist in Miami Beach.
Estée Lauder Advanced Night Repair
An old-school product with excellent results. Hyaluronic acid hydrates as algae and yeast extracts boost cell activities, meaning new, better skin cells get built. Enzymatic alkyl guanine transferase brightens any age spots or dark marks.
Supergoop Unseen Sunscreen SPF 40
"There is no better anti-aging product than sunscreen. We can't control our genes, but we can control our environment. UV light exposure causes damage to collagen and elastic fibers leading to lines and wrinkles and stimulates pigment producing cells to go into overdrive leading to dark spots. Even incidental exposure on a daily basis adds up over a lifetime, so it is important to wear sunscreen every day. Studies have shown that applying nothing more than sunscreen over a one year period was associated with improvement in all aspects of skin aging. With so many sunscreens on the market, there is one for every preference and skin need. This is a light formula that goes on almost invisibly with a texture that lies somewhere between a primer and a serum," says Dr. Joshua Zeichner, a dermatologist in New York City.
Common Heir Retinol Serum
This luxurious retinol serum is made with both melanin-rich and sensitive skin in mind. Strong enough to visibly renew skin but gentle enough to prevent irritation, this product will become your best friend in no time.
Differin 0.1% Adapalene Acne Treatment Gel
"This is one of my favorite OTC antiaging hacks: A formerly prescription topical retinoid FDA-approved for acne that is reasonably priced. As we know, one of the good side effects of retinoid use is a reduction of fine lines and sun damage," says Dr. Dina Strachan, a dermatologist in New York City.
This firming serum works not only for under-eye bags, but also for crow's feet, crinkly skin, and other concerns for the delicate skin around the eyes. Pair this product with one of the brand's other face serums, or collect 'em all with this handy sampling kit.
Isdin Ultralight Tinted Mineral Sunscreen
"This is one of my go to as a daily physical blocking sunscreen with the 10.7 percent zinc oxide and SPF50+. But it also contains photolyase, peptides, and antioxidants to protect, repair, and correct DNA damage and signs of aging. Liquid, lightweight, and tinted against sometimes pasty-appearing zinc oxide, it blends in well on all skin colors and types." says Dr. Naissan O. Wesley, an aesthetic and surgical dermatologist and author based in Beverly Hills, CA.
La Mer Moisturizing Cream
This iconic cream is on J. Lo's beauty rider, and that's all you really need to know.
Arbonne AgeWell Intense Repairing Night Cream
"With a feel-good creamy formulation of two percent bakuchiol, stabilized vitamin C (a potent antioxidant), plant stem cell extract, niacinamide, and hyaluronic acid, this cream helps repair signs of aging and sun damage while replenishing the skin's natural moisture barrier. Plant-derived bakuchiol works along the same gene pathways as retinol, but is often much better tolerated without. Vegan, cruelty-free, and from a certified B corporation, this is formulated with the importance of efficacy and sustainability for the world," says Dr. Naissan O. Wesley.