The 15 Best Oil-Free Moisturizers
Non-greasy picks for every complexion.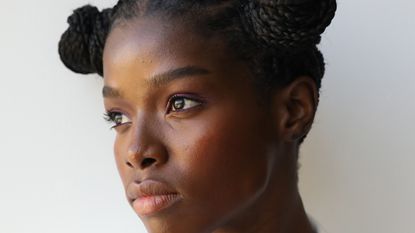 (Image credit: Monica Schipper/Getty )
I don't care if you have the oiliest skin imaginable, using a moisturizer is non-negotiable. Here's the thing: "When we don't moisturize, our skin realizes that it's dry—especially after cleansing. If moisturizer is not applied and hydration is not replenished, our oil glands will go into overdrive and produce more oil," explains board-certified dermatologist Dr. Mara Weinstein. While avoiding rich, creamy, and occlusive products is a smart idea (you don't want to cause breakouts or look greasy), including one of the best oil-free moisturizers in your skincare routine will actually help balance your complexion.
And as an added bonus: They'll probably feel better and more breathable than any alternative. "Most oil-free moisturizers have a lighter feeling and consistency to them," says Dr. Weinstein. "Because of this, they don't feel heavy on the skin, tend to absorb more easily, and are not thick or sticky." Intrigued? You should be. And to help you find the best oil-free moisturizer for you, we've taken the liberty of rounding up the most high-performing formulas out there. From weightless water creams to surprisingly hydrating gels, shop our favorites ahead. (If you want to complete your acne routine, check out the best acne spot treatments, the best sunscreens for acne, and the best moisturizers for acne-prone skin.)
The Best Oil Free Moisturizers
The Best Lightweight Oil Free Moisturizer
(opens in new tab)
Neutrogena Hydro Boost Gel Cream for Extra Dry Skin
"This product has been a staple in my skincare stash for years because of its light texture and inclusion of hyaluronic acid to help hold water in the skin," says board-certified dermatologist Dr. Angelo Landriscina. It feels bouncy and water-like when you first touch it, which makes its powerful hydration powers that much more surprising. But leave it to hyaluronic acid to work some wonders. Your skin will have an immediate glow and gradually become more supple, soft, and balanced.
Pros: Dermatologist-approved; Affordable
Cons: Might sting sensitive skin
The Best Drugstore Oil-Free Moisturizer
(opens in new tab)
CeraVe Daily Moisturizing Lotion
"CeraVe is a good oil-free moisturizer that can be worked into your skincare routine. The ingredients in this moisturizer will protect your skin barrier and keep your skin moisturized," explains board-certified dermatologist and assistant clinical professor of dermatology at Mount Sinai School of Medicine Dr. Jeannette Graf. "It contains hyaluronic acid and ceramides. Protecting your skin barrier will be beneficial when protecting it from environmental irritants. The oil-free formulation also makes it lightweight."
Pros: Dermatologist-approved; Affordable
Cons: Some say hydration doesn't last long
The Best Oil-Free Moisturizer With Salicylic Acid
(opens in new tab)
Aveeno Clear Complexion Daily Moisturizer
"This is a good moisturizer for daily use," says Dr. Graf. "It can be beneficial to clear blemishes and even out your skin tone." Dr. Weinstein is also a big fan of this moisturizer, dubbing it her "favorite" overall. "It creates balanced, healthy-looking skin. The product is formulated with salicylic acid and the Total Soy Complex, which really helps even skin tone and texture for radiance," she explains.
Pros: Dermatologist-approved; Good for acne
Cons: Might be drying to some
The Best Oil-Free Moisturizer for Large Pores
(opens in new tab)
Tatcha The Water Cream Oil-Free Pore Minimizing Moisturizer
If large pores are your biggest pain point, allow us to introduce you to this Tatcha water cream. Thanks to a powerful blend of Japanese botanicals, including wild rose, the formula is able to minimize pores and reduce the excess oil production that makes them look large in the first place. An added bonus? The silky texture leaves a blurred effect on the skin's surface. Your skin will look radiant, clear, and glowing–never greasy.
Pros: Cooling effect; Shrinks pores
Cons: Some say it has a very strong tea tree smell
The Best Oil-Free Moisturizer for Oily Skin
(opens in new tab)
Farmacy Daily Greens Oil-Free Gel Moisturizer With Moringa and Papaya
Think: Green juice, but for your face. This little guy is packed with alllll the skin-loving nutrients and will simply make your skin feel better—from the epidermis out. It's loaded with active ingredients, a handful of which are going to actually regulate oil production. Take niacinamide and galacturonic acid, for example. This dynamic duo is going to quite literally absorb excess oil and regulate your skin's sebum production, so there's no unwanted shine in sight.
Pros: Feels lightweight; Absorbs oil
Cons: Doesn't have a silky, smooth texture
The Best Mattifying Oil-Free Moisturizer
(opens in new tab)
Caudalie Vinopure Oil-Control Moisturizer for Acne Prone Skin
While anyone can use an oil-free moisturizer, those prone to acne are most definitely going to want to seek one of 'em out. Reason being, they're not going to clog up pores. This Caudalie option goes above and beyond though. In addition to its oil-free composition, it also highlights a range of naturally-derived ingredients that control sebum production in an effort to prevent pores from getting clogged. An added benefit? The gel moisturizer gives a mattifying finish that keeps shine at bay.
Pros: Mattifying; Sebum-regulating; Lightweight texture
Cons: Some reviewers report pilling
The Best Oil-Free Moisturizer for Sensitive Skin
(opens in new tab)
Glow Recipe Watermelon Pink Juice Oil-Free Moisturizer
Dry skin? Sensitive skin? An oil-free moisturizer might still be preferable to rich creams. Why, you ask? The lightweight texture absorbs quicker, the formula won't contribute to breakouts, and certain products will deliver equal amounts of hydration. Take this Glow Recipe option. It's specifically designed with hydration at the forefront and with sensitive skin in mind. Watermelon extract, one of the key ingredients for the brand, has anti-inflammatory properties that reduce redness, calm down the skin, and hydrate. Hyaluronic acid is also in the mix to boost hydration. Still, the texture of the cream remains airy and bouncy.
Pros: Redness reducing; Calming
Cons: Dry skin might want to layer with a richer moisturizer
The Best Oil-Free Moisturizer for Dry Skin
(opens in new tab)
Dr. Dennis Gross Skincare Hyaluronic Marine Oil-Free Moisture Cushion
Two hydration heavy hitters: Japanese marine algae—a nutrient-rich and naturally occurring complexion nourishing—and hyaluronic acid—a plumping, moisturizing agent. Both combine in this uniquely moisturizing cream. Unlike a slew of other mattifiers on the list, this moisturizer is going to leave you with a gorgeous dewy glow, a plumping effect, and all-day-long hydration. But fear not: It's not going to clog your pores or contribute to a slick complexion. It's a great oil-free option for those that err on the drier, more sensitive side.
Pros: Hydrating; Plumping
Cons: Better options for super oily skin
The Best Oil-Free Moisturizer for Combination Skin
(opens in new tab)
Chantecaille Oil-Free Balancing Moisturizer
Combination skin is tricky—no, ifs, and, or buts about it. While cocktailing your moisturizer is one way to address dry patches and oily areas, this Chantecaille moisturizer is a much simpler solution. It's going to create balance and harmony. Not only is it going to boost hydration levels across the board (yes, even oily areas need hydration), but it's also going to reduce the look of shine and large pores in a non-drying manner. Just an FYI: You will need a few pumps to coat your whole face.
Pros: Balancing; Hydrating; Minimizes pores
Cons: Expensive
The Best Oil-Free Moisturizer for Dehydrated Skin
(opens in new tab)
EltaMD AM Therapy Facial Moisturizer
A dermatologist-loved moisturizer, this sensitive skin-approved product is going to hydrate and soothe without the use of any thick emollients or oils. Instead, it leverages hyaluronic acid—among other ingredients—to seal in moisture and ensure a healthy and strong skin barrier. That's not all though. This super-powered moisturizer also has the ability to brighten skin (thank you, caffeine), control oil (shoutout willow bark extract), and reduce the appearance of pores (cough cough niacinamide).
Pros: Brightening; Hydrating; Anti-inflammatory
Cons: Thicker texture
The Best Oil-Free Moisturizer for Acne-Prone Skin
(opens in new tab)
Glo Skin Beauty Oil Free Moisturizer
The hallmark of an oil-free moisturizer is that it won't clog pores or cause pimples. But this moisturizer for acne-prone skin goes above and beyond—it actually treats active acne. It's formulated with allantoin and totarol, two ingredients that are going to heal breakouts, calm inflammation (looking at your cyst pimples), and reduce redness. While this shouldn't necessarily take the place of any acne treatments, it does serve as the perfect, hydrating counterpart.
Pros: Treats acne, Reduces redness
Cons: Might not be hydrating enough for some
The Best Oil-Free Moisturizer for Mature Skin
(opens in new tab)
Kate Somerville Oil Free Moisturizer
If you're in the market for an anti-aging moisturizer that won't contribute to excess oil, Kate Somerville has you covered. This hydrator was specifically designed with mature skin in mind, featuring a mix of amino acids and algae derivatives, all of which plump fine lines, boost elasticity, and create a healthier, more youthful-looking complexion. And while it works wonders under the surface of the skin, it's simultaneously going to impart a silky, velvety finish on top.
Pros: Anti-aging benefits; Smooth texture; Hydrating
Cons: Expensive; Thicker texture
The Best Lightweight Oil-Free Moisturizer
Summer Fridays Cloud Dew Oil-Free Gel Cream Moisturizer
I'm obsessed with the brand's Jet Lag mask (opens in new tab)—especially when my skin is a dry, flaky mess. But when it's extra humid out or my skin is going through an oily phase, the oil-free gel cream is the way to go. It still gives me a little plumping action thanks to both hyaluronic acid and ceramides, but manages to feel entirely breathable and lightweight on my skin. It also has very, very gentle exfoliating powers, which help get rid of dead skin cells and create a brighter complexion without causing dryness or irritation.
Pros: Lightweight; Plumping
Cons: Not hydrating enough for some
The Best Fast-Absorbing Oil-Free Moisturizer
Shani Darden Weightless Oil-Free Moisturizer
With an insane client roster (think: Shay Mitchell, Jessica Alba, January Jones), it's safe to say Shani Darden knows how to create gorgeous, glowing skin. And the esthetician's namesake products are an integral part of the process. This moisturizer in particular is a cult favorite. It absorbs at a crazy fast rate, feels like absolutely nothing on the skin, and keeps skin balanced with an adequate amount of hydration.
Pros: Silky texture; Fast absorbing; Oil control
Cons: Might not be hydrating enough for some
The Best Oil-Free Moisturizer for Brightening
(opens in new tab)
Natura Bisse C+C Vitamin Oil-Free Gel
Truly a do-it-all moisturizer, this luxe gel will cut your morning skincare routine in half. How, you ask? It has a high concentration of vitamin C, which is going to offer a boost of antioxidants, give a brightening effect, and create a firmer, healthier-looking complexion. It'll even lighten dark marks and hyperpigmentation left behind from old breakouts. It dries down in seconds and leaves skin feeling soft, smooth, and most importantly, refreshed.
Pros: Brightening; Anti-aging benefits; Reduces hyperpigmentation
Cons: Not ideal for people with vitamin C sensitivities
Meet the Dermatologists