The 24 Best Oil-Free Moisturizers
Non-greasy picks for every complexion.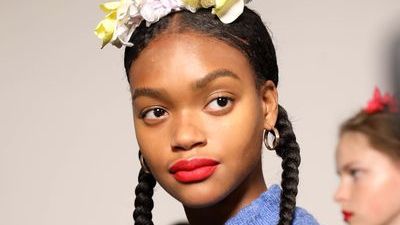 (Image credit: Tristan Fewings/BFC/Getty Images)
The debate about oils in face creams was as divisive as the fat-free debate in the nutrition industry. Some dermatologists were vehemently opposed, saying oils were too dense for most skin types and would only clog the skin, leading to breakouts and a slick complexion. Other experts were of an entirely different mind, thinking that facial oils—most of which are derived from botanicals—were in fact the key to optimal skin hydration, offering a nutrient-rich and readily absorbed option for deep moisturization. The truth is, oil-free facial moisturizers are the best bet for many skin types, with those who are acne-prone topping the list. And it's also true that oil isn't the only ingredient that can effectively hydrate any kind of complexion.
Good question! Oil-free moisturizers are able to deliver hydration through other proven ingredients like hyaluronic acid, glycerin, and silicone adjacents like dimethicone. Harnessing prime skin function for every complexion is a delicate moisture balance, and re-establishing healthy hydration is key. Oil-free moisturizers also tend to feel lighter on the skin—many have a matte finish, and some contain anti-acne ingredients or skin brighteners. Not only are you more likely to reach for an oil-free moisturizer if it feels nice, but it'll also work to calm over-productive oil glands.
Glad you asked! Some of our favorites are creams, others lotions, some more like a serum, watery liquid or even a treatment gel. Pick and choose one you feel most comfortable using, and prepare to transform your previously slick skin.