The 10 Best Supplements for Skin to Add to Your Daily Routine
From glow-boosting gummies to acne-fighting pills.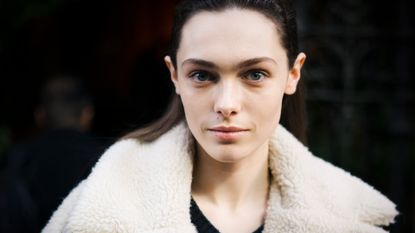 (Image credit: Nur Photo/Getty)
There's a reason fatty fish, avocado, tomatoes, spinach, and many, many more fruits and veggies are called "beauty foods." They're loaded with good-for-your-skin nutrients that calm down inflammation, amp up hydration, and provide extra antioxidants,. But if you feel like your diet could use a little extra boost, it might be worthwhile to start taking one of the best skin supplements on the side. While gummies and pills are great additives, keep your expectations realistic. One skin supplement a day isn't going to magically transform your skin on its own. They're quite literally meant to supplement other daily habits.
"Think of supplements as a piece of the puzzle: a targeted supplement regimen can benefit the skin in conjunction with other healthy lifestyle and dietary habits," explains Taylor Fazio, certified dietitian nutritionist, registered dietician, and wellness director at The Lanby. "Supplements provide concentrated nutrients that act in specific ways to target these root causes and realign whatever factor is causing skin issues."
While they're not a cure all for getting rid of pimples or dry skin, incorporating a high-quality vitamin into your morning ritual can deliver visible results. Here, we're breaking down how to find the best one for you—and some of our favorite supplements for skin.
How Do I Decide Which Supplement Is Best for Me?
As much as we would love to give you a one-size-fits-all answer served up on a silver platter, the supplement that will work best for you will depend on your end goal. Fazio explains that while someone with dry skin should search out a supplement with fish oil or collagen, someone with hormonal acne would benefit from probiotics and prebiotics that support the gut. (Studies have shown that there is a connection between the digestive system and acne.)
Powerful antioxidants, like vitamin A, vitamin C, and vitamin E, and CoQ10 can also help "calm systemic inflammation that presents as acne or skin discoloration."
How Do I Incorporate a Supplement Into My Routine?
Before adding any kind of supplement into your diet, consult with your doctor or nutritionist. As far as actually taking the pill, though, there are few general rules to keep top of mind. "Typically, fat-soluble vitamins are best absorbed when paired with a fat source like yogurt or avocado," says Fazio. "Others should be taken with plenty of water. A rule of thumb is to consume at least half your body weight in ounces of fluid every day."
The Best Skin Supplements to Try
Best Supplement for Sun Spots
Well Told Health Botanicals Skin Nourisher
With a grand total of three ingredients (organic cranberries, organic green algae, and organic Sicilian blood orange), these capsules aim to improve the skin's response to sun exposure. While they're by no means a replacement for sunscreen or vitamin C, they do have an antioxidant-rich ingredient list that aids in improving your appearance from the inside-out.
Best Supplement for Inflammation
(opens in new tab)
Dr. Brandt Drop of Strength Immune Protect
Thanks to vitamin C and other antioxidants, one of these supplements per day will up the ante on your skin's glow and decrease your body's inflammatory response. In fact, the brand reports that 97 percent of people who took the supplement for four weeks (in conjunction with the Drop of Strength Serum (opens in new tab)) experienced skin luminosity, while 93 percent reported that their skin felt firmer than before. While a chunk of supplements should be taken with food, this one is best on an empty stomach.
Best Supplement for Hormonal Health
If you're struggling with hormonal hair loss or breakout, consider adding these supplements (and consulting with your physician) into your routine. Thanks to a range of vitamins, nutrients, and hair-growth ingredients, the makeup takes a 360 approach to stimulate collagen, elasti
Best Supplement for Acne
(opens in new tab)
HUM Nutrition Daily Cleanse® Clear Skin and Body Detox Dietary Supplement
With algae and detoxifying herbs in each capsule, this supplement is ideal for anyone dealing with pesky breakouts. Not only do these capsules help reduce acne-causing toxins, but they also help detoxify other internal organs like the liver and kidneys.
Best Supplement for Sun Damage
(opens in new tab)
Murad Environmental Shield Internal Skincare
Sun damage is the death of good skin, which is why protection is essential. Though daily SPF use is always recommended, these supplements contain powerful antioxidants that help protect the skin from free radical damage than can come from UV beams and pollution.
Best Supplement for Aging
(opens in new tab)
TULA SKINCARE Daily Probiotic + Skin Health Complex Dietary Supplement
Packed with probiotics, ceramides, and vitamin C, these pills are ideal for both the body and the skin. While probiotics make sure that your gut (and in turn, your complexion) is in tip-top shape, ceramides and vitamin C help the skin retain moisture. This leads to a more lifted, youthful appearance.
Best Supplement for Hair, Skin and Nails
(opens in new tab)
DL.MD Liquid Multi-Vitamin Supplement
This supplement comes in liquid form, meaning it absorbs faster than a standard capsule. With vitamins C and E, and plenty of biotin, your hair, nails, and skin will thank you. As an added bonus, this liquid is berry flavored, making it a yummy daily treat as well.
Best Supplement for Dry Skin
The Nue Co Skin Hydrator Dietary Supplement
Hydration is the missing ingredient for so many of the skin's woes. While drinking gallons of water every day sounds like a nice idea in theory, the Nue Co makes it easy to get all the hydration you need, with just one small capsule. With collagen, aloe, and hyaluronic acid, you can look forward to plumped, ultra-hydrated skin, from the inside-out.
Best Supplement for Dull Skin
(opens in new tab)
Love Wellness Good to Glow Skin Care Supplement
The key to glowing skin is to give your body all the vitamins it desires, which Love Wellness has compiled into this product. With collagen, vitamin E, and biotin, this daily supplement will help anyone who feels like their skin is looking a bit lackluster as of late.
Best Supplement for Wrinkles
(opens in new tab)
Moon Juice SuperBeauty™ Dietary Supplement
The vitamins and minerals in each of these 60 capsules help target one of the main causes of skin dissatisfaction: collagen production. Without enough collagen, the skin can sag, become less glowy, and wrinkles will inevitably appear. While this daily capsule won't prevent fine lines altogether, it will make sure your skin as the nutrients it needs.
Samantha Holender is the Beauty Editor at Marie Claire, where she reports on the best new launches, dives into the science behind skincare, and keeps up with the latest trends in the beauty space. She has previously written for Us Weekly, Popsugar, Makeup.com, Skincare.com, and Philadelphia Wedding. Follow her on Instagram @samholender.