18 Spring Nail Colors to Welcome Warmer Weather With
No boring neutrals allowed.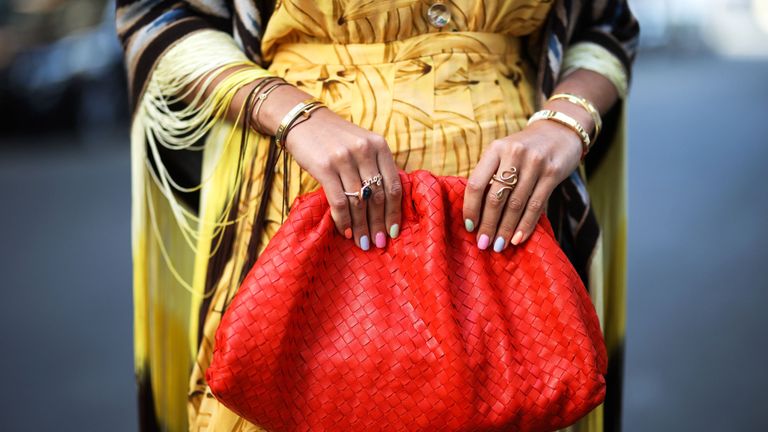 (Image credit: Jeremy Moeller/Getty Images)
There's no such thing as a nail rubric, but your relationship with spring nail colors is probably fairly predictable: The second winter wraps, you wipe off those dark, moody hues, reach for the prettiest pastel shade on the salon shelf and wear it almost exclusively for the entirety of the season. This spring, add a little variety to the selection—of course, we still love our subtle colors, but branch to creamy bold hues, sparkles, and special top coats for eye-catching fingers.
At the same time, though, spring is a time to embrace the growth around you to echo the quiet simplicity of the blooms around. A creamy yellow, like the very first daffodils. A cool lilac, like crocus emerging from the newly thawed earth. There's also shimmery snow white, cherry blossom pink, and the prettiest shades of hyacinth around. Of course, if black nail polish is everything in your book, there are a few moody grays and deep teals here. The spring of 2022 in particular is imbued with a cautious optimism. So let your nails reflect your good feelings. Ahead, the coolest nail polish colors to keep in rotation all spring long.
1/18
ÀUDA.B Vegan Nail Polish in Front Row
Not quite a lilac shade, this slightly deeper purple is a fresh change from pinky spring tones—that we still love. The vegan formulation is best applied with two coats for maximum pigments that will be easily spotted on IG.
2/18
Sally Hansen Good. Kind. Pure Vegan Nail Polish in Crystal Blue
A little bit of sparkle goes a long way, and when that glitter is suspended in an icy blue, it's an easy transition color from the deep blues of winter to the melting snow of spring. Oh, and this formula is plant based and 100 percent vegan with all the desired shine without chipping.
3/18
Revlon Ultra HD Snap Nail Colors in Hot Stuff
Flaming Hot Cheeto orange might not be your first choice in a spring shade, but it should be. It's a perfect picnic date snack, and color choice to stand out in the best way.
4/18
Pleasing Pearly Tops Polish
Harry Styles approves this polish—need I say more? Okay, I will, because the purple reflective pearlescent topcoat instantly takes any polish to a subtle shimmer. If you're new to the game, this topcoat is perfect for anybody and everybody.
5/18
SHRINE False Nails Set in Swirl Tips
Live your most extra life with a press-on set that skips simplicity, favoring bright colors and designs that are a style choice on their own.
6/18
Orly Nail Lacquer in So Fly
This nail polish takes having a green thumb to a new level with a bright neon tone that isn't overwhelming.
7/18
Morgan Taylor Professional Nail Lacquer in Flame-ingo
Spring break in Miami or Cancun might be on pause, but if delayed flights and restrictions get you down, swipe on a layer of this bright pink hue that is easily applied thanks to the slick formula from Morgan Taylor.
8/18
OPI Infinite Shine Long-Wear Nail Polish in Mexico City Move-mint
This one is for those who are fans of chocolate chip mint ice cream—that for some reason has a light blue tinge similar to this polish. Ice cream should be enjoyed all the time, but a matching moment when the weather gets warm means double the minty-chocolate goodness...right?
9/18
Mischo Beauty Nail Lacquer in Diana
Princess Diana was often seen touting a red polish, and this bright orange-red shade will make any spring fiery hot, especially if matched with a little black revenge dress of your own.
10/18
Static Nails Liquid Glass Lacquer in Peachy Keen
Spring time usually welcomes fresh and delicious fruit, and nothing screams IG worthy like light orange nails gripping a juicy peach. You know, as a total non-thirst-trap reminder to your followers to get their daily fruit intake.
11/18
Mani Me Floral Cuticles
Nail art is all fun and games until you try to use your non-dominant hand and you begin to question any and all art skills. Mani Me always has your back, and they collaborate with nail artists to curate collections while giving back. This simple floral design is a fun simple spring look, because florals are groundbreaking.
12/18
Lights Lacquer in Bikini Bottoms
Bright green hues is what spring is all about—that and high pollen count—but this nail polish is all about the light green.
13/18
Les Mains Hermès Nail Enamel in Vert Egyptien
Darker blues are always appropriate during the springtime. Add to that the aesthetics and creamy formula of the Hermès Nail Enamel and you'll never want to use another color.
14/18
Janet & Jo Nail Polish in Happy
Because who doesn't want to match the bright sun? No more 5 p.m. sunsets, unless it's a perfectly placed ombré featuring this shade, please and thank you.
15/18
Essie Nail Lacquer in Check Your Baggage
This color is reminiscent of sweet creamsicles from our childhood. Embrace the nostalgia and paint your fingers and toes to get ready to chase down the ice-cream truck for a sweet treat that you deserve (and can match with).
16/18
China Glaze Nail Lacquer with Hardeners in Fairy Dust
This is for those days when you don't know what color to paint your nails, but you still want to have fun. Nails take flight with the shimmery rainbow iridescent shine that protects nails with long-lasting formulation that dries down glossy and strong.
17/18
Glamnetic Press On Nails in Double Rainbow
Yes, it's true that April showers bring May flowers, but after a spring rainstorm the urge to match your nails to the inevitable rainbows in the sky will be powerful. Keep up with the spring classic of pastels with this press-on set.
18/18
Chanel LE VERNIS Longwear Nail Colour in Turban
Nothing screams spring time like a Malibu Barbie pink that has the luxe appeal of Chanel. The Le Vernis formulation is already made to leave chipped polish behind, so any spring activities can be nail friendly.
Hannah Morrill is a writer and editor based in Portland, Maine. She's an avid reader, an indifferent face-washer and a sunscreen/retinol evangelist.