The Best 25 Spring Nail Colors for a Warm Weather Upgrade
No boring neutrals allowed in 2022.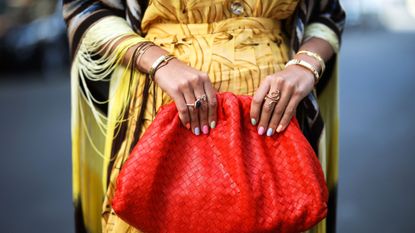 (Image credit: Jeremy Moeller/Getty Images)
While OPI's Lincoln Park After Dark (opens in new tab) will forever and always have a spot on our shelf, it's time to retire your darker, winter-themed nail shades in favor of brighter spring colors. Be it highlighter hues or pastel tones, it's due time to give your manicure a refresh. The good news? There's no shortage of gorgeous colors to go with the warmer weather.
"This spring, people are loving bold colors, neon shades, and not-so-basic browns," celebrity nail artist and founder of NAILS OF LA Brittany Boyce says. "Even pastel colors aren't as washed out as before. They have a richer, warmer tone to them." Milky colors are also having a moment, with whites, peachy nudes, and ivory shades becoming popular.
Nail artist and Essie Global Lead Educator Rita Remark agrees with Boyce, noting that nail art will also reign supreme this year. "Nails with a bit more design are definitely trending high this season, so feel free to express yourself," she adds. And fear not: You don't have to be an artist to get the look. With easy-to-apply decals, press-ons, and stickers from brands like Mani Me and PaintLab, intricate nail art has never been easier to achieve. That being said, keep scrolling to check out the best spring nail polish colors for 2022.
1/25
Gucci Vernis Á Onglis in Melinda Green
Emerald tones may have had their time to shine earlier this year, but now, it's all about kelly green—and this plant-based polish is at the top of our wish list. The high-shine formula is extremely opaque, so one coat is all you need.
2/25
Deborah Lippmann in Never Never Land
If committing to a bright color is out of your comfort zone, this muted sage green hue is the perfect happy medium. It's subtle and soft, but still spring-appropriate.
3/25
Sundays Nail Polish in L.01
Whether you're looking for the perfect Easter shade or a color that will go with every outfit under the sun, this pastel pink has you covered. We love this polish for its gorgeous color—yes. But, the flat brush is the main selling point. Doing a DIY manicure is a breeze.
4/25
Essie Swoon in the Lagoon Nail Polish in Ripple Reflect
One of Remark's favorites, this cornflower blue hue is the ultimate pick-me-up. It's the perfect pop and will instantly transport you to a spring state of mind.
5/25
PaintLab Press-On Nails in One in a Melon
Didn't have time to make it to the salon? Press-on nails are the way to go. Not only do they come with amazing designs (how cute is this watermelon print?!), but they're also easy to apply—and remove.
6/25
OPI Infinite Shine in Heart and Con-Soul
Burgundy tones and rich reds may be perfect for winter and fall, but this shimmering shade screams spring. With sparkly flecks and a vibrant undertone, there's no doubt that you'll look on-trend with a pearlescent polish.
7/25
Orly Nail Polish in Tangerine Dream
Want to go bright and bold? This tangy polish, which happens to be Bryce's go-to at the moment, is a no-brainer. We love this neon hue as a solid, but it also works great as an accent color if you're doing a design.
8/25
Chanel LE VERNIS Longwear Nail Colour in Turban
Nothing screams spring time like a Malibu Barbie pink that has the luxe appeal of Chanel. The Le Vernis formulation is already made to leave chipped polish behind, so any spring activities can be nail friendly.
9/25
Les Mains Hermès Nail Enamel in Vert Egyptien
Darker blues are always appropriate during the springtime. Add to that the aesthetics and creamy formula of the Hermès Nail Enamel and you'll never want to use another color.
10/25
Pleasing Pearly Tops Polish
Harry Styles approves this polish—need I say more? Okay, I will, because the purple reflective pearlescent topcoat instantly takes any polish to a subtle shimmer. If you're new to the game, this topcoat is perfect for anybody and everybody.
11/25
Sally Hansen Good. Kind. Pure Vegan Nail Polish in Crystal Blue
A little bit of sparkle goes a long way, and when that glitter is suspended in an icy blue, it's an easy transition color from the deep blues of winter to the melting snow of spring. Oh, and this formula is plant based and 100 percent vegan with all the desired shine without chipping.
12/25
ÀUDA.B Vegan Nail Polish in Front Row
Not quite a lilac shade, this slightly deeper purple is a fresh change from pinky spring tones. The vegan formulation is best applied with two coats for maximum pigments that will be easily spotted on IG.
13/25
Revlon Ultra HD Snap Nail Colors in Hot Stuff
Flaming Hot Cheeto orange might not be your first choice in a spring shade, but it should be. The color choice is sure to stand out in the best way.
14/25
SHRINE False Nails Set in Swirl Tips
Live your most extra life with a press-on set that skips simplicity, favoring bright colors and designs that are a style choice on their own.
15/25
Orly Nail Lacquer in So Fly
This nail polish takes having a green thumb to a new level with a bright neon tone that isn't overwhelming.
16/25
Morgan Taylor Professional Nail Lacquer in Flame-ingo
Perfect for an upcoming getaway, this bright pink hue is the ultimate vacation color.
17/25
OPI Infinite Shine Long-Wear Nail Polish in Mexico City Move-mint
For a minty fresh set, scoop up this OPI hue that falls somewhere between blue and green.
18/25
Mischo Beauty Nail Lacquer in Diana
Princess Diana was often seen touting a red polish, and this bright orange-red shade will make any spring fiery hot, especially if matched with a little black revenge dress of your own.
19/25
Static Nails Liquid Glass Lacquer in Peachy Keen
Spring time usually welcomes fresh and delicious fruit, and nothing screams IG worthy like light orange nails gripping a juicy peach. You know, as a total non-thirst-trap reminder to your followers to get their daily fruit intake.
20/25
Mani Me Floral Cuticles
Nail art is all fun and games until you try to use your non-dominant hand and you begin to question any and all art skills. Mani Me always has your back, and they collaborate with nail artists to curate collections while giving back. This simple floral design is a fun simple spring look.
21/25
Lights Lacquer in Bikini Bottoms
Looking to switch things up from your usual baby pink hue? Take this bright green for a test run. The feel-good shade is perfect for the season.
22/25
Janet & Jo Nail Polish in Happy
Because who doesn't want to match the bright sun? No more 5 p.m. sunsets, unless it's a perfectly placed ombré featuring this shade, please and thank you.
23/25
Essie Nail Lacquer in Check Your Baggage
This color is reminiscent of sweet creamsicles from our childhood. Embrace the nostalgia and paint your fingers and toes to get ready to chase down the ice-cream truck for a sweet treat that you deserve (and can match with).
24/25
China Glaze Nail Lacquer with Hardeners in Fairy Dust
This is for those days when you don't know what color to paint your nails, but you still want to have fun. Nails take flight with the shimmery rainbow iridescent shine that protects nails with long-lasting formulation that dries down glossy and strong.
25/25
Glamnetic Press On Nails in Double Rainbow
Yes, it's true that April showers bring May flowers, but after a spring rainstorm the urge to match your nails to the inevitable rainbows in the sky will be powerful.