19 Spring Nail Colors to Get You Excited About Warm Weather
No boring neutrals allowed.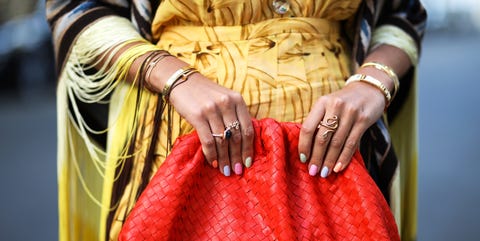 Jeremy Moeller
Getty Images
There's no such thing as a nail rubric, but your relationship with spring nail colors is probably fairly predictable: The second winter wraps, you wipe off those dark, moody hues, reach for the prettiest pastel shade on the salon shelf and wear it almost exclusively for the entirety of the season. This spring, switch it up by adding a palette of bright, vibrant colors when you replenish your selection of classic, creamy tones—they'll still look in-season and on trend.
At the same time, though, spring isn't a time to do the most. In my spring nail polish selection, I like to echo the quiet simplicity of the blooms around me. A creamy yellow, like the very first daffodils. A cool lilac, like crocus emerging from the newly thawed earth. There's also snow-drop white, cherry blossom pink, and the prettiest shades of hyacinth around. Of course, if black nail polish is bae in your book, there are a few moody grays and deep teals here. But if ever there were a time to get edgy with your nails, here we are. The spring of 2021 in particular is imbued with a cautious optimism. So let your nails reflect your good feelings. Ahead, the 19 coolest new nail polish colors to keep in rotation all spring.
This content is created and maintained by a third party, and imported onto this page to help users provide their email addresses. You may be able to find more information about this and similar content at piano.io