Red Is Fall 2023's Biggest Color Trend
It's surprisingly wearable.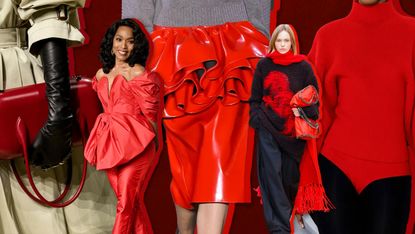 (Image credit: Future)
Not long ago, I was sitting on my couch, scrolling through images of fuschia dresses, neon pink handbags, and baby pink heels in search of the perfect, trendy investment buy. I am a person who wears black year-round, so hot pink was a massive change for me—and not one that I clung to after seeing the Barbie movie for a third time this summer. However, the incoming fall season—because yes, it's almost fall despite the sub-tropical weather outside—has presented me with a new trendy color to try: Red.
I had tried to avoid the onset of what the rest of the internet was calling "Tomato Girl Fall." Born and bred Italian as I am, dressing like my favorite fruit was not something I intended to do. At least, not until I looked back on the dozens or so collections from the Fall/Winter 2023 season and realized that red was, in fact, everywhere. Some designers, like Ferragamo, included red in several different forms within their respective collections. Other brands like Tibi only used it sparingly in the form of a bright cardigan or a pointed-toe ballet flat.
Either way, I'm convinced that red is going to be my color for this season and the year ahead. Spoiler alert: The shade also popped up on some of the Spring/Summer 2024 runways, so it's safe to assume that it will be around for a little while longer.
"I think red is trending as a fall-appropriate version of Barbiecore pink as people are looking to continue experiencing feelings of dominance, power, and enthusiasm in their wardrobe," says Shakaila Forbes-Bell, a Fashion Psychologist and author of the book Big Dress Energy: How Fashion Psychology Can Transform Your Wardrobe and Your Confidence. "Historically, pink was often viewed as a watered-down version of red, so this tracks."
Red is a "long wavelength color," she continues. "When exposed to long wavelength colors like red, sympathetic neurons in our autonomic nervous system (ANS) become activated." This means that activity is increased in the parts of our body that are affected by the ANS, like our liver, stomach, heart, or lungs. This, in turn, impacts our behavior, making us more "alert or reactive." Forbes-Bell points to studies that have shown that "people are more aroused when their partner wears red makeup or clothing in romantic settings. Athletes have also been found to be more aggressive when wearing red uniforms." So if you feel powerful wearing red, there could be a scientific reason for that.
Caroline Maguire, the Fashion Director at Shopbop, echoes this sentiment. " To me, it's a color that symbolizes luck and good fortune," she says. "It has great energy and chi, which I think is a positive thing and perfect for the Fall 2023 season." Maguire points to brands like SEA, Proenza Schouler, 3.1 Phillip Lim, and STAUD as brands that have mastered the trend for everyday wear.
"Red can be so versatile," she says. "It pairs nicely with neutrals like khaki, olive, stone, or even ivory, but you can also be bold and pair red with other bright hues like hot pink—I LOVE pairing reds with any shade of pink." This just goes to say that maybe you shouldn't do away with your Barbie-themed pink pieces just yet.
The inclusion of one new red piece into an otherwise neutral look is also a super simple way to update your collection for the new season. You're not required to wear the hue from head to toe to look trendy. Sometimes, a single accessory like a pair of flaming hot-hued cashmere socks or a dainty hair bow can instantly transform your look.
No matter how you choose to wear red for fall, I've rounded up a few ideas to get you started. Below, You can shop red in every category, including a few fall dresses that come in the hue to a pair of dainty Mary Janes—one of Fall 2023's biggest shoe trends—that channel Dorothy's ruby slippers from The Wizard of Oz. Keep scrolling to see all the best picks
Best Red Tops
Best Red Bottoms
Best Red Dresses