Worth It: Hermés Plein Air, H Trio Healthy Glow Mineral Powder
I can easily justify spending $105 on this bronzer.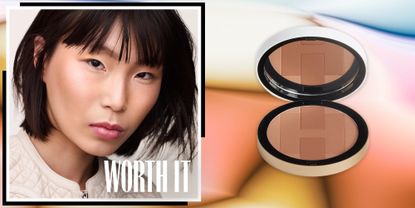 (Image credit: Future)
Marie Claire Newsletter
Celebrity news, beauty, fashion advice, and fascinating features, delivered straight to your inbox!
Thank you for signing up to Marie Claire. You will receive a verification email shortly.
There was a problem. Please refresh the page and try again.
Welcome back to Worth It, our weekly seal of approval on noteworthy launches and bespoke collaborations in the worlds of beauty and fashion. If it's featured here, consider these investments worthwhile.
The Promise
If you're buying beauty from Hermés, you're buying into luxury. Their products are designed to be an experience—from opening the little orange box to the first application. And an experience is exactly what their newest launch, the Hermés Plein Air, H Trio Healthy Glow Mineral Powder, delivers. It feels expensive. It looks expensive. It applies in a way that only an expensive product does. To be short: It oozes luxury.
Visually, the white ceramic compact is substantial. Inside, you'll find the Art Deco-inspired Hermés emblem created with three different shades. Depending on which of the five colors you choose from, you'll find different pigment intensities. It's aesthetically pleasing (we wouldn't expect anything less), but it's also purposeful. The trio, each of which was designed to mimic one of Earth's landscapes (think: Sahara, Colorado, Sienne,) is said to create dimension, depth, and a healthy glow with its semi-matte finish.
From a formula standpoint, the powder even sounds high end. It's described as having "exceptional sensory quality" with the "softest and finest powder particles." Enticing marketing? Absolutely. But does the $105 bronzer live up to its price tag?
Why I'm Obsessed
I'll be candid: I can justify just about every irrational purpose. I will make a case for splurging on shoes that I'm bound to ruin by walking city miles and I can convince myself that going all out on vacation is a *great* idea. So, allow me to provide the backup that this $105 bronzer is worth it. I was gifted the product, I'm not here to lie. But, I would spend my hard earned money on it any day of the week. Because while a Birkin may be out of the question, this H-emblazoned compact, which is bound to last me a good two years, gives me a daily dose of luxury.
The biggest selling point, in my humble opinion, comes down to color options. Bronzers are tricky. They can err too warm, too ruddy, too yellow. Some make your skin look dirty or oxidize terribly by midday. I personally have extremely fair, cool toned skin that's accompanied by red flares. Most bronzers make me look like I got into a fist fight with a self-tanner.
But when I test a product, I go all in. I commit fully—while ensuring I have easy access to a makeup wipe should things go South. That being said, I went in with the shade Sahara. I had my foundation on and took a big bronzing brush to my cheekbones, my forehead, my jawline—hell, I even dusted my nose and eyelids.
As I swiped on the product, I couldn't deny that the warm, golden powder was comparable to pixie dust. Honestly, if I didn't see the pigment depositing on the hair of my brush, I would question if I was picking up any product. It was weightless and uber-fine, which I gathered is partly because of the hyaluronic acid derivative that's a cornerstone of the formula.
When I finally peeked in the mirror, I was pleasantly surprised by my haphazard application. I couldn't see powder granules or figure out where my foundation stopped and the bronzer starter. It was seamless. And damn, I looked tan. Good tan, not self-tanner tan, which I chock up to the gorgeous trio of tones. The perfect color match, paired with the luxe feel, and the joy I felt every time I opened the delicate compact, allow me to confidently say that this bronzer is worth it.
Celebrity news, beauty, fashion advice, and fascinating features, delivered straight to your inbox!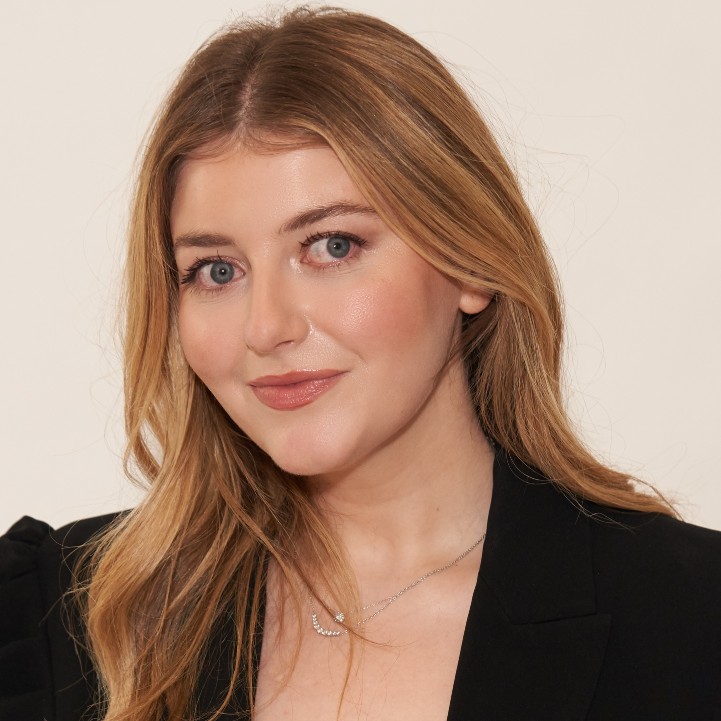 Samantha Holender is the Beauty Editor at Marie Claire, where she reports on the best new launches, dives into the science behind skincare, and keeps up with the latest trends in the beauty space. She has previously written for Us Weekly, Popsugar, Makeup.com, Skincare.com, and Philadelphia Wedding. Follow her on Instagram @samholender.