Lily Allen's Abstract Manicure Is Museum-Worthy
Seriously, how do we frame this?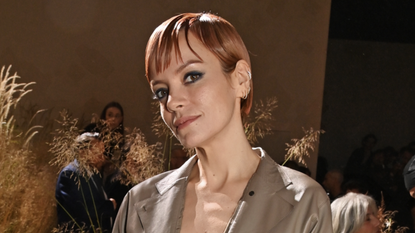 (Image credit: Getty)
Simple-looking manicures are on the rise, and for good reason. How nice is it to just pick a shape, polish, and be on your way? Nevertheless, there's something special about stumbling upon a wild, dramatic, or artsy look every once in a while. Lily Allen's newest nails are all of the above, and I can't stop staring at them (in the best way).
On Thursday, October 19, the British singer shared a photo of her newest nail art to her Instagram story. Each painted a different color gradient (red to black, royal blue to black, or sky blue to black), the lengthy, square-shaped nails also feature separate square gradients—each with a completely unique color scheme—framed inside.
Vibrant and abstract, the colorful art reminds me of mini Mark Rothko paintings or the James Turrell light installations that have become so beloved by the Kardashians. Like these artists' own palettes, a vast array of hues were utilized to complete Allen's manicure. From neon green to pale pink and a tangerine I've only seen in sunsets, the claws capture an entire rainbow.
In a separate story, Allen showed the making of her manicure. To start, each nail was wrapped and painted its pre-black-gradient solid hue. The "Smile" singer, who most recently wore a set of pepper-red stiletto nails for the GLAMOUR UK Women of the Year Awards (remember, simple is in!), didn't provide any context for the photos, letting the art do the talking.
While she also didn't tag an artist, it's likely that Allen's nails were created—or at least strongly influenced—by Canada-based airbrush specialist Really Hot Nails. The artist, who loves the framed look, posted a nearly identical set in early September for writer, director, and production designer Adriana Marchand.
"Best I ever had," wrote Marchand in an Instagram post after the set was applied.
Celebrity news, beauty, fashion advice, and fascinating features, delivered straight to your inbox!